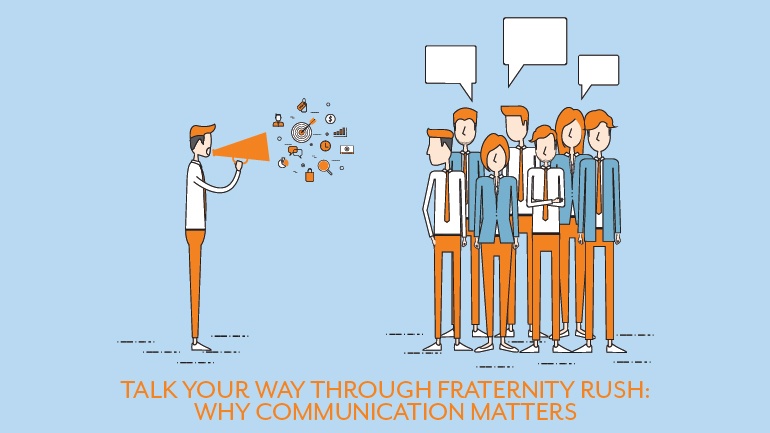 Successful fraternity chapters excel at communication.
Effective communication permeates every aspect of fraternity life, from chapter management, to planning and executing chapter functions, to something as simple as settling beefs between housemates.
Think about it. How will your chapter thrive when two brothers can't even divvy up cleaning duties?
Unfortunately, poor chapter communication doesn't just lead to dirty rooms.
For instance, budget misunderstandings cause major financial setbacks that can sink a chapter if left uncorrected. Brothers who don't grasp their role in chapter budgeting are more likely to pay their dues late or not at all. Chapter officers, executives and committee members must stay in sync with the treasurer as well. Otherwise they'll create deficits and bungle chapter functions.
As you can see, a single chink in the communication armor can impact the entire chapter negatively.
So what about fraternity rush? Rush is all about communication, you might say. It's where your chapter communication lives and breathes. You'll tell us not to worry. You've got this on lock. Chatting up potential new members is an art form, and you and your brothers are the Van Goghs and da Vincis of fraternity rush.
Your enthusiasm is a great start, but let's keep things in perspective. Vincent Van Gogh died of a mysterious gunshot wound to the gut. Leonardo da Vinci suffered a fatal stroke.
Nothing's a given.
Just because fraternity rush means constantly schmoozing throngs of young, wide-eyed freshmen seeking a bid, that doesn't mean your chapter has the right communication strategies in place. In fact, it's easier than you might think to talk your way out of a successful rush.
Never fear. OmegaFi is here to help. Communication Matters. Here's how you can successfully Talk Your Way through Fraternity Rush.
Rush Is about Communicating Chapter Values

Values build a successful fraternity rush. There's no way around this. Don't believe us? Let's take a look at what some rush conversations sound like:
PNM: "You guys have an awesome house."
Brother: "What? Sorry, I can't hear you over the music!"
Speakers thump while the tightly packed crowd dances. Somebody bumps into the PNM, spilling soda on him.
PNM: "I said, You guys have an awesome house! Do you always party like this?"
Brother: "Heck yeah! We have the sickest parties on campus. Ask anyone. And we get tons of sorority girls to show up. This will basically be your life if you pledge with us. Enjoy yourself! Let us know if you have any questions!"
PNM: Hears about half of what the brother says. "Awesome, totally!" Disappears into crowd.
This sounds outrageous if you know anything about good recruitment practices. Yet you'd be surprised how often this scenario happens. You may be running rush events that make the same core mistakes as in the example above, even if they aren't so extreme.
Check out the conversation again. What went wrong? Sure, it's cool to talk up how popular the chapter is, and to show off the house. You want to be inviting. Yet there's more to rush than propping your front door open and hoping for the best. This brother made his biggest mistake when he didn't focus his interaction with the PNM on chapter values.
Let's start with the fact that they're at a loud party, rather than somewhere they can talk clearly and directly. The chapter learns nothing about the PNM, other than he likes to party, and the PNM learns nothing about the chapter. How can they possibly decide whether this young man would make an ideal fraternity brother?
Even if you throw a big party or two sometime during rush, make sure to plan smaller, more intimate events with PNMs, where you can discuss shared values and feel each other out. Follow up with one-on-ones whenever possible, and give a realistic portrayal of fraternity life beyond the party scene.
PNMs should be willing to build up your brotherhood through bonds of friendship, hard work, loyalty and academic rigor. Complimenting your sick fraternity house and party skills doesn't qualify them to be brothers.
The first step of successful fraternity rush communication is to be willing, and able, to listen to what PNMs have to say.
How Brothers Can Get on the Same Rush Page

Form a plan of attack for fraternity rush, because most other chapters on campus already have. If you want to beat these chapters out for quality PNMs, you need brothers on the same page with rush fundamentals, such as:
What qualities should a man illustrate before your chapter extends a bid?
What events has your recruitment chairman planned, when will they take place and who's volunteering?
If a PNM shows interest, how will you follow up? Who are his points of contact within the chapter?
How does your chapter communicate about rush, either among themselves or with national advisors and alumni

,

about whether brothers should extend certain bids
Do you use fraternity recruitment software and fraternity communication software?
Do brothers know what baseline questions to ask PNMs during rush events?
On this final point, don't interrogate every man who shows interest in joining. You should have natural, free-flowing conversations, but go into any Q&A with a list of topics that will help reveal whether someone's a good fit. Determine what their motivation is for rushing a fraternity. (Hint: Any answer with the word "party" in it is a red flag.) How are they acclimating to their classes? What are their interests, their personal goals and values?
If you communicate your values during fraternity rush, and ensure all brothers follow the recruitment plan of attack, you're sure to bring in the right kinds of brothers.
How would you rate your communication when it comes to fraternity rush? What's working, and how do you think you could improve it? Is there anything you're planning to do differently next time? Let's talk fraternity rush, and how to make yours a success, in the comments below.