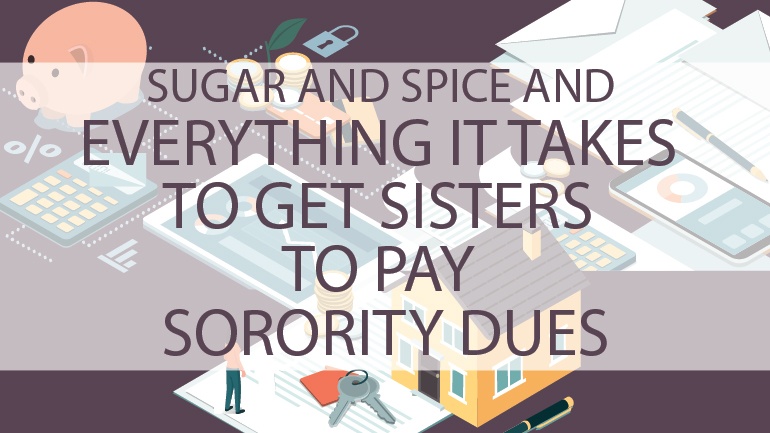 Sisters pay their dues.
This is a fact of life.
However, getting sisters to pay dues in full, in advance of the due date, and getting them to live in the sorority house, too? Well, let's just say this can present certain challenges that your chapter may have to grapple with as it manages its finances.
Let's take a made-up example of a sister. Let's call her Danika. Why Danika? We don't know why. Just stick with us here. Danika's family lives near campus, and they've offered to let her stay there rent-free during her undergraduate years, so long as she keeps up her grades. Her mom even does her laundry. Why on earth would she want to leave home now? She's got it made. Sure, her younger brothers are annoying and smell bad from running around outside all the time, but all in all it's a sweet gig.
Let's take another made-up sister, how about Suzy? Suzy. Yeah. So Suzy has her finances meticulously set up so that everything comes out of her account when it needs to come out. She's working her way through college with a little grant help from her Uncle Sam, and every semester she pays her dues exactly on the due date and no sooner.
What can a chapter do to entice sisters like Danika and Suzy? For starters, you can sit down with OmegaFi and let them tell you a story about Sugar and Spice and Everything It Takes to Get Sisters to Pay Sorority Dues.
How to Get Sisters to Pay in Full

Sorority dues can be expensive, there's no denying that. A financial investment is simply part of dedicating yourself to a sorority chapter. The first semester of sisterhood can be a real doozy, too, with added one-time fees such as a housing corporation fee and initiation fee. There are other costs throughout your time as a sorority sister on top of membership dues as well that you may not notice at first, but which add up over time. However, it's common that chapters will work with a sister regarding her membership dues by working out a payment plan. A payment plan is a great budgeting tool at a chapter's disposal because it allows at least some dues to be collected from a sister throughout a semester, rather than having to wait for the full amount and having none in the meantime.
Of course, it would be more beneficial for the chapter--and your dutiful treasurer, who can use all the help she can get--to have a big, fat check for the full amount up front. But there's the age-old question: How the heck do you get sisters to pay upfront?
Well, first off, it's best to determine who is really need-based and who can pay the full amount, but doesn't want to. One incentive might be to offer some kind of academic scholarship to those who are truly in need, to help somewhat offset the cost of dues by allowing them to cover expenses like books, a meal plan and tuition. It might be a merit-based scholarship for a sister with a certain GPA, which would also help in terms of keeping the chapter academics on point. Another incentive, for sisters who simply want to hoard some extra cash for spending purposes, would be to offer a percentage discount for payments in full. This would make a payment plan feel like a penalty (even though it's not really), and sisters may think twice.
How to Get Sisters to Pay in Advance

It's hard enough getting your sisters to pay a lump sum of cash for their sorority dues. They give the treasurer that look of fear--you know the one--as if she's mugging them in some dark alley. On top of that, she dares to politely suggest that they should pay their sorority dues ahead of the due date.
The audacity! It's an outrage!
The fact remains that it's an obvious benefit to your chapter for sisters to pay their dues early. This means paying dues has to be as painless as possible. Your strategy must be precise and consistent. As an opening move, make sure to send out messages--electronic and written--early and often. Sisters should be well aware of the due date. We suggest setting a date a little later than when you'd prefer to have due dates. Then set an "early pay" due date where a small, additional discount is added to the one a sister receives for paying the full amount.
Also, as parents may be contributing to your sisters' membership dues, make sure parents are aware of the due dates, amounts due, and all possible discounts. Make payment as easy as possible with an online method. Financial software such as OmegaFi's Vault can help manage all a sorority's budgeting needs, including allowing officers, sisters and parents easily make and receive payments online.
Easy!
How to Get Sisters to Live in the Sorority House

Living in a sorority house is a unique experience for a sister that many college students don't have the privilege of experiencing. There are plenty of pros, and a few cons. But regardless of whether the sisters live in the house, they get to hang out and watch the big screen whenever they want anyway--so why pay to live there?
There are many incentives to getting a sister to live in the house, the most enticing of which may be saving money. Some sorority houses are actually less expensive to live in than a dorm room or off-campus apartment, and include their own separate meal plan. If this is your house, you can likely use this as the main bait to get sisters to live in the house and visit their old dorm mates on weekends.
However, this is not the case for all sororities by any stretch of the imagination. So how do you get a sister to pay more?
The main thing a sister needs to know about staying in the sorority house is that she's getting not just a home, but a unique family living experience she can't get anywhere else. Show her this by offering certain privileges to those living in the house--dibs on entertainment and amenities, spots at the table, parking spaces and so on. But also offer extra incentive to a sister who doesn't yet live in the house but is willing to move in. Recruit some friendly fraternity men (preferably with a big truck) to move her furniture and boxes. Recognize her in small ways, like on an achievement board. Find ways to reward sisters' decision to move into the house by showing them just how great it can be. Because, as you know, it truly is great!
To Get Sisters to Pay Sorority Dues, we know that It Takes Everything and more. Tell us about some of the tips and tricks you've picked up over the semesters to collect those checks!