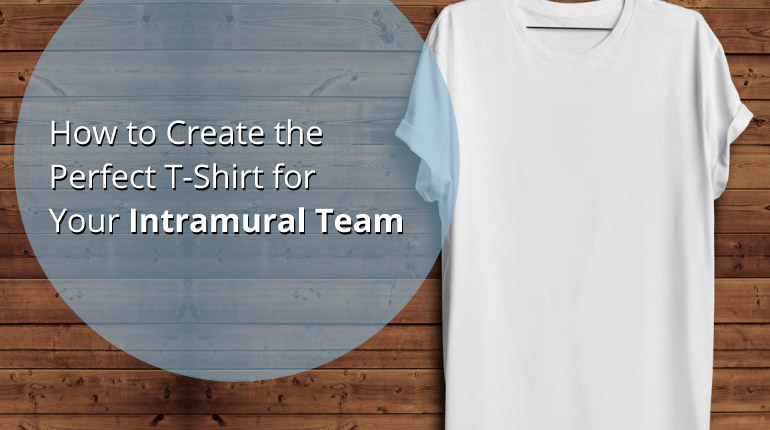 If you're a member of an intramural sports team at your college or university, you know that a shared sense of purpose can go far to bring a group together--especially when it's a game.
Intramural soccer, football, rugby, volleyball and tons of other sports have always been reliable pastimes for young adults looking to have fun, strengthen their communal bonds and get some exercise.
A custom t-shirt is a perfect way to give your whole team a deeper sense of shared identity. Your most devoted fans will love them too!
Here are the main steps you'll need to complete when creating and ordering your perfect intramural sports team t-shirt:
Team t-shirts are a great opportunity for your team for a number of reasons.
By following the basic steps outlined below, you can be sure your intramural team will get the most out of its custom t-shirts.

1. Decide what needs your t-shirt should address.
This step might seem like a no-brainer. Team t-shirts are just made for your teammates to wear at practices and games, right?
You might be planning to simply design and order your shirts, but custom t-shirts are actually a great fundraising opportunity.
Do you simply want to buy your team shirts, or do you want to sell them, too?
Think of all the people who might want to buy one of your shirts to support your team:
All the team's members (of course)
Friends and significant others
Parents
Classmates or coworkers
Alumni
Other local supporters
If your team has been considering purchasing some new equipment or taking a trip for an out-of-town game, t-shirts are your best bet for quickly and easily raising some funds!
Of course, you don't necessarily need to have a specific project or goal in mind to raise and keep profits from custom t-shirt sales. Your team treasurer will appreciate the extra funds for supplies and fees regardless.
The main point: Are your t-shirts just for wearing or could they serve other uses, too? Even if you don't have a specific goal in mind, custom t-shirts are still the easiest way to raise some quick funds for your team's activities.

2. Research your t-shirt platform options.
There are quite a few t-shirt design platforms out there, but a handful of them really lead the pack.
Some top crowdfunding platforms provide t-shirt fundraising services, but most intramural sports teams aren't necessarily trying to conduct a major fundraising campaign.
When choosing a platform to design and print your shirts, make sure your choice of merchandising service is versatile and user friendly. That way, you can quickly design your shirts and still have the flexibility to fundraise with them if you choose.
For instance, check out Bonfire's intuitive but data-rich interface: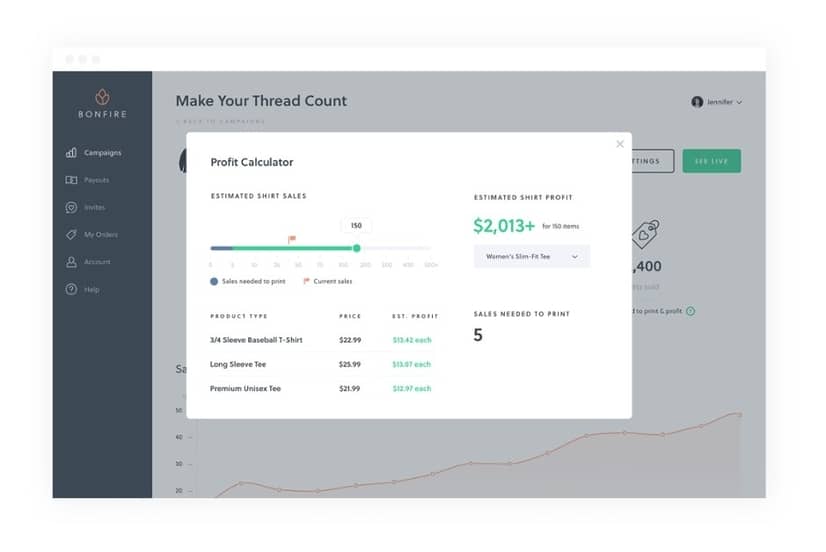 There a number of qualities your team should look for in an ideal t-shirt design and fundraising platform:
Adaptable for both product sales and fundraising
Intuitive and stylish design options
Multiple customizable products
Easy ways to share your product online
Simple pricing plans with low fees
Great t-shirt platforms will give you a greater amount of control over pricing, which will enable you to essentially set your own profit margins if you choose to sell your shirts as a fundraiser.
This can also help ensure that your shirts remain completely affordable to all your teammates and fans. Otherwise, what's the point?
Especially if your team or organization is looking to raise some funds for a specific project with your t-shirts, it's important that your platform lets you fully customize both the look and price of your products.
The main point: Flexibility in both platform function and design options are the most important qualities your team should look for in a t-shirt platform.

3. Carefully design your t-shirt.
Of course you already know that you need to put some thought into how your intramural team's shirts will look.
Design is especially important, though, when your platform allows you to sell your t-shirts to anyone who's interested in supporting your team.
T-shirts can be a kind of simplified crowdfunding, so making your shirts look great will increase the chances that you'll raise some quick funds for your team's activities. A great t-shirt platform will make it easy to design your shirt with stylish templates or by simply uploading your designs.
Avoid design platforms that are crowded with way too many unnecessary tools.
There are several popular trends that your team can easily tap into to maximize the appeal of your shirts:
Minimalist and retro-style logos
Animal graphics
Hand-drawn typography
Also, consider exactly which products you'd like to create. Most t-shirt fundraising platforms offer several different types of clothing, like long-sleeve tees, hoodies and tank tops that your team might like.
Offering different types of branded clothing can give your fans more than one way to show their support, too!
If your team doesn't have its own logo, use its name and mascot as the basis to design one. Chances are one of your teammates has some design experience and would love to help create your team's visual identity.
The main point: Designing your shirts thoughtfully will not only be a great look for the team, it'll also generate more outside interest and help you raise some funds, too.

4. Promote your t-shirt to your team and fans.
Once you've designed your perfect t-shirt, it's crucial that you get the word out.
The top t-shirt platforms will host an organized page for all your products you designed.
This means that for your teammates, it'll be easy to simply text them a link or tell them how to purchase the team shirt.
Remember, though, to provide your team members with ways to share the link themselves. They could send it to their friends and family, or the team as a whole could spread the word in various ways:
Through the team's social media pages
On team emails or newsletters
On flyers and other recruiting materials
If you're looking to raise some money with your shirts, sharing your products page is essential. Even if you're not trying to raise funds for a specific project, you've got plenty of supporters who would probably love the chance to support your team!
Also, consider marketing your shirts to alumni of your organization. It could be a great way to keep them engaged! You might even offer some kind of discount or promotion for alumni to get them to regularly attend your events and games.
Consider creating a dedicated order form page for your team's branded products to consolidate the orders you receive from fans, classmates, parents, and more.
The main point: Promoting your t-shirt is crucial to generating interest and buzz about your team regardless of whether or not you're fundraising for a specific goal.
---
Remember to consider all your options when creating and selling a t-shirt for your intramural sports team.
T-shirts are a great opportunity for any team not only because they'll promote your image and give you a unified appearance but also because they're a simple way to raise some operational funds.
Follow these steps, choose the right platform for designing and selling your shirt, and have fun!
Check out these additional resources on group t-shirts and fundraising: