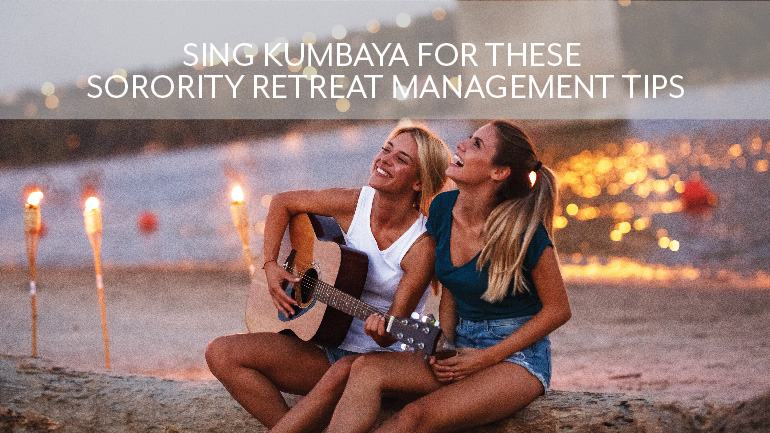 Sorority sisterhood retreats can be magical. They can also be disastrous, or worse--a big bore.
You want sisters to forget the stress of the semester, unwind and connect on a primal level. Or possibly a latte level. Whatever gets the bonding going.
Essentially, this means you must manage your sorority retreat down to the last detail, unless you want a mutiny in the middle of the woods.
If you're going to cut Lindsey off from civilization and, more importantly, 5G, your retreat better rock. Otherwise she'll start getting that murderous look in her eye.
And no, that pine cone isn't going to save you.
Even if you come out of this in one piece, a sisterhood revolt means your retreat is done for.
It doesn't have to be this way. If you can get sisters to unplug, forget the outside world for a bit and just focus on each other, your retreat will be a success.
No Hunger Games-themed battles royale necessary.
Good sorority retreat management can help your chapter build engagement, re-energize morale and leave sisters ready to take on the semester.
Hard work builds momentum, but taking some time to step away will prove just as vital to your chapter's long-term success.
OmegaFi believes that sororities are only as strong as their sisters' bonds. That's why we think you may just Sing Kumbaya for These Sorority Retreat Management Tips.
1. Your Sorority Retreat Should Be Fun

If you take just one thing away from what we say here today, it should be this: Make. Your. Retreat. Fun.
Think about it. Sisters spend every minute of the semester in class, study hours, chapter meetings, officer meetings, committee meetings, volunteering at chapter events, and so on, ad infinitum.
Do you really think you're going to drag them to another required chapter activity that's going to bore them to tears?
Do you think you'll get the best out of them? That they'll participate and make this retreat worthwhile?
Think again.
You can't just throw your sisters in a cabin and shout, "Bond, darn you!" You have to motivate them to engage. If you're successful, it means you've made the beneficial work of a retreat not feel like work at all.
This falls under the category of not over managing a retreat. Set a schedule of games and activities to bring sisters together, but keep things light and open so that sisters can let their hair down.
Natural bonding will come only when sisters fully relax and can be themselves.
2. Sorority Retreat Budget Management: Your Valuable Peace of Mind

Your retreat may be battling for space in the sorority budget with other big-hitter costs like recruitment, philanthropy, socials and formals.
If your chapter really thinks flying to a ski resort in the Swiss Alps is the best way to bond, and there's room in the budget for it, then more power to you.
Chances are, though, that's not you.
More than likely, you'll need to put away those fireside daydreams of drinking hot chocolate with Liam the ski instructor and focus on the task at hand.
Fret not. There are plenty of budget-friendly sorority retreat ideas that won't leave your treasurer cursing your name for all eternity.
Consider these types of venues for your next sisterhood retreat:
Lakeside camping, with kayaking, fireside smores and a sky full of stars.
Hiking or mountain climbing.
A yoga retreat to channel sisters' inner Zen.
A beach retreat for some fun in the sun and a nighttime bonfire.
Rent a house for the weekend, and bring plenty of glitter for a themed party.
Book a hotel getaway and explore a new city together.
Depending on what you want to accomplish during your sisterhood retreat, you can tailor your choice of venue and activities.
Bonus: A focus on financial management will keep your treasurer happy as well.
3. Plan Ahead

Most of your sorority retreat management comes in the planning stages. While you should leave room for some changes and compromises during your retreat, it's a mistake to simply "wing it."
You want to create some structure and main goals to get the most out of your time together.
Check your chapter guidelines to see when certain types of retreats should be held each semester.
Give yourself plenty of time to plan the retreat—as in, have a basic idea of schedule, cost, attendance, and other specifics months ahead of time.
Remember that executive officers will have lots of other chapter business to deal with.
Planning a retreat may seem easy when you think of it in a vacuum. Book a venue, schedule some events, pick up supplies and off you go. Right? Great. Now try that when you have to juggle a thousand other things and schoolwork.
Not so easy anymore.
4. A Sorority Retreat by Any Other Name . . .

You'll hold any number of chapter retreats during the semester—one for new officer transitions, one for executive planning and possibly others.
Each has its own specific structure and related activities that help sisters focus on achieving their goals.
To reach these goals, however, it may help to think of retreats in broader terms as well. What do they all have in common? What makes them successful, versus a flop and a waste of time?
While officer retreats are more work-intensive than a simple sisterhood retreat, the point will always be to take a breath and refocus in a new environment.
Without a break to reassess, you get caught up in the humdrum of the semester and get off balance. Trying to right the ship under that level of stress often proves unproductive.
A sorority retreat allows you to take a task in isolation, energize and engage.
Your main goal with every retreat is to connect and get on the same page. When you arrive back on campus, you'll be ready to seize the day.
If you have thoughts or questions about sorority retreat management and planning, leave them in the comments below!