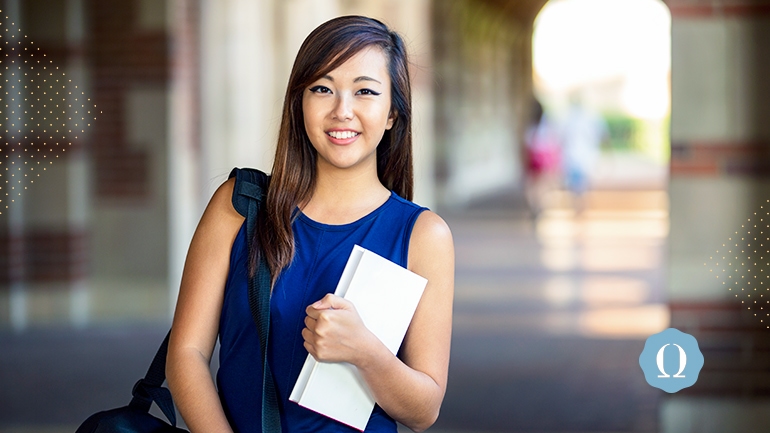 You've walked across that stage, grabbed your high school diploma, and left your pre-adult life behind. Now you're a college woman, stepping onto campus for the first time, and you're looking to join a sorority chapter.
You need the sorority recruitment basics ASAP.
The beginning of the semester is the time campus is buzzing with sorority sisters handing you flyers, inviting you to recruitment events at their massive, elegant sorority houses.
Intimidated? If so, don't worry. Many of us feel overwhelmed when faced with new situations and the prospect of building new relationships.
Your new freedom, it turns out, is a lot to process.
Figured out where your classes are? Got your meal plan sorted? Can you log in to your student email? Did you remember to go to that RA meeting to learn the new dorm rules?
Take a breath!
It's okay.
Diving into the chaos is part of the college experience, and we know you'll get your bearings soon enough, because you're smart and strong.
Consequently, that's what attracted you to the idea of sorority life—being a part of something bigger, building community engagement and bonding with like-minded women, through your shared strength.
Let's talk about how to get you in the door of the sorority organization of your dreams.
These are the Sorority Recruitment Basics for the New College Woman.
How to Make an Impression during Recruitment
Before attending your first sorority event, think about what you want to bring to the table when you join a sorority chapter.
Do you want to be a leader?
Do you want to work on philanthropy projects—something that's both good for your community and your resume?
Do you want to contribute to empowering the women around you?
What are your goals as a student? How would your sorority experience tie into that vision?
Do you want to build bonds and inspire future generations?
These are all important reflections to make.
Why? Because having a positive vision of sisterhood and your place in it can help you stand out from potential new members (PNMs) who are seeking a bid for the wrong reasons: outlandish partying in a big sorority house, skipping class to hit the club with other Greeks, or to engage in risk-prone or self-serving behavior.
Sorority officials have taken active steps over recent years to encourage chapters to act as values-based social organizations, and this should be a central part of how you view recruitment.
When you go out to recruitment, realize that you deserve this experience. Think about who you are as a person, what you want to share with other women, and embody that.
Recruitment events aren't there for you to just get grilled by sisters. They're genuinely trying to get to know you.
And you're trying to get to know them. So ask questions of them, too. Make sure you're going to get what you need out of the sorority experience, too.
This leads us to our next sorority recruitment basic . . .
How a Sorority Should Impress You
It's important for you to get a chance to meet your future sisters in an environment where you can get to know them and their values and see if they're a match for you.
Any chapter you join should have at least one recruitment event without loud music or other distractions, where you can speak directly and candidly to one another.
Remember how we talked about the values you want to embody? Sisters should share those values before you decide on accepting a bid.
And a good sorority will pass the parents test—meaning parents won't get offended by what they see on their chapter Instagram, and can get a true sense of their values.
Some important questions to ask sisters include:
What are some of the chapter's major goals right now?
What was your new member experience like?
What do you think the biggest benefits have been for you after joining your chapter?
Being a student is important to me. How does the chapter promote academic excellence?
What are the chapter's values when it comes to hazing, alcohol, and other risky behavior?
While you may also want to talk casually about less serious topics, to get to know sisters, keep in mind that recruitment events can be a hectic environment where you're meeting hundreds of people over a single week—and vice versa.
You want to make sure you connect on the right topics and find out which chapters best fit you and what you want to get out of sisterhood.

The Recruitment Software Tools that Get You There
Behind the scenes, recruitment software for sororities and Greek officials can help pave your road to sorority chapter membership.
One software tool many campuses use is ICS, or Interactive Collegiate Solutions. This allows potential new members such as yourself to register electronically for recruitment, as well as ensuring everyone understands and follows sorority regulations.
It also allows chapters to submit their bids electronically through a centralized database, which makes the entire recruitment process faster and more secure.
Some of the chapter-based sorority recruitment software tools OmegaFi offers include:
OmegaRecruit to store PNM data, vote, and submit bids electronically, ensuring a well-managed, quality recruitment experience for you.
Vault for budgeting for recruitment, to make it a values-based experience and funding the tools that will land you with the right chapter.
OmegaOne for chapter communication, event planning, and bringing sisters together.
When you become a sister, your chapter may very well be using software to accomplish these goals. One day you'll participate in recruitment from the other side—as a proud, lettered member—and you'll want the best tools to give PNMs the same great experience you had.
See what software tools your chapter and Greek community are using, and if you believe tools like ours can improve sorority life, let them know.
OmegaFi offers software solutions for sorority chapters for recruitment, budgeting, communication, and more. Learn more about our services or call direct at 800.276.6342.
Leave your questions or comments about our sorority recruitment in the comments below!