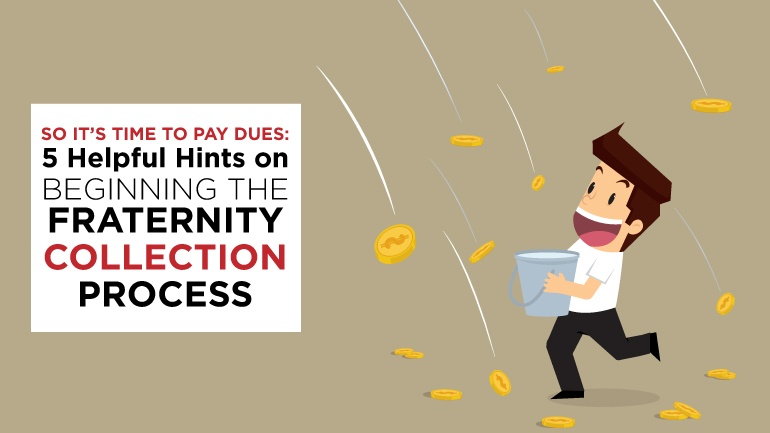 It's February, which means that for many of you, it's tax season. As you scramble to gather up your W-2s, 1098s, and receipts, your mind is singularly focused on one thing: get this money. As you harangue your accountant (or your sympathetic H&R Block rep) for increasingly illicit tax exemptions, a simple truth is being communicated: We could all use a bit more money. Unfortunately, this fact is true of another entity, and that entity your chapter within your fraternity. A fraternity needs money to thrive, and they get this money through their dues. This often means that when you get your money back from Uncle Sam, Mr. Treasurer will be standing right behind you with his hands out. The fraternity dues collection process is often seen as ruthless, but rarely ruthlessly efficient—that is, until today. Gentlemen, if you are not a chapter treasurer please leave the room, as the following hints will be geared towards lifting you up, turning you upside down and shaking you until all the coins are on the ground.
For your treasurer's benefit, OmegaFi is here to give you 5 Helpful Hints on Beginning the Fraternity Collection Process.
5. Give Notice Well In Advance

When it comes to collecting money from other people, it's best at times to give a little forward notice. Not only will this help give people a little breathing room to gather the money, but it'll also help you avoid springing a new expense on them at the last minute. The best way to facilitate this notice is to set a hard deadline for the date in question. If dues are typically collected at the beginning of the semester (let's say the week after financial aid drops), send advanced notice two months prior to the date. Send another notice a month out, and then every week up until the final deadline. This equates to about six reminders, which is more than enough to keep the concept of an impending expense well on the minds of your brothers. This effectively gets rid of the "Ah, I forgot" excuse and allows you to better hold your chapter accountable to their dues.
4. Simplify, Simplify, Simplify (Make Collection Easy)

We've mentioned this before but when asking your chapter to give you some of their limited money, the most important thing you can do is make that collection process as streamlined as possible. This means taking all methods of payment applicable: cash, card, check, money order, etc. By doing this, you eliminate questions of limited payment methods and ultimately rid yourself of your brothers' inevitable excuses. Cash, checks, and money orders are simple to collect. Just deposit them into your chapter's treasury account and provide your brothers a receipt (you can find a receipt book at Walmart). For cards, you can easily use a digital collection system (such as OmegaFi), which will act as a financial manager of sorts, taking in dues, paying your bills, and distributing your funds to areas where you see fit.
3. Make Yourself Available (Digitally and Physically)

In making yourself available, I don't mean changing your relationship status on Facebook. We get it; "it's complicated." However, what I do mean is that as the acting treasurer of your chapter, it's imperative that your brothers be able to reach you by any means available. Within digital communication, you should respond to emails quickly and succinctly. The same can be said of text messages, and any other forms of digital communication. In real life, your brothers should be able to reach you in person. This doesn't mean open your home to brothers walking in to ask how much dues are again, but it does mean spending a bit more time at the end of a chapter meeting to answer any unresolved questions brothers may have, and possibly establish payment methods for brothers strapped for cash.
2. Make It an Event (Choose a Specific Time and Date)

For the sake of argument, let's pretend that tomorrow is collection day. You've done your due diligence and let brothers know what date the final deadline would be and what time you'd be collecting dues up until (let's say 11:59pm for all the procrastinating students out there). Now, with those key questions answered, one final task remains: Where can brothers pay their dues? Sure, you've opened up digital means through applications such as OmegaFi, but you need a physical space to facilitate this collection so that you can ensure the majority of brothers know when and where to pay their dues. We here at OmegaFi would advise using the space of a chapter meeting to host your dues collection. In this sense, you can actively facilitate the dues collection process, each brother feels immediately responsible to their dues as public pressure is immediately apparent, and bonus, if given a heads-up notice the day before dues, the consequences of not paying (being inactive and unable to vote) are instantaneous. You can hammer this fact home by collecting dues in the beginning of chapter and holding a vote on some key issues immediately after (for instance where you'll hold the next formal).
1. Follow-Up is Everything

In life, follow-up is everything. Whether professionally or personally, it's incredibly important to reach out to those we interact with and leave touch points when we can. Dues collection is no different. Imagine for a moment that the day of dues collection has passed and there are more than a handful of delinquent brothers. What do you do? Do you move on with business as usual, focusing on the finances of upcoming chapter events, assuming that delinquent brothers will get the memo eventually? Or do you take the extra ten minutes to send out a quick reminder to push brothers into paying their dues and reclaiming active status? The difference between those two answers is what separates a good treasurer from a bad one. Which one are you?