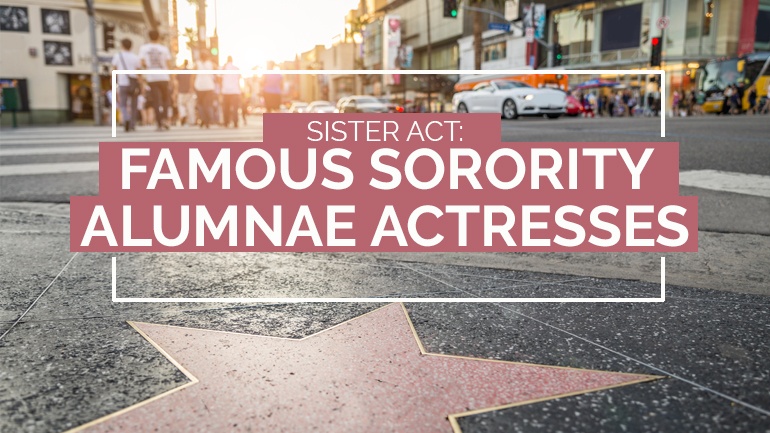 Every sorority sister wants to strike it big in Hollywood, make millions of dollars, hang out with the directors and movie stars and maybe even have their own "star" on Hollywood Boulevard, right? Well, no. Not exactly. Sororities have members with very diverse sets of interests and goals. Some are future engineers, or doctors and surgeons, or master chefs, or educators, or business leaders; you get the picture. Not all sisters have a proclivity for acting, and not all have the interest, either. Yet one of the joys of cinema is that everyday sisters from many diverse backgrounds and fields of study can get together, pop some popcorn, slip on some pajamas, and fire up a movie on the common area flat screen. No experience or interest in the art of filmmaking is necessary to enjoy a drama with lots of tension and explosions, or a comedy with fart jokes and, well, explosions. Or the non-explosion girl-meets-boy kind.
Our point is: Actresses' talent lies in being able to use their skills to bring the stories of movies to audiences, make them feel and connect with the characters they play. And what better way to connect for sorority sisters than to see former sisters up on the big screen? Whether you're a theater major looking to break into the biz, or just someone who likes to relax and release the tension of classes with a good laugh or cry, these actresses are at your service. That's why OmegaFi is happy to present to you Sister Act: Famous Sorority Alumnae Actresses.
#5: Angela Kinsey

Best known for her role as the conservative cat lady, Angela, on the American run of "The Office," Angela Kinsey has acted in a plethora of projects, including King of the Hill, Step by Step, Monk, American Dad!, and others. She is currently on the cast of a Netflix comedy series called Haters Back Off. Prior to her Hollywood stardom, Kinsley spent part of her childhood in Indonesia before returning to the United States. She became a sister of Chi Omega while attending theater classes at Baylor University, and kicked off her career as an intern on Late Night with Conan O'Brien. Kinsley's case is a textbook example of sorority Hollywood success. Many of her roles, especially The Office's abrasive Angela, have endeared this sorority alumna actress to movie lovers everywhere.
#4: Kathy Bates

Some might be too young to remember, but for those who saw Bates play Annie Wilkes in Stephen King's Misery, wielding a sledgehammer over the soon-to-be crippled legs of a writer she's kidnapped--we don't need to remind you what happens next. The echo of it replays in our collective memory. We're wincing just talking about it. Yet Bates, a Alpha Delta Pi sister at Southern Methodist University, is not just known for her haunting role in this horror film. She's a talented and accomplished actress of diverse roles. She's appeared in a number of films and televisions shows, including everything from Titanic to Adam Sandler's The Waterboy, to The Love Boat. She even acted alongside Kinsley (see above) in The Office. You can catch her currently in a Netflix series called Disjointed.
#3: Elizabeth Banks

Before going on to become a majorly talented actress and celebrity, Banks became a sister of none other than Delta Delta Delta (or "Tri-Delta") at University of Pennsylvania. Do we really need to lay out her filmography for you, sisters? You know. You've seen Hunger Games, Role Models, Spider Man, 40-Year-Old Virgin, the many television shows she's been in, and the list goes on. Banks has become a household name over the past few decades of her career, and with good reason, if you've ever seen her acting chops. Her acting career started all the way back in the years of little league, where she injured herself sliding into third base and decided to try out for the school play instead. She kept up her love of theater ever since, and after undergrad went on to earn her MFA from the American Conservatory Theater in San Francisco. The rest, as they say, is history.
#2: Wanda Sykes

This hilarious comedienne-slash-writer-slash-actress enjoys her sisterhood in the Alpha Kappa Alpha Sorority, Inc. at Hampton University. Sykes's college education was in marketing and she worked for years with the NSA, moonlighting as a stand-up comic. She broke into the mainstream when she he opened for Chris Rock, later going on to work on the Chris Rock Show, which launched her into other roles in shows and movies such as the New Adventures of Old Christine, Will & Grace, Evan Almighty, Curb Your Enthusiasm, and has had her own sitcoms including The Wanda Sykes Show and Wanda Sykes: I'ma Be Me. She's even written a book: Yeah, I Said It. Sykes is an outspoken proponent of LGBTQ+ rights, and continues to express her talents in a variety of venues.
#1: Lucy Liu

You'd have to be living under a rock not to know who Lucy Liu is. This University of Michigan Chi Omega alumna, who earned her degree in Asian languages and cultures, has been in more movies and shows than we can count. She's also a singer, director, producer, voice actress, and artist. Liu's parents emigrated from Beijing and Shanghai to Taiwan, and then to New York, where Liu grew up with her siblings. She was perhaps best known in her early career as Ling Woo in Ally McBeal, but has gone on to star in such nationally successful films and shows as Kill Bill, Charlie's Angels, Sex and the City, Futurama, Empire, and Southland, and has acted on Broadway. She is an active charity giver and organizer for breast cancer awareness, human trafficking, UNICEF, marriage equality, childhood malnutrition, and more.
As you can see, you may not be aware just how much "silver"--as in the silver screen--there is in your sorority colors. Some of these actresses might just inspire you to take a theater class or two, participate in a local production, or even move to the west coast and try to make it big. Or you might just enjoy watching them do their thing. Either way these Famous Sorority Alumnae Actresses are the ultimate Sister Act. The world of Hollywood celebs is a big one. We're sure we missed somebody on this list, so if we did--help us out!
Tell us who your favorite sorority alumnae actresses are in the comments below.