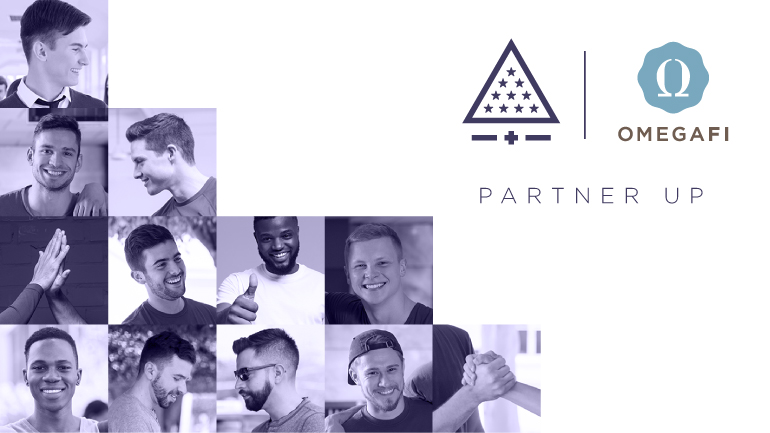 COLUMBUS, GA. – October 3, 2019 - OmegaFi announces an enhanced partnership with Sigma Pi Fraternity to include many of OmegaFi's Chapter and Headquarter solutions. Sigma Pi has been a valued OmegaFi partner since 2010 when it adopted the Vault and Compass solutions.
Sigma Pi has been a valued OmegaFi partner since 2010 when it adopted the Vault and Compass solutions. Sigma Pi has decided to offer new tools to help chapters and the national organization gain efficiencies by expanding their current Vault partnership to all Sigma Pi chapters. In addition, Sigma Pi will be the first men's organization to adopt OmegaOne fraternity-wide.
Executive Director/CEO Jonathan Frost stated, "As we reviewed our financial management system, we identified a variety of needs, and OmegaFi presented a great solution for all of them. Throughout our research, we also realized a need for more than just technology. The hands-on approach OmegaFi takes to train and consult with our students, officers, advisors, and Executive Office staff was just as important. I am excited about the increased efficiency OmegaFi will bring to our operations and the additional support and benefits we will be able to provide our brothers."
While Compass is dedicated to servicing organizations at the headquarters level, Vault addresses the unique challenges of managing member data and finances on the local chapter level, specifically, the billing and collection of member-based fees. In addition, OmegaOne will provide staff members at the Executive Office and chapter members alike, a robust tool to communicate, improve security and manage events, members and chapter operations all within one application.
"OmegaFi has been proud a partner with Sigma Pi for nearly a decade, and we are happy to expand the scope of financial and membership engagement support we provide," says OmegaFi CEO, Fred Maglione. He adds, "As Sigma Pi grows, so do OmegaFi's solutions. We are pleased to announce that our newest app focused on member engagement, OmegaOne, will be utilized by Sigma Pi chapters across the nation. We look forward to providing Sigma Pi with the necessary solutions it needs to grow and assist in their Quest for Excellence."
ABOUT SIGMA PI:

Sigma Pi Fraternity was founded in 1897 at Vincennes University, in Vincennes, Indiana. Our Executive Office is located in Nashville, Tennessee. The Fraternity is one of the top men's collegiate organizations in North America, with more than 120 active chapters and colonies in the United States and Canada. With over 100,000 alumni and 5,000 undergraduates; our men strive for excellence by living our core values to promote fellowship, develop character and leadership, advance heightened moral awareness, enable academic achievement, and inspire service. Sigma Pi is the only Greek-letter organization with an international service program, The ACE Project, specifically designed to give back to our host institutions.

ABOUT OMEGAFI:

At the intersection of technology and fraternity, OmegaFi offers a great depth of knowledge and history of innovative solutions for fraternity and sorority management. OmegaFi's innovative financial, recruitment and communication tools aligned with a customer-centered approach help collegiate chapters, house corporations, headquarters and foundations optimize operational efficiency and increase revenue.
For more information about the partnership, please contact JB Goll, Director of Partner Success at: jgoll@omegafi.com.