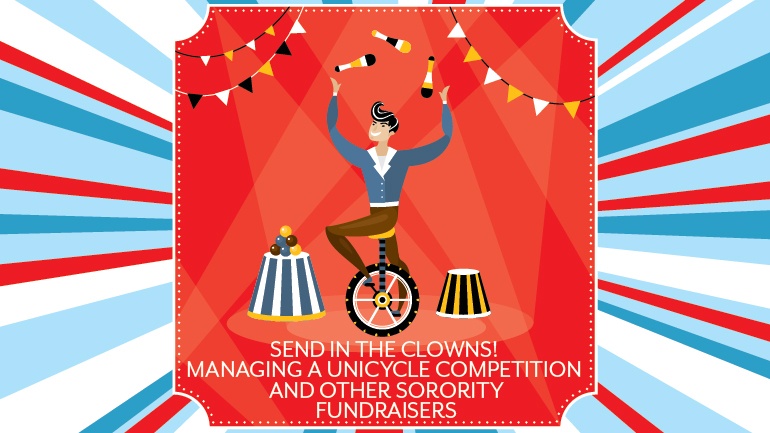 How do you even ride a unicycle in the first place? To start with, there's one wheel. That requires a lot of balance and coordination. One night you broke a heel and it was an ordeal just to make it back to the car.
You're not in the circus. Yet sometimes the strangest ideas and concepts, the ones you write off as too bizarre to be of any value other than if you were to join the big tent, are the ones that can help sorority sisters out of a tough jam down the road.
Let's discuss.
You have a sorority fundraiser to plan, and you're coming up blank. That is, until you see one of those unicycles fly past you on the way to organic chemistry one day. How does that young bearded gentleman keep his seat at that speed, through the crowds of students coming to and from class, without eating the sidewalk?
You start to realize that--regardless of whether this guy sits in the back of class half asleep, when he bothers to show up at all--unicycling is an actual talent. It's a marvel among young twenty-somethings who want environmentally friendly transportation, but find longboarding a bore and prefer one wheel to two.
For your sorority fundraiser, why not gather all these single-wheeling maniacs in one place, and have a unicycle competition? Obstacle courses. Tricks. Races. The whole deal.
This is either the best or the worst idea of all time, but either way it's just a fact that some of the most successful sorority fundraisers happen when sisters take a chance on their most unique ideas.
OmegaFi wants to encourage you to Send in the Clowns as we discuss Managing a Unicycle Competition and other Sorority Fundraisers.
The Squeaky Wheel Gets the Grease in Sorority Fundraising

Unicycle-themed metaphors aside, the fact is that you want to have a sorority fundraiser that attracts a lot of attention. For one, this means being aggressive about marketing your fundraiser on campus and in the surrounding community, such as through traditional flyering, social media and web presence, partnering with local organizations with a lot of exposure and if possible talking with news outlets and radio broadcasts.
Beyond advertising the event, it can help to have a sorority fundraiser that's bold and attracts attention. The trick is balancing ideas that are outside the box without overshadowing the fundraiser's cause or making things too chaotic or unmanageable.
Let's go back to that unicycle idea for a moment. It sounds just wacky enough to turn some heads, and it's sure to attract some talented participants. However, while the surface of the fundraiser seems extreme and outlandish, the underlying structure of a fundraiser remains the same. Just like any other 5k or car wash or dance-a-thon, your unicycle competition should be designed with clear rules on when and how money is donated toward your cause. The donations should be collected and your sorority fundraiser managed in a professional manner.
What Your Sorority Fundraiser Says about Your Chapter

It's important to remember you're most likely raising money for philanthropy, often with a partner organization involved, and the cause will always be at the forefront of your efforts and how the event is perceived. That means that ideas should have the image of being wild and fun on one level, but always tasteful and within campus rules.
It's also important to remember, the real litmus test of a sorority fundraiser or anything sisters do will always be your chapter's core values. If your sorority fundraising ideas don't hold up to those values, it's probably time to go back to the drawing board.
It goes without saying that sorority fundraisers shouldn't have explicit content. They should never be dangerous (okay, so maybe the unicycle competition isn't such a hot idea after all). Finally, adding the element of alcohol consumption to a fundraising event can lead to disaster very quickly. We strongly urge your chapter to not mix alcohol with these events.
Ultimately, your chapter must look to its founding sisters as well as into their own spirits to know what works best.
Same Old Sorority Fundraising Ideas? Put Your Chapter's Stamp on Them.

There are plenty of old, reliable standards in sorority fundraising that are certain to pull in some cash. Sure, hosting a 5k, charity basketball game or a fashion show is old hat. These ideas have been done before. A lot. But the reason these ideas are used so often is that they've stood the test of time, and they work.
However, the problem arises when sisters use standard, cookie cutter sorority fundraiser ideas and assume that means they'll be easier to manage, so they go on autopilot.
First, no sorority fundraiser is going to work, no matter how big the cause, if you don't put effort into it. That means you still need to plan a fundraising goal with the fundraising chairperson and committee, approach the appropriate partnering charity, set up all the event details and gather necessary equipment, food, beverages and so forth. You need to advertise, figure out who's volunteering and the logistic of managing the event, and so forth.
It's also crucial that a chapter really makes a fundraiser their own. You don't want to run the same boring 5k that the chapter next door ran last week. Add a fun theme or fresh angle that reflects your chapter's style and energy.
If you're having trouble brainstorming ideas, it's never a bad idea to get alumnae involved in the planning and management of your sorority fundraiser.
While a unicycle competition may or may not be your idea of a good sorority fundraiser, exploring fresh and exciting ideas can lead to great success, if tastefully planned and properly managed. Even if you go with one of the fundraising staples, you can still make it your own.
What have you learned about managing sorority fundraisers that you think all sisters should know? More importantly, do you know how to ride a unicycle? Gloat about it in the comments below.