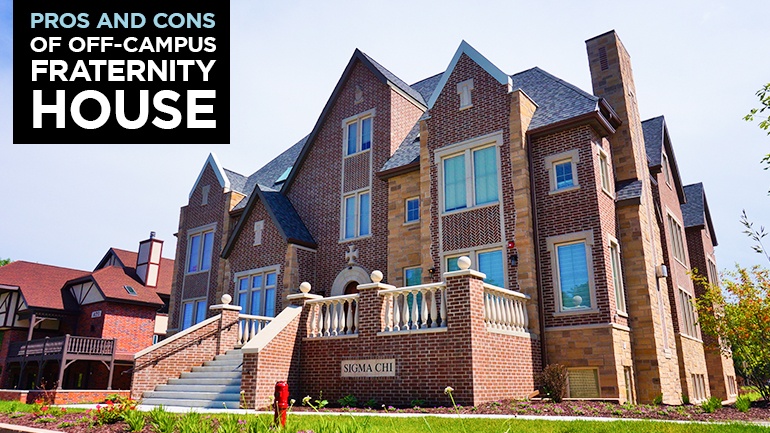 For the first time, your fraternity chapter is looking into actual housing. Maybe you're a small but merry band of brothers who's been growing in ranks slowly but surely over the semesters. Maybe you've been using one brother's house in a suburb near campus as a makeshift spot for a few other brothers to cycle through the spare rooms as a place to live, as well as for social events, backyard fire pits, and pool parties (with the consent of the leasing or mortgaging brother, of course--we don't recommend breaking and entering). And maybe you're just now "breaking into" the financial logistics of your fraternity chapter joining Greek row versus seeking housing somewhere off campus. You've been in talks with your alumni about this, and you're ready to do this thing.
It seems like a monumental task. What was just yesterday a valiant dream for your chapter to achieve, a new level of organizational autonomy, is now a migraine amidst other aches of the head: finals, planning events and philanthropies and ceremonies, dues, getting some sleep (ha ha). What exactly is this going to cost? Is being closer to the on-campus action better, or is saving some of that sweet treasury cash for other investments worth the driving distance. What's the parking situation? Is traffic a deterrent? How is maintenance handled? What about the neighbors? Are they openly hostile to the idea of a fraternity moving in next door? These are all valid questions. We at OmegaFi hope to help make the decision a little easier by listing off a few Pros and Cons of Off-Campus Fraternity Housing.
Pro: Off-Campus Housing is More Affordable

In most instances, it's just a housing fact fraternity chapters have to deal with. There are many advantages to living on campus, but cost isn't necessarily one. In fact, you might say it can be a direct tradeoff between the visceral benefits of the campus lifestyle and support and your chapter's pocketbook. This may not be true in all cases, though generally off-campus property is more affordable. With the money saved on room and board, there may be more money for philanthropic pursuits, socials, formals, and sports, as well as savings. Whether or not your fraternity chapter is in a position to have more flexibility with funds by going the way of an off-campus option, they can also utilize tools like OmegaFi's Vault to streamline their funds and optimize their chapter operations.

Con: Giving up the Goods
For starters, you're giving up a lot of amenities of on-campus fraternity housing: nearness of classroom buildings, ease of parking, the campus gym and tennis courts and the library, access to campus laundry machines, the perks of meals you don't have to cook yourselves, study spaces, access to the university's internet and so forth. Keep in mind a lot of the related tasks are going to require extra effort to achieve during your day if you're in an off-campus house. You'll be driving to class, likely. If your class is during rush hour, you've got work hours to factor in with getting assignments done, and gas prices are going up as your money leaks from your tailpipe sitting in traffic or circling campus parking lots looking for a spot (the way one looks for water in the desert). This can amount to a huge issue over time for your fraternity brothers. Then you have to figure out cooking meals or spending money on eating out, setting up your own internet access, and heading over to campus any time you want to use any student services. This is yet another instance of gas money dwindling from your pockets.
Pro: More Freedom

Don't get too excited. You still have to adhere to the regulations set by the university and your national fraternal organization. Yet, campus life has its own strings attached to the benefits you reap as a fraternity in a university housing option. For instance, if you're on a dry campus, you won't be able to host socials that allow alcohol to brothers of legal drinking age. Depending on the specifics of your organization, you may want to have a dry house anyway, as some chapters have decided in the past. Though at least it would be an internal decision among brothers rather than one enforced from the outside. Many other aspects of housing are regulated as well, such as anything from furniture, to meal plan rates and parlor fees, to leasing agreements, to other housekeeping expectations subject to inspection, as well as the fact that the house can be entered at any time for various reasons by the owner of the house, in some instances representatives of the university. Of course you want to keep a clean and well-maintained home with your brothers, but off-campus housing can offer quietude in this specific way--that it's a self-regulated cooperative effort without the hassle of an overarching set of extra fine print, which is something you all are good at by simply being part of a fraternity, anyway.
Con: Off-Campus Housing Comes with Its Own Hassles
For one thing, you might have opposition from neighbors to a fraternity chapter moving in next door. You'll have to scope out and deal with the reality that some folks just want to live in a peaceful, quiet area, and don't feel as enthusiastically as you do about your organization's housing choices. There's also insurance, taxes, zoning, and permits to deal with in a private off-campus residence. Depending on your off-campus choice of housing, it may also require your alumni to be on the hook for a huge investment on their part, in terms of a mortgage and so forth, that is threatened if the number of members living in the house wanes in the coming semesters. This has to be a sound financial decision whose risks and expenses should be thoroughly hashed out before any ink is pressed to paper. Consider also if a program like OmegaFi's Compass or Pennnington & Company might help manage this campaign and alumni involvement therein.
Here are just a few of what we consider the most pressing concerns when weighing the pros and cons of off-campus fraternity housing. Have you been considering this move with your organization? What's the good and the bad in terms of what you ran into through the housing process? Let us know what you'd add to the list below in the comments.