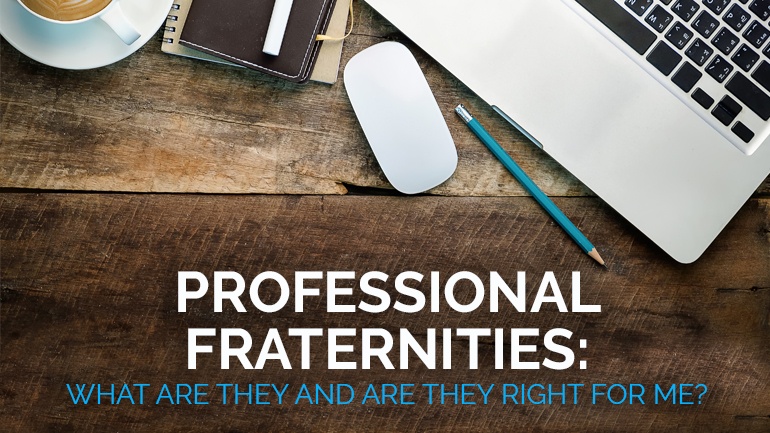 It's hard to find a college student far or wide who doesn't know what social fraternities and sororities are all about. Honestly, it's hard to find anyone who isn't familiar with college Greeks in America--unless that person is a caveman who's been frozen in the Himalaya Mountains for millions of years. Even Brendan Fraser's character from the film Blast from the Past, who's been in a nuclear fallout bunker for decades, surely knows about Greeks who've been part of American culture for the past two hundred years.
Social fraternities and sororities get all the attention. They show up in stereotyped form in films like Animal House and Legally Blonde, and anyone walking through Greek housing on most college campuses will quickly get an idea of how entrenched in college life these organizations are. But what about professional fraternities? What on earth are they? Simply put, they're chapters with co-ed membership, dedicated to a professional success in a given field of study, such as business or the arts. Some professional fraternities and sororities are not co-ed. However, Title IX suggests these professional chapters, who receive federal financial assistance, should not form memberships strictly based on sex. They're different from social Greeks, as well as service fraternities and sororities (focused on community service), and honor organizations (academic performance/fee-based membership).
But what does this mean for you, dear college-aged reader? Can a professional fraternity benefit you and your career path? What are the pros and cons of a professional fraternity versus joining a social chapter? OmegaFi is happy to give you the skinny on Professional Fraternities: What Are They and Are They Right for Me?
So, will a professional fraternity benefit you in and out of school? The short answer is: Yes, but it depends.

What do you want to get out of your brotherhood/sisterhood experience?
One of the great things about professional fraternities is that they are designed with your success in your given degree field in mind. They aren't just there to benefit you at the end of your collegiate journey, when you're looking for a job, either. They're there to bring those in a given field together to benefit each other along the way. Typically these organizations and chapters are geared toward your success with your collective brothers and sisters, from your budding undergraduate years all the way through your career as a business person, engineer, doctor, pharmacist, artist, or whatever the case may be.
Case in point, take Alpha Kappa Psi, one of the country's most renowned co-ed business fraternities. Back in the 1950s, AKPsi rightly abandoned their exclusive membership of white, Christian males, and currently boasts an active college membership of over 14,000 young women and men nationally, all studying various linked professions such as business administration and accounting. AKPsi offers its members access to a network of professionals and fellow students to help each other with core classwork and create bonds that will continue on into the professional world. But they also offer crucial leadership programs and conferences to help you succeed, such as their Principled Business Leadership Institute, Case Competition scholarship program, College of Leadership conference, and The Academy retreat--for a selection of exceptional students and future business leaders.
Or how about Delta Theta Phi, an international co-ed law fraternity? This organization is fairly unique in the sense that it offers chapter membership outside of the United States to students at non-American Bar Association-approved law schools. They also publish a highly regarded law review, The Adelphia Law Journal. They've initiated over 130,000 members over the course of its century-plus long history.
According to their website: "Delta Theta Phi can assist with professional programs (giving youaccess to our local alumni as guest speakers), charitable and service programs (our students participate in a wide range of local, regional, and national programs), or academic opportunities (we are the only law fraternity with an authoritatively recognized law review), in addition to the academic and social advantages of networking among students in their various levels of study...Delta Theta Phi provides a forum for students, lawyers, and other members to network, exchange ideas and knowledge, and create lifelong professional affiliations and personal friendships."
Taking these two examples, you can see how professional fraternities offer things like degree-specific achievement scholarships, as well as access to professionals and alumni to help grow your acumen as a young professional.

You might ask: But don't social Greek chapters offer networking and student success initiatives? And don't professional fraternities offer social events?
Yep. And that's a great thing, because it allows you to decide what you want to focus on in your Greek life. Social chapters offer networking, but have much less of a focus on any specific field of study and are generally not co-ed. They offer scholarships, but not usually in tandem with career-specific growth programs. You'll still get to network, but with a wider, less focused berth. Take it from us--we can't talk enough about how social fraternities and sororities are wonderful organizations to gain personal growth and fully experience college life, participate in philanthropies and have a great time doing it. Many here at OmegaFi have cherished just such an experience. And if you still want that professional edge while in a social chapter, you can always join a student association based on your degree program. On the flip side, professional fraternities are groups where you still must pledge, be initiated, pay dues, wear letters, and pitch in for events and initiatives. They also offer events like socials, formals, and some have campus chapter houses. So it really just depends on what you want out of Greek life.
Are you more career focused, and want to surround yourself with others who are on the same professional path, or do you feel you'd like your Greek experience to be a more rounded one, with a stronger social element? Neither is the wrong choice. Pledging a chapter--any chapter--is taking on a huge commitment, both financially and in regards to your personal time and attention. So make sure you take the time to research the chapter you're thinking of joining. Go to recruitment events, ask questions, and visit their website and social media. Get to know some of their members and ask what they think about their experiences as a brother or sister.
These are some of our thoughts on professional fraternities, what they are, and if they're right for you. Young professionals--what have your experiences been like with professional fraternities? Give us your company-wide memo in the comments below.