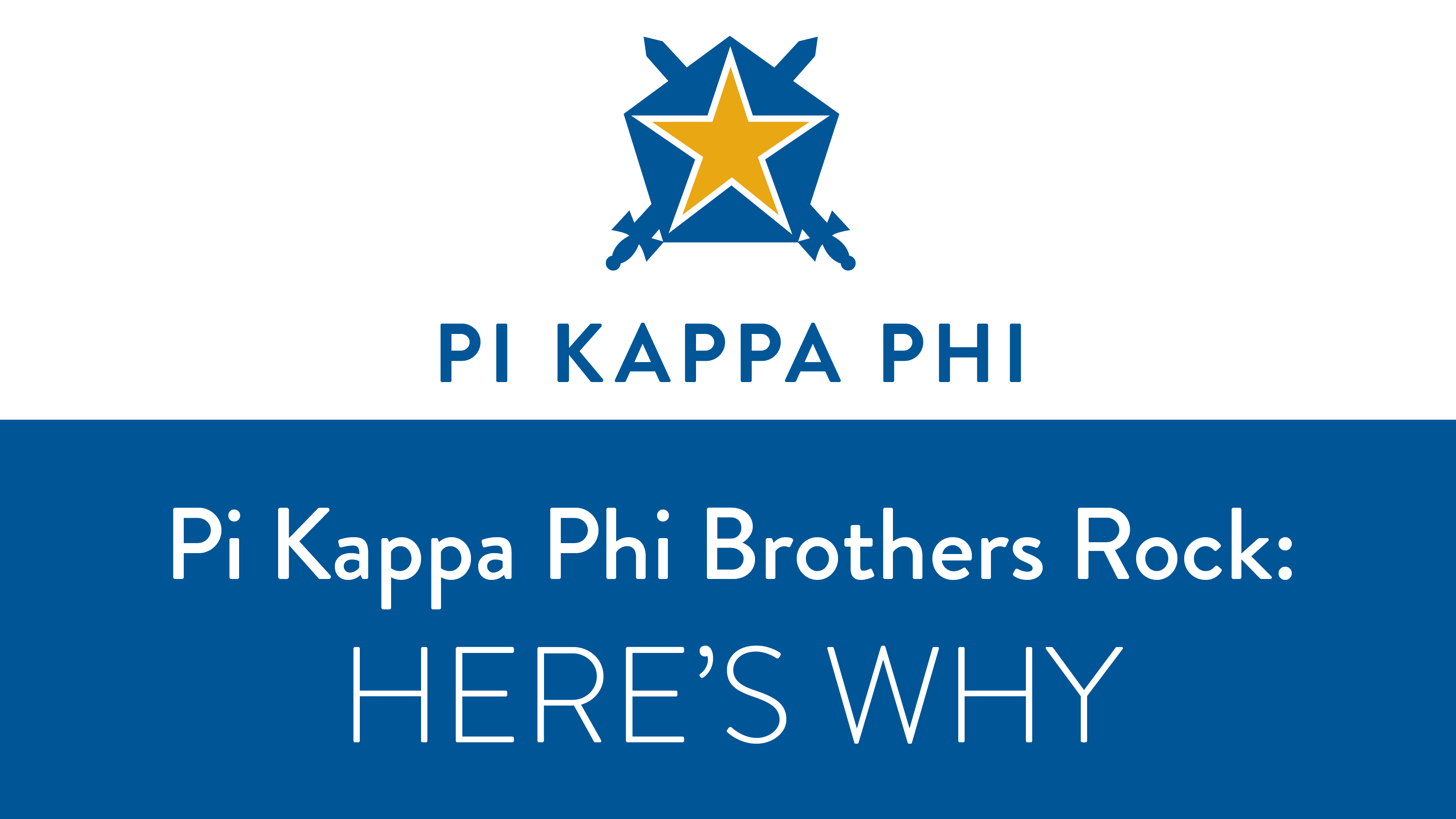 Every fraternal organization has a founders' story, traced back to some pioneering effort that launched it into its current national iteration. Some can be traced back to the civil war era, entrenched in our nation's history. Pi Kappa Phi is not quite as old as others. Yet they have been around for more than a century, formed by a few young men at the College of Charleston in South Carolina. The history of this brotherhood is itself a balk at the status quo, originally called "Nu Phi" (meaning "non-fraternity") in objection to campus politics controlled by other fraternities, and in order to gain prominence in a literary society of their era. Due to disloyalty within the group, however, the organization faced a shakeup and became the 120,000-man force of nature we know and love today.
Seeing as Pi Kappa Phi was essentially founded on the spirit of individual effort, it's no wonder that they look beyond the past, to the future where the values they hold today allow their brothers to excel. They not only work to better themselves, but recognize the need to lend a hand to those with disabilities which impact their lives. That's why, since 1977, Pi Kappa Phi brothers have held a nationally-recognized philanthropic endeavor dubbed: Ability Experience. So what's it all about? How do they achieve this awesome, charitable goal each year? OmegaFi is here to tell you all the reasons Ability Experience shows us that Pi Kappa Phi Brothers Rock.
Here's Why:
Reason #1: Creating a Community, "One Relationship at a Time"

We already know that philanthropy within a community can have positive influence on the people within that community. There are statistical, economic reasons philanthropy benefits others and should be pursued by the good-hearted among us. However, this bird's eye analysis, which one might imagine presented on a quarterly earnings graph at a board meeting, is likely not how those impacted by philanthropy view these efforts. As Pi Kappa Phi's exclusive philanthropic effort each year, it's clear these brothers believe in their own message that a community is created "one relationship at a time" (as their mission states). The efforts indeed began with one relationship, between the fraternity and a man named Thomas Sayre, the designer of a therapeutic play unit for children with disabilities. An artist, architect and sculptor, Sayre designed these units under the name "Push America," where "Push" stands for "Play Unites for the Severely Handicapped," eventually rebranded under the "Ability Experience" moniker. Pi Kappa Phi brothers worked to help fund Sayre's project to install the play unit equipment in several states, and the project grew from there. This one community-building relationship is just one of the reasons these brothers rock.
Reason #2: Helping Those with Disabilities Stay Active, and Staying Active to Help Those with Disabilities

Pi Kappa Phi brothers didn't stop with their ever-evolving efforts to bring Ability Experience to the forefront of disability aid, including Sayre's program. Of course they didn't stop. They pressed on, continuing to bring attention to the effort in the way of true pioneers. In the late 1980s, Pi Kappa Phi alumnus Bruce Rodgers hopped on his bicycle, pressed the sole of his shoe to the pedal, pushed off, and did not stop until he had crossed the entire United States of America. Why on earth would Rodgers embark on such a strenuous feat of danger and endurance? Was he out of his mind? We would like to assure you that when Rodgers set off on his cross-country journey, he very much had his wits about him, and a worthy cause in his heart. That is, this former brother had no other goal in mind but to draw attention to Ability Experience and expand its workings to new places, for it to benefit new communities and individuals within those communities. His one-man Tour de America sparked something within the chests of other brothers, and the following year Bowling Green State University student Jim Karlovec put together a team of 21 men and took up Rodger's example of bicycle-powered service, kicking off the "Journey of Hope." Ever since, brothers of Pi Kappa Phi in various states have been spending their summers cycling in hopes of spreading, well, hope to those who suffer disabilities.
Reason #3: They Won't Stop

The spirit of defiance was embedded into the history and foundation of Pi Kappa Phi all those years ago. And yet, that same spirit remains a force of locomotion for contemporary brothers and alumnus across the United States. The Ability Experience is the centrifugal mechanism by which brothers give this spirit back to the world. Since the early years of this philanthropy, the Ability Experience has evolved in several ways. Let's take a look.
First Evolution: Ability Weekends. These two-day events, held across the country, allow students to participate in community projects, such as constructing amenities for disability access to facilities.
Second Evolution: Ability Camp. Weekends weren't enough for these brothers to achieve their goals for giving. Brothers actually give up their spring breaks to participate in this week-long service project. So when you're getting your tan on in Boca Raton, raise your wine glass in recognition of these selfless young men.
Third Evolution: Brothers designed this program in the mid-90s to help build wheelchair ramps for homes as part of local service projects. Later, Build America expanded this concept.
Last but Not Last: Pi Kappa Phi's efforts are ever-evolving, as chapters team up with local charities and programs and continue to donate millions to their efforts on behalf of Americans suffering disabilities.
There are many charitable causes which OmegaFi would call noteworthy--Sigma Chi's mountainous efforts to raise money on behalf of the Huntsman Cancer Institute, for instance. Or how about Delta Gamma, where sisters are happy to dive into charity with their nationally-recognized, swimming-themed Anchor Splash on behalf of Service for Sight? And do we really need to mention Derby Days again? You all get the picture. Yet Pi Kappa Phi's Ability Experience holds a unique place in the world of philanthropy. This program will only grow over time, and these brothers rock precisely because they refuse to let those with disabilities fall by the wayside of society.
Why else do Pi Kappa Phi brothers rock? What other praises might be sung about this organization, or the Ability Experience program? Let us know in the comments below.