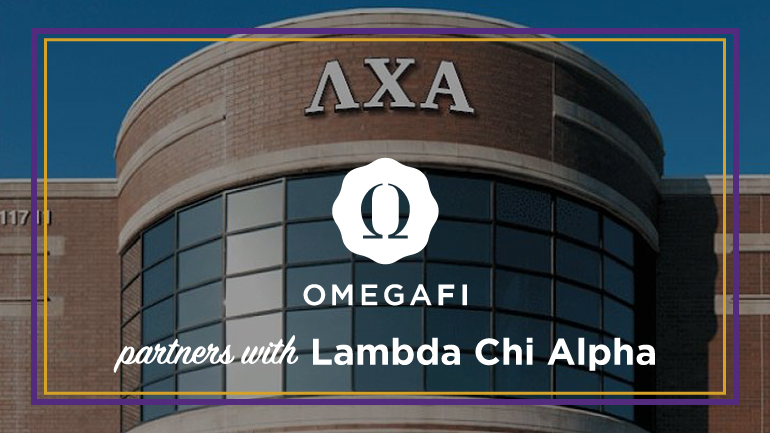 Columbus, GA – November 5, 2019 - OmegaFi is excited to announce a comprehensive and exclusive partnership with Lambda Chi Alpha Fraternity. The partnership will provide a complete chapter management system to members and headquarters staff alike.
Lambda Chi Alpha International Headquarters is further investing in their chapters and organizational growth by providing solutions to allow members to operate at a higher level of efficiency with tools focused on financial management, recruitment, communication and member engagement. In addition, OmegaFi will provide Lambda Chi a new database solution to serve the International Headquarters in Indianapolis that will also add value to membership beyond the member's undergraduate years.
OmegaFi is honored and grateful Lambda Chi Alpha has entrusted our solutions and team to assist in the continued growth and excellence the organization already exhibits. We look forward to working together to secure a lifetime of true brotherhood.
OmegaFi CEO, Fred Maglione commented on the partnership saying, "OmegaFi is thrilled to be working with Lambda Chi Alpha in such a large capacity. In addition to providing Compass at the headquarter level and Vault for undergraduate members, we are honored they have trusted us to provide a complete chapter management system for their chapters."
Chief Executive Officer of Lambda Chi Alpha, Troy Medley, also commented on the partnership saying, "We are excited for what the future of this partnership holds. With the help of OmegaFi, our members will have the opportunity to learn how to manage a modern business and develop skills that they will use forever."
OmegaFi is excited to work alongside chapters nationwide to help members learn how to manage their chapters like the modern-day businesses they represent.
ABOUT LAMBDA CHI ALHPA FRATERNITY, INC.
Headquartered in Indianapolis suburb of Carmel, Ind., Lambda Chi Alpha Fraternity is one of the largest men's general fraternities in North America with more than 295,000 initiated members and has held chapters at more than 300 universities. In the early 1970s, it was the first fraternity to eliminate pledging and remains a leader in the fight against hazing, alcohol abuse, sexual assault and other challenges facing today's college student. Complemented by its partnerships with Feeding America and the JED Foundation, Lambda Chi Alpha serves to enhance higher education by providing opportunities for academic achievement, leadership development, personal growth, career networking and lifelong friendships. To learn more about Lambda Chi Alpha and its traditions, principles, and ideals, please visit www.lambdachi.org. #GrowServeLead
ABOUT OMEGAFI:

At the intersection of technology and fraternity, OmegaFi offers a great depth of knowledge and history of innovative solutions for fraternity and sorority management. OmegaFi's innovative financial, recruitment and communication tools aligned with a customer-centered approach help collegiate chapters, house corporations, headquarters and foundations optimize operational efficiency and increase revenue.
For more information about the partnership, please contact:
Jesse Hitt, Director of Partner Success | jhitt@omegafi.com