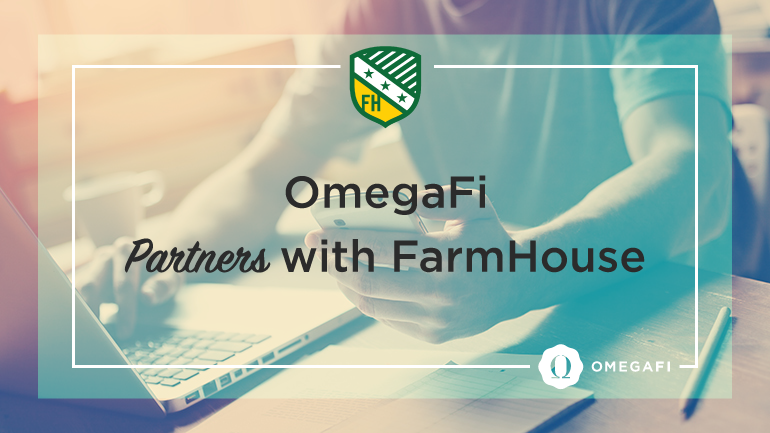 Columbus, Ga. – March 7, 2018. OmegaFi proudly announces a new Technology Partnership with FarmHouse Fraternity and the FarmHouse Foundation. FarmHouse will gain efficiencies with database and financial management that allow it to focus more resources on mission critical objectives of growth, chapter support and fundraising. FarmHouse chose OmegaFi for its industry-leading data, fundraising and national dues management tools, as well as OmegaFi's high-touch customer service methodology.
To achieve these goals, FarmHouse will convert its database to Compass and chapters will begin using Vault for chapter management. The systems are inherently integrated in real time.
Chief Executive Officer of FarmHouse Fraternity, Christian Wiggins, commented about the partnership saying, "The Object of FarmHouse has a passage that says, 'progress shall mark our every step,' and I think that accurately summarizes not only the spirit of a FarmHouse man, but also the importance of what we as an International Fraternity offer our students. This relationship with OmegaFi, and the resources that will come with it, will help us find efficiency in operation from the local to international. From their strong support system to impressive technology, I am confident that OmegaFi will help us continue to build the best version of our self."
While Compass serves organizations at the headquarters level, Vault addresses the unique data and finance challenges of local chapters and house corporations, specifically, the billing and collection of dues and rent, payment of chapter and house corporation bills and management of rosters and other reports.
OmegaFi looks forward to this partnership and welcoming FarmHouse. Fred Maglione, OmegaFi CEO, expressed this sentiment: "FarmHouse builds tremendous membership affinity and is a fundraising powerhouse. I'm excited to see how much more they can accomplish by transferring so much administrative work to OmegaFi's software, client training and support systems."
FarmHouse is OmegaFi's 20th Compass partner, joining, Acacia, Alpha Delta Phi, Alpha Gamma Delta, Alpha Kappa Lambda, Alpha Sigma Phi, Alpha Xi Delta, Chi Phi, Delta Chi, Kappa Alpha Order, Phi Delta Theta, Phi Iota Alpha, Pi Kappa Alpha, Sigma Alpha Epsilon, Sigma Alpha Mu, Sigma Pi, Sigma Tau Gamma, Theta Chi, Theta Xi and Zeta Beta Tau.
ABOUT FARMHOUSE
FarmHouse Fraternity is a men's agriculturally-related collegiate social fraternity founded in 1905 at the University of Missouri by seven men committed to building men through a four-fold development: intellectually, socially/morally, spiritually and physically. In its 112-year history, the fraternity has initiated 30,000 members and installed 50 chapters at major public research universities across North America. The Fraternity maintains a headquarters office in Kansas City, Mo. More information about the Fraternity, including its history, educational programming and life-long membership affiliation opportunities, is available online at www.farmhouse.org.
ABOUT OMEGAFI
At the intersection of FinTech and fraternity, OmegaFi, headquartered in Columbus, Georgia, provides financial, fundraising and communication software, payment solutions and support for fraternities and sororities across the United States. Their innovative tools, expertise and customer-centered approach help fraternal chapters, house corporations, headquarters and foundations optimize operational efficiency and increase revenue. Partnering with OmegaFi provides administrative relief and support allowing key officers and staff members to focus on mission-driven priorities.
For more information, please contact Addison Schopp - OmegaFi Director of Partner Success | aschopp@omegafi.com