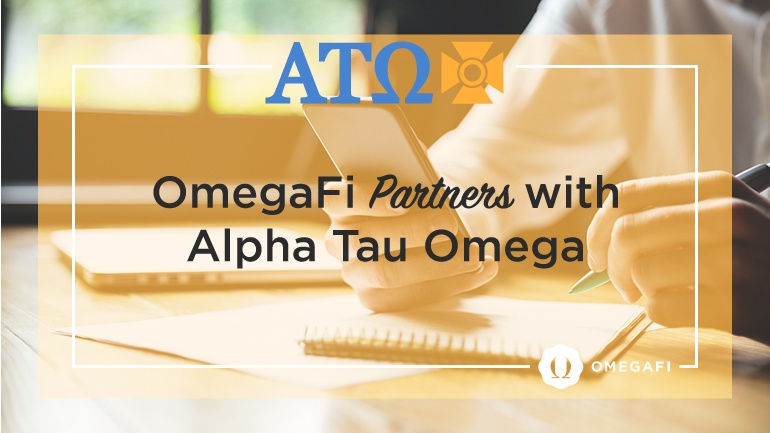 OmegaFi
is excited to announce the first of several partnerships that have come to fruition this summer.
Alpha Tau Omega Fraternity
has entered into a new Vault
partnership
and Compass client agreement with OmegaFi. This partnership will award Alpha Tau Omega the opportunity to gain efficiencies with member management, fundraising management and national dues management. In addition, ATO is looking forward to utilizing myOmegaFi, Compass Billing and Bill Pay, and OmegaFi's high-touch customer service model.
"Moving to OmegaFi boiled down to one question: 'What will benefit our chapters the most and make it easier and more convenient for them to take care of their financial and member reporting responsibilities?'" said Chief Executive Officer of Alpha Tau Omega, Wynn Smiley. "It was that simple. Running a fraternity chapter is challenging enough for our undergraduate leadership. While recognizing our great past data and financial partners, we believe OmegaFi is the right solution for ATO moving forward."
While Compass is dedicated to servicing organizations at the headquarters level, Vault is committed to addressing the unique challenges of managing member data and finances on the local chapter level, specifically, the billing and collection of member-based fees.
OmegaFi CEO, Fred Maglione commented on the partnership saying, "As a brother and house corporation volunteer with my own ATO chapter at Florida State, it is especially exciting for me to enter into this new partnership with ATO. Wynn and his team have a reputation for assembling lots of data and making data-driven decisions. We operate the same way at OmegaFi. Their move to OmegaFi's systems will dramatically expand their already significant capabilities in this area."
Alpha Tau Omega
is OmegaFi's 21st Compass partner, joining,
Acacia
,
Alpha Delta Phi
,
Alpha Gamma Delta
,
Alpha Kappa Lambda
,
Alpha Sigma Phi
,
Alpha Xi Delta
,
Chi Phi
,
Delta Chi
,
FarmHouse
,
Kappa Alpha Order
,
Phi Delta Theta
,
Phi Iota Alpha
,
Pi Kappa Alpha
,
Sigma Alpha Epsilon
,
Sigma Alpha Mu
,
Sigma Pi
,
Sigma Tau Gamma
,
Theta Chi
,
Theta Xi
and
Zeta Beta Tau.
For any questions regarding the new partnership, please contact: