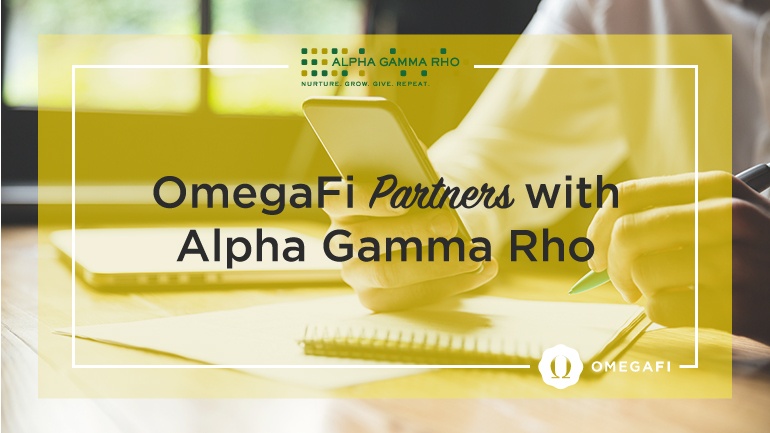 OmegaFi announces its third new partnership this summer­­ - Alpha Gamma Rho Fraternity has chosen OmegaFi's Vault as its preferred solution for chapter financial management. Alpha Gamma Rho is excited to offer their chapters the opportunity to utilize OmegaFi's services to collect national dues and help facilitate the management of chapter finances. In addition, Alpha Gamma Rho is looking forward to continuing their efforts to increase resources for chapters. Together, OmegaFi and Alpha Gamma Rho will develop educational tools to help all chapters improve their financial operations.
Chief Executive Officer of Alpha Gamma Rho, Rex Martin, commented on his thoughts regarding the partnership, "Many of our chapters and house corporations already partner with OmegaFi on the local level to collect dues and rent, pay bills, manage rosters and file their IRS Form 990. We are excited to see that number grow with our selection of OmegaFi as our partner for chapter management. Continuing our efforts to increase resources for chapters, OmegaFi will help us develop webinars, workshops and other tools to help all chapters improve budgeting, collecting and spending practices."
Vault is committed to addressing the unique challenges of managing member data and finances on the local chapter level, specifically, the billing and collection of member-based fees.
OmegaFi is more than excited to move forward with this partnership. Fred Maglione, OmegaFi CEO, stated, "OmegaFi has enjoyed supporting AGR since 2001 when we were first hired by the chapter at Auburn University. We are now excited to welcome the whole Fraternity and look forward to working with many more of their chapters."
At the intersection of FinTech and fraternity, OmegaFi offers a great depth of knowledge and history of innovative solutions for fraternity management. OmegaFi provides financial, recruitment and communication software, payment solutions and support for fraternities and sororities across the United States. OmegaFi's innovative tools, expertise and customer-centered approach help fraternal chapters, house corporations, headquarters and foundations optimize operational efficiency and increase revenue. Partnering with OmegaFi provides administrative relief and support to allow key officers and staff members time to focus on mission-driven priorities.
For any questions regarding this preferred partnership, please contact Director of Partner Success –
Addison Schopp | aschopp@omegafi.com.