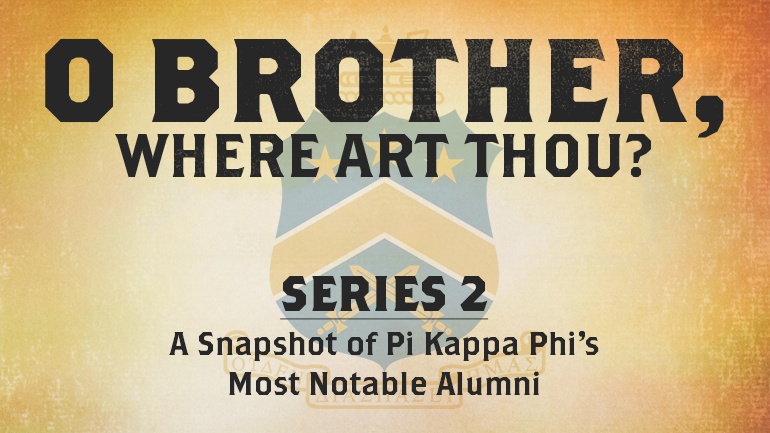 At the turn of the 20th century, a handful of young men founded what eventually became Pi Kappa Phi. The original intent was for the non-conformist group, then called "Nu Phi" (or non-fraternity), to fight the political control other fraternities held at the College of Charleston in South Carolina. After some internal shakeups, it eventually came to be known as Pi Kappa Phi and grew from there into a brotherhood of over 120,000 members. For a fraternity not quite so old as some other national brotherhood organizations, the accomplishments of Pi Kappa Phi alumni are all the more impressive. With booming membership and a century of spreading to campuses across the United States, it's not that Pi Kappa Phi is the "new kid on the block." But to be honest, the competition is stiff. There are plenty of popular fraternal organizations with rich histories deeply entrenched into the history of our nation's academic institutions. So regardless of being younger than some other fraternities, this group of young men have as much to prove as any. And prove, they have. Prove, they will. OmegaFi is right here in the thick of the action to give you a Snapshot of Pi Kappa Phi's Most Notable Alumni, with our second series of O Brother Where Art Thou?
Shoot for the Moon: Roger Crouch

Crouch may not have been part of the infamous Apollo 11 crew who walked on the moon in 1969, but he still landed among the stars. To be precise, he spent roughly 20 days in space during his career with NASA. He served as a payload specialist on several shuttle missions during the summer of 1997. Crouch is also no stranger to the potential mishaps of space flight. During one mission, a Microgravity Science Laboratory experiment was cut short due to a problem with the shuttle's fuel cell power units. However, Crouch also served aboard the re-flight mission, during which scientists studied materials and combustion science research. The 76-year-old Tennessee native and Gamma Beta (Old Dominion) alumnus holds a doctorate degree in physics, and taught at MIT before overseeing NASA's International Space Station program as Senior Scientist. His resume with NASA is impressive and too long to list here, but includes work with the Langley Research Center, Office of Life and Microgravity Sciences, Microgravity Space and Applications Division, and the MSAD flight program. He's published nearly 100 technical papers and reports on various scientific topics. Pi Kappa Phi brothers have much to be proud of in Crouch's many contributions to the United States space program and science.
Clear!: William Kouwenhoven

Surgeons huddle around a flat-lining patient on the operating table. One holds two electrified paddles over the patient's chest and yells, "Clear!" Contact. The patient's body jolts with electricity. Pulse returns. Another life saved. The defibrillator is omnipresent in movies, television, and is in every ambulance and emergency room in the country. It has kept countless people from dying when their heart stops. Defibrillation was used as early as 1899 in Switzerland, when it was discovered that electrical shocks could help stimulate the heart. In the 1930s in New York, a hollowed electrified needle was invented to insert into the heart area and produce a shock effect. However, the widespread usage of an external defibrillation exists today thanks to Alpha Xi (Brooklyn Pol/St. John's) alumnus William Kouwenhoven, an electrical engineer. During the same time period the needle device was invented, Kouwenhoven came up with a device using paddles to "jump start" a heart that had stopped. Initially the device could only be used on an opened chest cavity, but eventually defibrillators became the externally used kind we all recognize today. Kouwenhoven is also known as the "father of CPR," and helped develop the technique of cardiac massage. No alumnus gives such a jolt to Pi Kappa Phi's history like Kouwenhoven.
Rocking It from the Delta to the D.M.Z.: Adrian Cronauer

How many of you can say you've been played by Robin Williams? Cronauer can. As an indomitable presence as a U.S. Air Force sergeant and Armed Forces Radio personality, he became the inspiration for the film Good Morning, Vietnam. Though Cronauer says the film didn't really portray his life in the military, per se, his impact on broadcast is unquestionable. Cronauer earned the Ohio State Award and two Gold Medals from the New York Radio Festival for a special broadcast piece about the American Forces Vietnam Network (AFVN-military radio and television). His radio program "Dawn Buster" was broadcast from Saigon during the Vietnam War, which he served in from 1965 to 1966. During his time at University of Pittsburg, he helped found the school's first radio station, then went on to earn graduate degrees in media and law. He worked as a lawyer but was eventually disbarred for misleading consumers. He later went on to work as Director of the Defense Prisoner of War/Missing Personnel Office. Cronauer's past is definitely colorful, with good and bad, but he's impossible to ignore in the world of Pi Kappa Phi alumni.
Ability and Experience Lead the Way: Bruce Rogers

It was Pi Kappa Phi Executive Director Durward Owen who in 1976 spearheaded the fraternity's biggest philanthropic endeavor to date: Ability Experience. Owen struck a relationship with Thomas Sayre, who'd invented a therapeutic play unit for children with severe disabilities. From then forward, Pi Kappa Phi brothers have done their utmost to help Americans with disabilities. You might think of it as a calling, a point of pride among their ranks. Yet a decade later it was Chi (Stetson) alumnus Bruce Rogers who really brought the program to the nation's attention with one harrowing feat: Rogers rode his bicycle across the entire United States. His sole mission was to bring awareness of and drum up support for the fraternity's efforts on behalf of the disabled community. His daunting trip inspired Jim Karlovec to gather a team of brothers to ride on behalf of the Ability Experience program, an annual bicycle ride called Journey of Hope. You might say Rogers was the catalyst to expanding Owens's Ability Experience into the national success story it is today, and for that, this Pi Kappa Phi man has earned his name among the most notable alumni.
Of course there are plenty more success stories, including those to come of future Pi Kappa Phi alumni. Let's call this a working list. Which notable alumni did we miss? Add them to our list in the comments below.