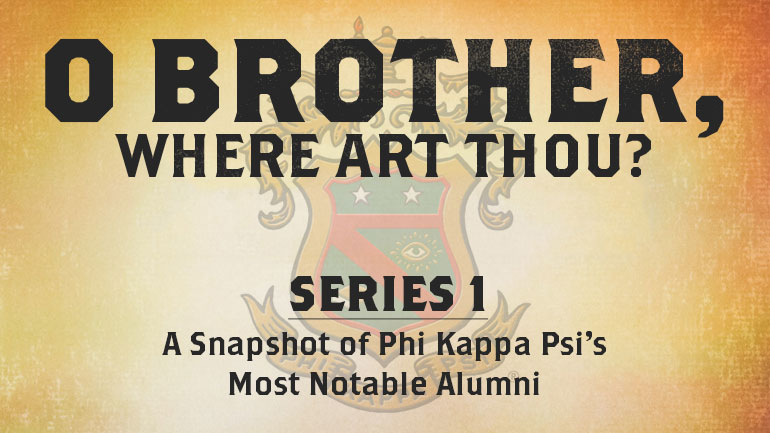 In the frigid Pennsylvanian winter of 1852, the Phi Kappa Psi fraternity was born. Since its early origins in a second-story room on Jefferson College campus in Canonsburg, Phi Kappa Psi has grown and flourished across the United States, including 100 chapters and colonies at various accredited universities. Almost two hundred thousand collegiate men have been initiated under the organization's letters since its foundation. It's only appropriate, then, that the group's motto is, "United by friendship, sustained by honor, and led by truth, we live and we flourish."
Like many fraternal organizations, the young men of Phi Kappa Psi have been on a truth-seeking journey for nearly two centuries, so it would stand to reason that they've picked some of that truth up along the way. Not only have they found truth, but--from former presidents to Olympians to movie stars and entrepreneurs in the business world--Phi Kappa Psi brothers have gone on to have their fair share of success. While presenting some of these success stories, OmegaFi is happy to answer the question, O Brother Where Art Thou? Series 1: A Snapshot of Phi Kappa Psi's Most Notable Alumni.
Swimming Against the Stream: Former President Woodrow Wilson

Our 28th president of the United States is easily the most notable of all Phi Kappa Psi's alumni. Wilson famously said, "The man who is swimming against the stream knows the strength of it." The man embodied this spirit. He had a distinguished career in academics, and held posts at Cornell, Bryn Mawr College, Wesleyan University, John Hopkins, and even became a president of Princeton University. Wilson went on to serve the office of president from 1913 to 1921, notably during World War One and having signed into legislation such landmark policies as The Federal Reserve Act, Federal Trade Commission Act, the Clayton Antitrust Act, and the Federal Farm Loan Act. He was awarded the Nobel Peace Prize for his role in the formation of the League of Nations and his efforts to end the war. In his earlier life, Woodrow Wilson pursued his education vigorously, despite possibly suffering dyslexia. He joined Phi Kappa Psi during his time as a student at Princeton, then went on to attend law school at the University of Virginia. Wilson died several years after his presidency in 1924. Many other alumni of the fraternity have gone on to serve in lesser yet distinguished roles in governmental cabinet positions, U.S. congress, mayor and governorships, and the supreme court, among others.
The Surgeon Behind the Mask: William Henry Letterman

Many Phi Kappa Psi alumni have gone on to accomplish great things in medicine and science, to win prestigious awards, and to provide the foundation for future advancements in human knowledge. Yet none is so important to the brothers of Phi Kappa Psi as William Henry Letterman, the bushy-bearded Pennsylvanian doctor who co-founded their fraternity with his friend Charles Page Thomas Moore all those years ago. Moore and Letterman formed the fraternity while caring for a friend sick with typhoid, wanting the organization to embody the ideals of their service. Letterman's older brother Jonathan had previously developed the system of battlefield medicine, which saved countless lives during the Civil War. William spent time in Texas, where he took part in the foundation of a several county medical associations and became president of one. Letterman also held membership with the Northwest Texas Medical and Surgical Society. A sufferer of poor health, Letterman eventually passed away in 1881.
Cubs Win! Sort of: Glenn Beckert

Arguably some of the top spots of alumni with sports careers might go to those with Olympics appearances and Heisman trophies (there are a few). Yet Glenn Beckert served a uniquely admirable and noteworthy role as second baseman with the Cubbies from 1965-1973, even if during his career he'd never see them win the pennant. Why, you ask? Because prior to last season's historic World Series win by Joe Maddon's Cubs, Beckert served a spot on the last team before this current group to play consistently above .500, even though in that time the club had yet to win it all. He played alongside monster names like Ernie Banks, Don Kessinger, and Ron Santo. Beckert was a golden glover and no slouch at the plate, hitting .341 for a peak performance during the 1971 season. Groan all you want at this entry to our list from the Cubs franchise, because brothers of Phi Kappa Psi know that one of their alumni helped form the backbone of the franchise's heyday.
Truth at All Costs: Seymour Myron "Sy" Hersh

Many Phi Kappa Psi alumni have flourished in careers in journalism, but none as accomplished and important as Sy Hersh. Herh's Jewish parents immigrated to the United States from Lithuania and Poland to run a Chicago dry cleaning business in the late 1930s. After being expelled from University of Chicago medical school for poor grades, Hersh went on to a career in news writing, working the crime beat for City News Bureau and going on to write for United Press International, the Associated Press, The New Republic, The Village Voice, The New York Times, and others. His stories often uncovered national scandals: the My Lai Massacre of unarmed civilians during the Vietnam War, his contribution toward reporting on Nixon's Watergate, his work covering the mistreatment of prisoners at Abu Ghraib prison in Iraq, and many others. He's won various prestigious awards for his investigative work, including the Pulitzer Prize. If truth is what Phi Kappa Psi brothers seek, there is no harder truth-seeking alumnus than Seymour Myron Hersh.
Since the organization's inception, Phi Kappa Psi brothers have served integral roles in government, the military, journalism, literature, music, sports, science and medicine, and so much more. It would be impossible to name all the noteworthy brothers here. But if you find yourself wondering, O Brother, Where Art Thou? hopefully this list gives you some food for thought when it comes to noteworthy Phi Psis. Who'd we miss? Who deserves a mention on this list? Why? Let us know in the comments below!