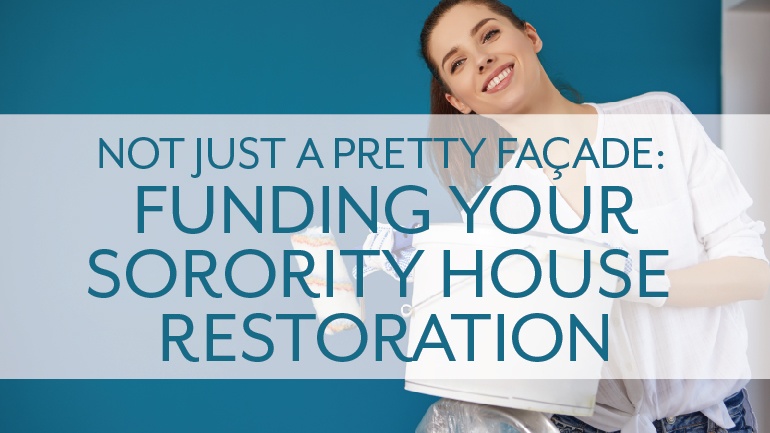 Sorority houses can be a thing of true beauty. They come in many shapes and sizes, and some of the biggest sorority houses will simply blow you away. Of course it's not always about how staggeringly some sorority houses are; there are countless ways you can make your sorority house the coolest on Greek Row.
However, sorority houses can also be a lot of work to maintain and upgrade. Why? Well for one thing, many sorority houses are pretty darn old. We know--you prefer the term "classical" or "historic," or perhaps "vintage," and that's all well and good, but at the end of the day the challenges with upkeep are the same.
A great many sorority houses were built decades, if not a century ago. Think about how much America and the world have changed in that amount of time. Now consider that some sorority houses have been around through it all. War, peace, civil rights, women's suffrage and so much more.
Now, you may be thinking about a renovation for your sorority house, and one may very well be in order. Fire safety codes in 1912 were a bit more lax than they are now. That old banister may be cool to show people when they first walk in the house, but if they're going to fall if they lean on it, it might be a good idea to invest in some changes. Maybe you want to add a new deck with a heated pool, an upgraded chapter room, add a new wing of the house and landscape a bit.
Okay, we're with you.
But hear us out: What if you love a sorority house precisely because of its old-timey architectural style, its Victorian charm or striking gothic presence, and there are features that simply give the house a soul? A heavy-handed renovation may give your house a contemporary vibe, but what if that's not what you want?
What if you want to bring out the characteristics of your house that made it worth investing in, in the first place? What you're looking for isn't a renovation, it's a restoration.
After all, your house is Not Just a Pretty Façade, and that's why OmegaFi wants to help with Funding Your Sorority House Restoration.
Those Who Don't Understand Their Sorority House's History Are Doomed

In other words, a sorority house restoration requires research.
A lot of research.
You need to know things like:
Are there local contractors who work with the era and style of the house?
How much work needs to be done to make the house viable?
What will the restoration cost, item by item?
Has the house been previously renovated? What's original and what's new?
What's aesthetic and what's necessary to meet safety and building codes?
Is there structural damage that needs immediate attention? Fire or water damage?
Are there original materials that should be restored rather than replaced?
In the end, the ultimate question is this: Is a large-scale sorority house restoration feasible? Costs will vary widely, but full restorations are known for being pretty expensive. Yet, if you feel you can meet your fundraising goals and this restoration will make the house the perfect fit for your chapter, and you've got your housing committee on board, it might well be worth it.
Once you've answered these questions, then, and only then, do you approach alumnae with your plan.
Putting the "Fun" in Sorority House Restoration Fundraising

Actually, in all seriousness you'd be hard pressed to find a sister who would refer to a fundraising capital campaign as "fun." It's a lot of hard work and a huge investment for all parties involved. Those making the biggest investment, however, are likely going to be your alumnae.
Alumnae are your top donors in any fundraising campaign of this scale, and regardless of the project you're investing in, the process of soliciting donations is much the same. You need to build a strong, lasting relationship and communication with alumnae that extend far beyond any individual fundraising effort. You need a strategy in place, you need to show alumnae that you're going to execute that strategy, and you need to approach your fundraising professionally. You need to show them you're in it for the long-haul.
You may also want to offer your alumnae digital-based giving, as well as options for recurring and automated donations.
One important thing to consider for your sorority house restoration is hiring a professional fundraising consulting company. A fundraising company can streamline and add a professional veneer to your fundraising efforts. They can guide your chapter through the fundraising and restoration process from planning and feasibility, to executing your campaign and beyond. They will help target alumnae based on what motivates them to become invested in your project, and they will track and manage alumnae giving.
Whether or not you hire professionals to help with fundraising, you need to know you're going to be relying on your alumnae and that you should be realistic about your goals. Not all alumnae are going to give, and those who do aren't all going to give equally large amounts.
The majority of what you raise is likely to come from the top ten alumnae, with the leading gift making up about fifteen to twenty percent of your total goal. And at the end of the day, only about twenty percent of alumnae will give any amount.
A sorority house restoration project will be hugely rewarding, but it will also be hugely a pain in the neck. These are just the facts. You're going to have to do a lot of research, put in the groundwork and consider the pros and cons of hiring professional fundraising consultants. You'll have to commit to a long-term chapter effort, but in the end, you'll have the sorority house restoration of your dreams.
Are you considering a sorority house restoration? Have you done one in the past? Tell us about your expectations and experiences in the comments below!