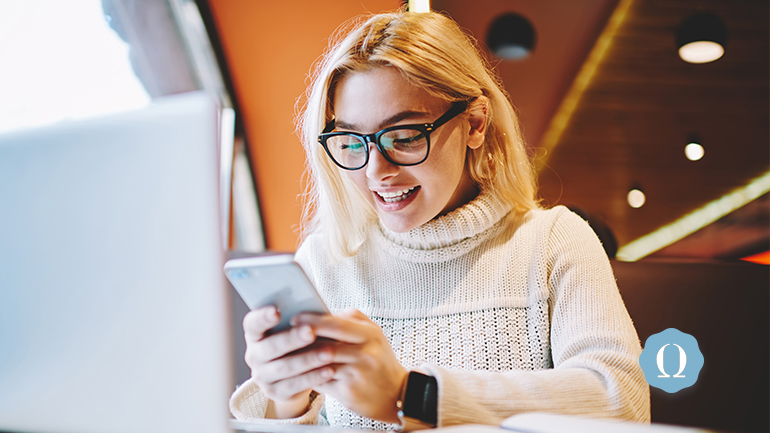 For new sisters, the right sorority communication tools can make or break your chapter experience.
When you're new on campus, building relationships and communicating are hard enough. Throw getting a sorority bid into the mix, and suddenly you're in a whirlwind of people, experiences, and expectations.
It's not easy to forge lasting bonds and communication channels when you can barely keep your bearings. Yet building these connections now will make you a better sister in the semesters to come.
Not only that. These sorority communication tools can help you lay a foundation for better interpersonal, team building, and leadership skills that will carry well into your post-graduation professional life. And, after all, for every sister in every chapter, engagement and team building are crucial ingredients to success.
Worry not.
If you're a new sister overwhelmed by Greek life and all that goes along with it, you're not alone. Every sister who seems larger than life right now was once in your shoes. For new sisters, it's all about working together to find your perfect Sorority Communication Tools.
The Best Sorority Communication Tool Is You
Let's start with the most important and quickest path to better bonding and being a more involved member: you.
With so much coming at you during your new member education, so many new names and new faces, it's instinctual to want to pull back a bit and take a breather. However, now is not the time to sit things out.
Granted, there will be tons of mandatory team building events, seminars, and retreats. There'll be activities galore to help you grow closer with fellow new members and seasoned sisters alike.
We're not suggesting you burn yourself out or take time away from your schoolwork. However, your chapter will always offer opportunities to challenge yourself and achieve your sorority communication goals. There are chances to step up and put yourself in uncomfortable situations—situations that often end up changing you as a member in unexpected and positive ways.
Whenever sisters offer a new way to get involved that seems like a good way to challenge yourself, especially if it's optional, give it a try. However, new communication opportunities are everywhere, if you're looking for them.
Take this example: Your education chair wants to set up a peer tutoring system, where members who've already passed certain classes can help each other study for finals.
You mention to the education chair that you oversaw a peer tutoring group in high school, and that you still have all your notes saved.
You tell her you'd like to collaborate to come up with a method for sisters to sign up and schedule tutoring sessions, if she doesn't mind the help. Note that you don't want to overstep your boundaries as a new member--you're just eager to engage.
You volunteer as a math tutor, since you passed honors pre-calculus in high school and have always been good with numbers. Now you can prove your initiative to the education chair and bond with the sisters you'll tutor.
Showing you're willing to take on new roles is a great way to connect and grow, and it will show you're eager to build good sorority communication from the start.
The Next Best Sorority Communication Tool Is Your Notebook

Not only should you seek out ways to engage on your own. You should also treat new member education as an ongoing experience—and as with all your other classes, this education requires you to take notes.
Remember how during the last chapter meeting, your president mentioned that leadership seminar your college Panhellenic is offering next month?
Maybe it's for officers only, or the chapter has already chosen to sponsor certain sisters this semester. Maybe there's a schedule conflict for you. Or maybe you just don't feel prepared for it yet.
Jot down the name of the seminar. Drop by your Greek Life office between classes to ask questions. Save it for next semester.
It's important to get sisters on the same page. Keeping organized can help you maximize current and future opportunities to engage and communicate.
Keep track of:
The schedule for chapter events, projects, relevant meetings, study hours, etc.
General Greek events and opportunities to connect more broadly with sisters and brothers on campus.
Names and contact info for your executive board and other sisters.
Names and contact info for your family tree, once you are paired with your big.
Deadlines, such as paying membership dues or other fees, completing chapter-related tasks, intramural sports, etc.
Staying organized and on top of what's going on in your chapter and on campus can help you remain engaged, punctual, and connected.
Bring it Together with the Perfect Sorority Communication Software Tool
Communicating better as a new member isn't your responsibility alone. Your chapter must also give you the tools to build bonds and become a successful team player.
The right sorority communication software can take these daunting tasks and make them intuitive and easy.
OmegaOne is our comprehensive chapter communication software, built by Greeks for Greeks.
Here are a few of OmegaOne's key features that make it the perfect sorority communication tool for new sisters:
Shared chapter calendar and event management to track events relevant to you as a new member.
Centralized wall feature. Similar to your social media wall, showing chapter alerts, updates, and events in one place, so you never miss an important communication again. Interact with posts, and pin important ones.
Get the right messages with customizable communication. As a new member, you're not going to be attending executive meetings or have a hand in every committee's activities. OmegaOne lets officers tailor communication to specific types of sisters, such as new members, officers, alumnae, or other customized groups.
Learn sisters' names and faces. Say you have 50 names to learn. You can barely remember your own with all the new information you're absorbing. OmegaOne offers a database with sisters' pictures, names, and contact info, making it easier than ever to get to know them.
OmegaFi offers software solutions for Greek chapters for recruitment, budgeting, communication, and more. Learn more about our services or call direct at 800.276.6342.
What sorority communication tools have you found most useful as new members? Let us know in the comments below!