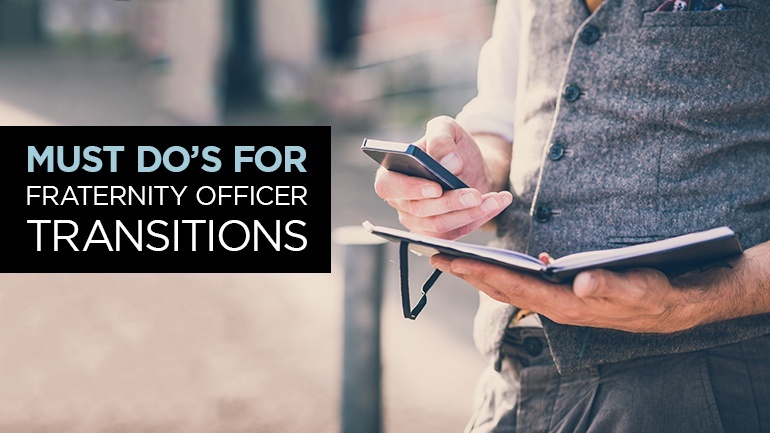 Congratulations! You've been elected to serve on the new executive board for your chapter and you're probably wondering what's next. How will I know exactly what my role entails and what my responsibilities will be? There will be meetings scheduled for the new executive board as a whole, as well as meetings that are specifically tailored to your office. You will learn a lot from these meetings and will count on these to teach you what you need to know for the upcoming year. The information that you receive now will impact the way that you're able to serve your chapter. So sit tight and prepare to be overwhelmed with a lot of information in a short amount of time! Here you'll find a list of the Must Do's for Fraternity Officer Transitions that will help you get through the busy upcoming Officer Transition Period.
Purchase a Planner
Seriously. You're going to need something to help you keep up with all of your meetings and the items discussed. You don't have to spend $60 on an Erin Condren Planner, but you do need a planner or notebook and a pen or pencil to assist you in notetaking and scheduling upcoming meetings.

Meet with the New Executive Board
Shortly after being elected, you'll be invited to meet with the new executive board as a whole. Be prepared for this meeting to be a time to get to know each other as well as a time to learn about your new position and responsibilities.
Meet with the Former Officers
This meeting may be scheduled for you or it may be your responsibility to schedule a time to meet with the former officer to discuss the ins and outs of the position and all it entails. To make the most of your time together, come prepared with questions that you have and expect to leave with a good idea of what your year ahead looks like.
Attend Meetings
Actually attending meetings is so important. You can't expect to learn more about your position and to better serve your chapter without attending most, if not, all meetings. Your fellow officers understand that there will be a few scheduling conflicts along the way, but you do need to make sure that you are present at all meetings that you are able to attend.
Join Facebook Groups
If your chapter has a Facebook group for officers, you will be invited to join so that you can post and receive updates that, as an officer, you may need to be aware of. This is not meant to be a primary source of communication, but does come in handy for information that needs to be shared quickly with multiple officers.
Go on a Retreat
Some chapters take a weekend and designate it to an offsite retreat for the new executive board. If your chapter does this, consider yourself lucky! This is a great way to learn more about each other, your chapter, and what all you will be expected to do while in office. This is also a time for planning the year to come, so make sure to pack the aforementioned planner.

Discuss Traveling to Conferences and Conventions
This is something to address very early on with the new executive board so that everyone is aware of the events that take place, the location and cost involved with attending. Members who are required to attend and/or members interested in attending need to know as far in advance as possible. Also, with this advance notice, the treasurer will be able to budget the needed chapter funds for this.
Ask Questions
Don't be shy in asking questions! If you still have questions at the end of a meeting, you need to ask at that time. The more you know and understand, the better you will be able to serve your chapter.
Check Mail
It may sound silly, but someone will need to be responsible for checking the mail. It is often an overlooked task, but fraternities and sororities do receive mail. (Think badges and t-shirts and composites.) Most student life offices give fraternities and sororities mail boxes in the student center. Find out if your student life office offers this and make sure that you are taking advantage of it.
Bank Account Change
If you are the new president and treasurer you will need to go to the bank and change the signatures on the chapter's bank account. Call your bank to find out what is needed to make this change, how long the process itself will take and how long before the new signatures will take effect.

Update Officer Listing
Someone, probably the Secretary, will need to login to the portal that updates your chapter's records and update the officer listing so that your national office will be notified of the transition. This update will attach a member's officer title and dates in office with his or her official fraternity headquarters record. This also will let your headquarters know who to contact to schedule consultant visits and who to expect to see at conferences and conventions.
Officer transitions are a fun and exciting time as well as busy and overwhelming one. This change is exciting for the entire chapter. As an officer on the new executive board, you will be able to set individual and group goals to ensure that your chapter is successful in the upcoming year. This time next year you will look back and be proud of all you have accomplished and you'll probably even be ready to take on another position!