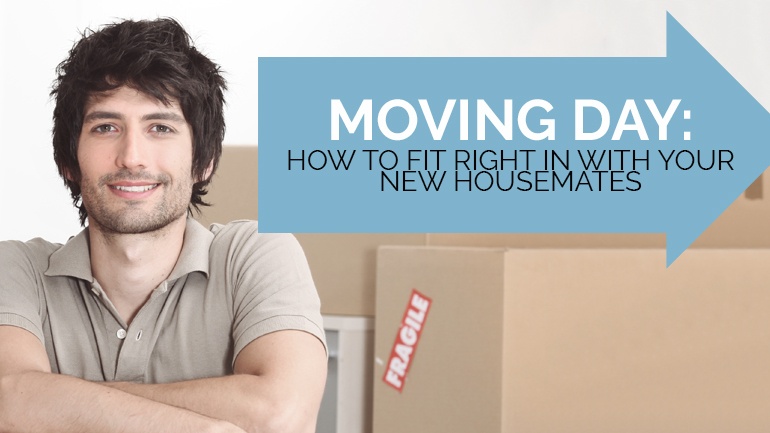 Moving away from home, into a dorm or apartment, is one thing. A sense of freedom pervades your every pore. Scientifically speaking, there's no knowing exactly how dirty your laundry can get, and you have the feeling you're about to find out. Unfortunately so do your room and dorm mates, but who cares, right? With no curfew, you're the life of the party. The junk food you're allowed to eat is limitless, so hit up the campus food mart for those bags of sugary mini donuts until you run out of dining bucks! Get two foot-long subs from the campus Subway on the same day! You rebel, you.
But let's alter the scenario a little. You're not just moving into an environment you share with a few others, at most. You're moving into your Greek organization's chapter house. You're sharing a space with many brothers or sisters, and suddenly small decisions you make in the house can affect all of them, too. Instead of your younger siblings stifling your style at home, now you've got a family of possibly hundreds, all of whom you have to negotiate your living arrangements with. Living in a chapter house can be rewarding and fun, coming home to your best friends every day. But it can also be a nightmare, if you don't show respect to your housemates and contribute. That's why OmegaFi would like you to know that, yes, we have a pickup truck you can borrow for the heavy furniture, and we absolutely want to help you out with Moving Day: How to Fit Right in with Your New Housemates.
There's no Book on Living in Greek Housing…Wait…Actually Yes, Yes There Is

For the definitive guide for all your housing needs, see your university's policies and regulations for living in Greek housing on campus, and also your chapter's own housing policies and regulations. Your first job as a housemate is to read and follow these rules to the best of your ability. There are likely regulations on everything from how to maintain and respond to fire alarms, to restrictions on smoking and underage drinking, to how to deal with repairs, food, laundry, move-in and move-out, holidays when campus shuts down, et cetera. Your chapter may have their own policies on things like behavioral conduct, maintaining study hours and grade point average, parking, and other things pertaining to the maintenance of the house and those within. When in doubt, ask your House Manager (more on that later). Living by the regulations set forth will make life easier on you and your housemates, and they'll be grateful to you. Recognize that beyond yourself, your chapter, university administrators, alumni, and parents, among others, all have a stake in these regulations being carried out.
"Cleanliness is Next to Godliness" -Your Roommate Urging You to Shower

Okay, we get it. You're a college-aged person. We don't expect you to practice pristine hygiene all the time. Yet in close proximity with so many other chapter members, a little goes a long way. For instance, if you don't have time to shower, slap on some extra deodorant, spray some odor eliminator on your bedsheets, and for the love of all that is holy, pick up your dirty socks. Maybe you don't recognize your own smell, but everyone else sure does. And we know you'd appreciate it if others did the same for you. Also, common areas beyond your room are especially important places to pick up after yourself. Don't leave your gym bag sitting right in front of the door where everyone's going to trip over it (fast forward to free weights being thrown at your head). Put the TV remote back where you found it. Clean your plate after you eat. Because…
Mold is not your friend.
Beyond cleaning, just being considerate is important. Respect quiet times and don't go blasting the new DJ Khaled album from your stereo system when your housemates are studying or sleeping. Work out some individual rules with you and anyone you share a room with. For example, what are some lines you don't want them to cross? What lines shouldn't you cross yourself? Don't be huffing and puffing doing pushups, squats, or Downward Dog yoga pose in the middle of the room when your roommate is trying to read a chapter of Chem. Be cognizant of when it's appropriate to have guests over the house, and make sure they respect the house rules.
"To Infinity and Beyond," Said Buzz Lightyear. Be Like Buzz Lightyear.

The Toy Story hero had a point, especially the "beyond" part. Go beyond what's expected of you. Volunteer for spring cleanings, help with meals, and tutor housemates with classes you took the previous semester. Don't hog common area amenities like the television or foosball table. Don't go out EVERY NIGHT; stay in every once in a while and spend some quality time with your housemates. Go to study hours, too. Be aware of days when the Department of Residential Facilities, Department of Facilities Management, or Housing Coordinators are conducting routine inspections or making repairs to the property. Unless you play a role in the inspections or repairs, simply stay out of the way or help facilitate them based on the needs of the authorities conducting them. If you have the time and would like to contribute to the house in a rewarding and meaningful way, you might consider the position of House Manager, who typically works with a university official on matters like ensuring residents are up to date on safety and other regulations, and keeping up to date on inspections, repairs, and improvements, as well as other matters pertaining to the property. You'll likely go through training sessions to help you acclimate to the new responsibilities.
No matter how you slice up the housing pie, really it comes down to you. When you move into the chapter house, take on your role as housemate head on, and we promise you'll fit right in. Follow the regulations, share the space of the house without sharing too many gnarly smells, and put your best foot forward. Or just pick up a dishrag once in a while.
These are a few key ways we feel you can fit in with your new housemates come Moving Day. What are some ways you think new housemates can contribute and fit in? Help them acclimate in the comments below.