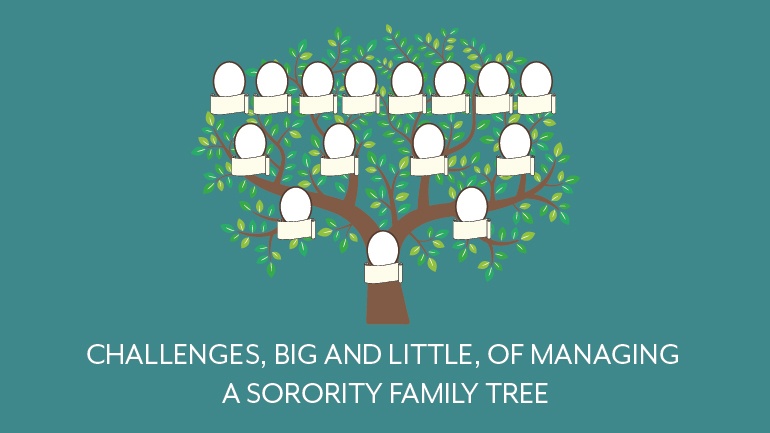 Two crucial moments for every sorority woman are when she learns who her big sister is, and when she becomes a big sister to someone else.
You'll remember forever the clever way your big managed your reveal, surprised you with meaningful gifts and a hand-painted canvas. The paddle you made for her will hang on her wall for all eternity--or, at least for a long, long time. Beyond the thoughtful reveal and gifts, your big inspires you every day and pushes you to be a better student, sister and person. You can't wait to share this inspiration with your future little.
As a sister, you get to enjoy the special bonds of bigs and littles every day, boldly defying the cliché that you can't choose your family. With a gift that precious, sisters should make the most of managing their family trees. With the right amount of pruning and watering, your family tree will grow big and strong, so that its branches will climb to new heights.
Think of your chapter as a forest, full of life and beauty. It's a source of vitality for all sisters. As individual family trees grow through strong sorority management, the chapter ecosystem thrives.
OmegaFi is here to walk you through Challenges, Big and Little, of Managing a Sorority Family Tree.
Big Traditions Feed Sorority Family Trees

Traditions are everything for sorority sisters. Each national sorority, along with its chapters and colonies, is defined by its own traditions. Yet, in the greater scheme of things, traditions of family trees often go under-recognized.
Family traditions grow organically from sisters' personal bonds. A big sister and her little will start some traditions that will be passed on to future generations: a gifted bracelet with family symbols, a hallowed family picnic, a quilt embroidered with the growing branches of sisters' names. Bigs and littles will form traditions that reflect the shared values and interests that give their friendships strength.
Well-managed family traditions should build on broader sorority traditions and values while also celebrating sisters' individuality. It's up to big sisters to set the tone by finding what makes their littles special and fostering their self-worth. After all, traditions are only as good as those who practice them. Growing as individuals will make sorority women stronger sisters and more productive members of their chapters.
Sorority Families Pick Each Other Up

Bigs and littles form a crucial support system for one another within the chapter.
While all members should be there for a sister in need, no one gets a little sister like a big sister, and vice versa. By cultivating such close relationships, these sisters are especially suited to intuit each other's hardships and be able to help, sometimes without even being asked. It's natural for bigs and littles to turn to each other.
When it comes to sorority academics, big sisters should guide their littles toward resources that help with classroom struggles. Tutor them if you've already taken a class they're in, or give advice on what helped you keep up with assignments. If they just need to vent about how stressed they are, be an outlet. Get their mind off a bad test grade with a night out, or a girls' night in with a pajamas, fudge and Netflix.
Make it all about her.
When it comes to chapter obligations, big sisters should set an example for little sisters. Follow the rules. Don't cut corners. Attend chapter events and put in a hundred and ten percent. Always hold yourself to a higher standard. Beyond that, you need to strike the right balance of tough love and empathy with littles. In a way, you're taking on a sorority management role, like an executive officer of your family tree.
Simple things can go a long way. Offer her a lift to off-campus chapter functions. If she's running for an officer position, let her practice her election speech on you, and give her some pointers. When she has a disagreement with a sorority housemate, be an ally, but also seek to resolve the issue fairly.
Littles should likewise be there for their big sisters. Don't take advantage of their willingness to help. Be a friend and help when you can. You may not be as experienced, but you still have a pair of arms for a hug and a shoulder for a cry. You can still give a shout out to your "favorite big" on social media. And there will always be things you're better at or more knowledgeable about in life.
As a friend, it's your job to share your advantages with those you care about. A sorority family tree is strongest when sisters look out for one another.
How Chapters Can Find Strength in Family

There's plenty a sorority chapter can do to manage and foster growth in family trees. This will strengthen the chapter's sisterhood bonds.
A chapter should give new sisters time to get to know established members with specific meet-and-greet type events that pair them up to chat and have fun. That way they can figure out who might be the perfect big for them. Showcase reveals through social media.
Big-little events are a great way to celebrate growing families. These events can be light-spirited and social, and can include silly awards like "best reveal," "most accurate jersey nickname" or "biggest family," for those with multiple bigs, grand bigs and littles. Serve a meal and have the bigs give speeches. Ask littles to bring a special gift. For more chill, outdoor picnic events, hold teambuilding activities for families, and give prizes to bigs and littles who work the best together.
Encourage symbolic lineage gifts that may have come from grand bigs or bigs who are now alumnae. Better yet, have littles meet and connect with local alumnae in the family. This helps bolster alumnae engagement.
If you're a big, you were once a little. If you're a little, you'll one day be a big. And so the sorority world turns. There are challenges of managing a sorority family tree, but none that can't be overcome by the love and dedication sisters hold for one another.
What do you appreciate most about the sisters in your family tree? What do you find most challenging about being a big or little? Let us know in the comments below.