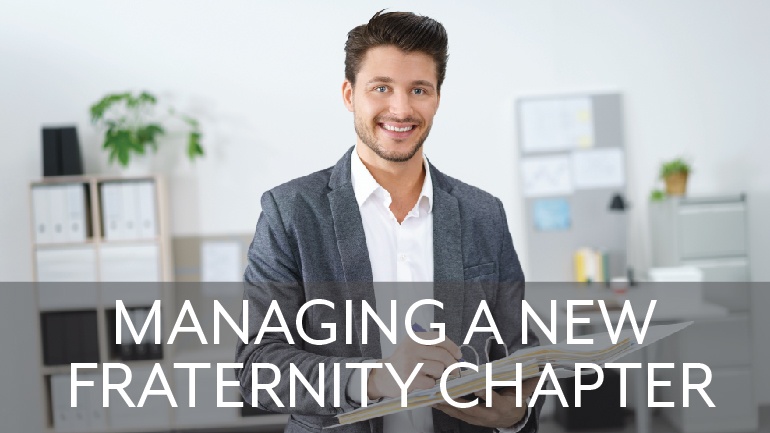 Managing a well-established fraternity chapter, whose ranks run one hundred and fifty men deep, is difficult enough. Heck, joining a fraternity chapter and living up to its values, supporting your brothers and growing through adversity, all while pursuing your college degree, is a challenge few are strong enough to face.
Now imagine you're undertaking the enormous task of getting together with some of the best guys you know--yet just as busy with school and work as you are--and trying to build a fraternity chapter from scratch. Sure, a national fraternity may be guiding your efforts, but at the end of the day the onus is on you. Sink or swim. Pass or fail.
Or maybe you don't have to imagine, because you're going through this experience right now. Maybe you haven't begun the process, but have been thinking for a few semesters about starting up a fraternity chapter on your college campus and are ready to take the first step.
Where do you even start? You'd thought it might be a little more complicated than starting a chess club on campus, but when you look at everything that goes into managing a fledgling fraternity chapter, you almost regret taking on this challenge.
Almost.
In the end, you don't regret a moment of it. Because you're a born fraternity brother, and fraternity brothers live for adversity. They thrive in it. However, now that your chapter is up and running, there's the issue of fraternity management. As difficult as managing a fraternity chapter can be, putting into place the management framework for a completely new chapter is even harder.
Some of us here at OmegaFi have been through this very process, and that's why we would like to sit down with you and have a heart to heart about Managing a New Fraternity Chapter.
Managing Your Fraternity Chapter's Future by Building from the Past

The number-one word that will spring to most people's minds when you mention fraternities is "tradition." That's not exactly an easy word to live up to, and that goes double for a brand new chapter. There may be older, more established chapters of your fraternity throughout the country that live in massive fraternity houses, have established noteworthy philanthropic causes in their communities and have left a mark on their campus and beyond.
On the flip side, you've got fifteen guys, a chapter charter and that's about it. You haven't been on campus long enough to have built up family lineages or live in your own chapter house. Recruitment is tough, and you feel steamrolled by the bigger fraternities with more money to burn on scouting out potential new brothers.
None of that matters. Every single one of those fraternity chapters started out the same way you did. Every single one of them started from nothing. What made them a success was looking to tradition as a foundation on which to build their own future.
It's more than likely that your national fraternity and affiliated chapters have traditions that reach back for decades, at least. These traditions may even span the course of a century or longer. You might say you've got time on your side. Look to your national fraternity not only for the rudiments of jumpstarting a fraternity chapter, but for the traditions essential to the foundation of your fraternity chapter.
Go back to your founders. Find out what inspired them to start this fraternity in the first place. Take that, and compare and contrast with what inspires you about fraternity life. Now when you sit down with someone during recruitment, you can tell him, Look, we're not those guys over there, we're small, we have no name on this campus yet, but this is where we came from and this is where we're going. We're building something great, and it's going to be a lot of hard work, but we want you to be a part of the final product.
The Fine Print of Managing a New Chapter: More Nuts and Bolts than Ikea

These broader ideas of how to manage your new fraternity chapter are all well and good, but they fall a little short when you get down to the nitty gritty of this whole "please help, I have no idea how to manage a new fraternity chapter" thing.
We've all tried to read the instructions to build one of those do-it-yourself dressers. Every step's in a different language. The pages seem to run backwards to front. Piece "J" does not, nor will it ever, exist. Where has Piece "J" gone? No one knows.
That's how it feels establishing a fraternity chapter on your campus. You have big future questions, such as working toward living in fraternity housing, finding spaces for chapter meetings and study hours in the meantime, as well as attracting recruits to a chapter without a house. You want your name to be known on campus--for good reasons--and to build relationships with the Greek community. But you have to focus on the present.
The basic steps of establishing a new chapter are:
Contact the National Fraternity's Vice President of Organizational Expansion
Meet the Fraternity's guidelines for a founding class of brothers
Contact and apply for recognition from your Greek Life office
Establish reachable goals each semester, as part of a larger plan
While your national fraternity may give you guidelines as far as how to establish an officer structure, expected conduct of brothers, how to build chapter-specific projects, dues collection and so forth, it can all be a bit overwhelming. Once you've got the okay to start your chapter, it's time to look for ways to streamline and simplify. Consider using tools tailored specifically to fraternities, such as fraternity software for managing finances, recruitment, philanthropies, communication, academics, event planning and more.
Of course Managing a New Fraternity Chapter can be daunting, to say the least. However, if you can build from a foundation of tradition and take it brick by brick, you'll soon see your hard work pay off. So wear your letters loud and proud.
Are you managing a new fraternity chapter, or thinking of starting up a chapter on your campus? Tell us about your experiences and ideas in the comments below!