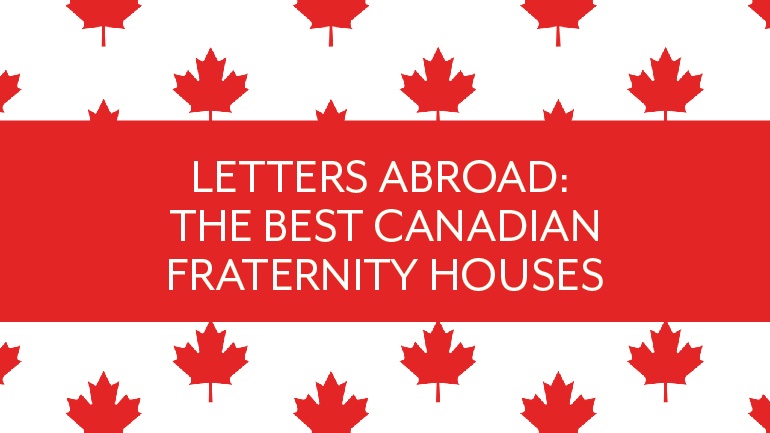 We've talked about the biggest fraternity houses in the United States before. We've talked about the coolest fraternity houses in the United States. You may even think to yourself, my fraternity house is both big and cool. We should be on those lists! And maybe you have a good argument for why that's true. Does your fraternity house have antique oak banisters, crystal chandeliers, checker board tile floors to dance on all night long? Does your fraternity house have castle turrets and high balconies with breathtaking views of your campus? Does your fraternity house, for whatever qualities make it an architectural marvel, simply rock? That's awesome! You're awesome. No, really.
However, allow us to blow your minds for a moment. Sure, we've established that your fraternity house is wicked cool and wicked huge, and it makes the other houses on Greek Row look ramshackle by comparison. But have you ever considered what it might be like living in a fraternity house abroad--as in, another country? As in (wait for it . . . drum roll . . .) Canada! It may sound strange to some, but there are in fact American fraternities with chapters, colonies and yes--houses--in our upstairs neighbor in the Great White North.
Now, you might think of Canada as the home of things like hockey, that one baseball team that always ends up in the MLB playoffs, and Justin Trudeau's perfectly sculpted butt. However, there is much more to Canada than polite folks who say, "Eh." That's why OmegaFi is happy to bring you a little Canadian culture and present to you the Best Canadian Fraternity Houses.
Sigma Chi - Iota Mu (Waterloo)


Beneath the crisp autumn maple leaves on campus-adjacent Albert Street in Waterloo, Ontario sits the brick house with Sigma Chi's bright blue letters above the door. In fact, the yellowed maple leaf is part of Wilfrid Laurier University's logo.
And why not? Aside from it being a symbol for Canada itself, nature seems abundant in Waterloo, located in the southern part of Ontario where the weather is a bit more moderate than other parts of the country. It seems the perfect spot for the vast green fields and rich variety of tree life amidst Wilfrid Laurier's brick facades. The two-story red brick home fits perfectly into the surrounding neighborhood and is close to campus, the Waterloo Park, and not far from uptown. Plus this part of Canada is literally surrounded by the Great Lakes and adjacent to the Canada-U.S. border, so international road trips are never out of the question.
The Iota Mu chapter was founded at WLU in 1989 with 37 charter members. It has grown over the years and seems as stalwart a presence in Waterloo as the architectural style of their fraternity house suggests. The house rejects the idea that it must be super gaudy to be worthy of its place on this list. It reflects perhaps the straightforward utilitarian values of its members that have allowed Sigma Chi to grow to 300,000 men strong.
Lambda Chi Alpha - Epsilon Epsilon (Toronto)


Meanwhile, along Lake Ontario is the city of Toronto, a bustling city center, one of the most illustrious cities in the world for business, arts and culture, not to mention a beautiful waterfront skyline of high-rise buildings, mixing the contemporary cosmopolitan world with the historic. Not far from downtown is the University of Toronto's St. George campus. This is where you'll find Lambda Chi Alpha's fraternity house, which like Sigma Chi's house mentioned above is built of red brick, with stonework built into the foundation and basement, as well as the stairway leading to the entryway. However, this house has a completely different style and feel to the straightforward, almost fort-like rectangular shape of the Sigma Chi house in Waterloo.
This house is of the Victorian and Edwardian architectural style of the surrounding homes of the neighborhood, set back from St. George Street with a small, lush green yard with Lambda Chi Alpha's letters set simply on the brickwork, in forest green and yellow. The colors almost reflect the seasons of autumn and spring. It features an octagonal exposure with panoramic windows and an upper story with a steeply peaked roof. From the roof rises a majestic fireplace. The historic feel of the house matches the rich history of the chapter, which began at the turn of the 20th century as the "Habarim" social club and went on in the 1920s to become a chartered member of Lambda Chi Alpha.
Phi Delta Theta - Nova Scotia Alpha (Halifax)


Nova Scotia is one of Canada's most stunningly beautiful Maritime (meaning "of the sea") provinces. In the capital city of Halifax is Dalhousie University, where this chapter of Phi Delta Theta calls home. With broad vistas of the nearby crystal blue waterways feeding into the ocean, Halifax makes the perfect locale for Phi Delta Theta's Nova Scotia Alpha chapter to live and learn. The campus's beauty might be summed up by the strikingly regal stonework of the mantion-esque colonial Henry Hicks building. Atop the building is a blue-domed clock tower mounted with a weathervane of a wingspread metal-cut bird.
Yet Phi Delta Theta's nearby fraternity house, the George B. Robertson House, is no slouch by comparison. It represents the stylings and culture of Halifax in its pale blue wood-slat house with white trimming, three stories with a turret-style room atop. It sets in a neighborhood of similar style homes adjacent to the campus. This chapter of Phi Delta Theta has been a part of Dalhousie University since 1930. Thus, they've grown to be as much a part of the history of Halifax as their house or the university itself. Everything about the house and Dalhousie feels solid and permanent. It feels timeless, especially in the winter months when everything is blanketed in snow, the perfect place for an old-fashioned snowball fight with the other DU Greeks followed by hot cocoa by the fire.
As you can see, the houses of these Canadian fraternity chapters are significant not only because they are architecturally striking, but because they are a part of the beauty and grandeur of these parts of Canada themselves. With a blend of the cityscape, the rural and historic, and the beauty of nature, you can't beat these for the Best Canadian Fraternity Houses.
Or can you? Do you have a fraternity house in Canada that you think belongs on the list? Let us know why we're idiots for not including you in the comments below.