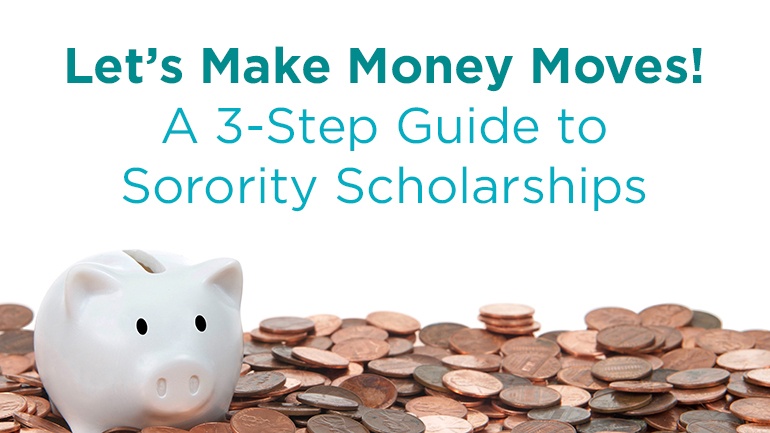 Money.
It makes the world go 'round. And there are few times in life where money is as important to you as when you're in college--especially if you're in a sorority.
College can be expensive. And to add insult to injury, you're probably broke.
From increasing college tuition, books, meal plans, housing, miscellaneous bills, and simple spending money, not to mention the associated costs of dues when in a sorority. Ouch. There is a litany of drains on your funds within your collegiate career. Plus, if you're a full-time student, you likely have no income.
So, let's assume that like every one of your undergraduate peers, you need money, which provokes one major question—how do you get it? The answer is in scholarships.
Today, American student loan debt is soaring through the roof and delaying a lot of key life purchases for many millennials (homes, new cars, continuing education) and tuition won't be coming down anytime soon as colleges get more competitive. The silver lining here is that there are organizations out there--both philanthropic and professional--that are literally trying to give away free money to those they deem deserving. In many cases, all you have to do to tap into these funds is raise your hand and say "I want it."
Lucky for you, Omegafi is here to tell you everything you need to know on how to find scholarships, get them, and use them to fund your college tuition as well as your sorority expenses.
Are you ready? Let's Make Money Moves! A 4-Step Guide to Sorority Scholarships.
3. Ask Google; Utilize General Search

Google is pretty great, isn't it? You can type in almost anything and find at least something. And that "something" can be scholarships if you know how to search. As a college student, the first thing you want to be sure of is that you're not accidentally applying for scholarships that are not for you (i.e. they're for high school seniors).
Most scholarships have a full breakdown of what they award, what the conditions are, and who they're for, so it's important to make sure that you're only giving your time to scholarships that are relevant to you. You don't want to apply to a scholarship for left-handed people if you're right-handed. You also don't want to apply for a scholarship for English majors if you're majoring in computer science.
Simple right?
The biggest benefit here too is that a lot of these organizations giving away scholarships want to give the money away. Couple this with the fact that few people take the time to apply to them, and it creates a situation of high supply without a lot of demand.
Start with these directories and be sure to use the filters to find only the scholarships that apply to you:
2. Check Your Organization (National, Regional, and Local)

Did you know that your sorority is a national--or perhaps international--organization?
Duh, right?
Did you know that there's a good chance your national organization is likely offering an annual scholarship right now?
And all you have to do is apply.
This tip is pretty simple, but check your national organization's website for scholarship opportunities. You may be surprised at what's offered for academic or creative pursuits. You also want to check with your regional structure and local alumni chapter, as each will likely have their own scholarship.
If you're noticing a recurring theme here it's this:
When in doubt, just ask.
1. Look into Special Interest Scholarships

No, we don't mean lobbying. By special interest scholarships, we mean scholarships that are meant to apply to a very specific subset of students that may or may not be affiliated with Greek organizations.
For example, there are a handful of organizations out there that are professional organizations only, and wish to uplift students that are entering into the same field or are family members of those affiliated with the organization.
For example:
Delta Theta Chi - specializes in promoting education. Scholarships are awarded based on GPA and financial need.
Alpha Omega Epsilon - specializes in promoting women in engineering or a technical science (students and alumni) they offer two scholarships Rings of Excellence for members, children of members, and grandchildren. As well as the Engineering and Technical Science Achievement Scholarship which applies to undergrads majoring in engineering or technical science.
Kappa Epsilon - specializes in aspiring female pharmacists. Scholarships are for women who are active members, currently in college.
And if you're a minority--and yes, women of any race are considered minorities--there are more than a few scholarships designed just for you:
Alpha Kappa Alpha - specializes in minority women (and men) seeking careers in hospitality.
Phi Delta Kappa - specializes in prospective educators who have a connection to the organization themselves or through family members. It also offers 11 endowed scholarships and 15 general scholarships for college students.
Closing Thoughts
When applying for scholarships, be aware of exactly what the rules are in using these scholarship funds. Most will stipulate that they can only be used for tuition, however, you may be able to keep the excess funds and use them for college related expenses such as sorority dues. The key is to make sure you know what the rules are so that you aren't misappropriating your scholarship funds.
If the scholarships or grants don't specify their purpose, you can likely use them at your discretion. However this is rare, and there are typically restrictions to abide by. Just be sure to apply scholarship funds to college-related expenses only--no parties, please!
There are scholarships and grants out there waiting for you. The money is there if you want it; you just have to put the effort in and apply. And as we mentioned before, in a world of crushing student loan debt, we at OmegaFi like to follow the teachings of the honorable Notorious B.I.G.:
"Get money."
If you enjoyed this article or think we missed a few points, let us know in the comments below.