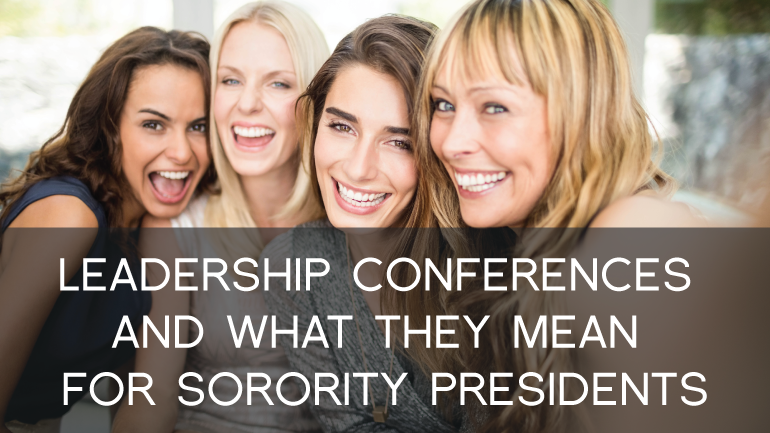 You are a sorority president. You're a leader. This much we've established. At least, hopefully we've established this by the fact that you have been elected sorority president in the first place. Your sisters chose you as the best woman for the job, after all. So that basically means you're the best leader there is, no one can compare, and that's all there is to it, end of story. Right?
Well, not exactly. Even if you are the sister with the most experience and leadership skills, that doesn't mean you're done learning how to lead. In fact, one of the most important qualities a leader can have is the ability to grow and adapt. You need to know how to take advice from others and shape those words of wisdom into a winning strategy. Then you will impart that knowledge to your sisters, making them in turn better leaders as well.
See how that works?
*Cue "Circle of Life" music and baboon holding baby lion above a precipice.*
But where do sorority presidents gather this much-sought knowledge of becoming a better leader? Luckily, you don't have to go on some kind of inner quest while out camping in the woods to find it. While it's true it was "in you the whole time"--in the sense that leadership techniques are always tapping into your inherent strengths--you'll have to learn how to do this from without.
*Cue baby lion attending sorority leadership conference.*
Yep, that's right. A conference! Conferences are great for college Greeks to bolster their knowledge and networking on tons of topics, so why not for leadership? Of course for leadership! That's why OmegaFi wants to throw your conference pass lanyard around your neck (and make sure to write your name big and bold so everyone can see). Let's talk about Leadership Conferences and What They Mean for Sorority Presidents.
There Are Plenty of Leadership Conferences to Pick from, if You Look

If a leadership conference is something you as a sorority president are interested in attending, you're going to have your pick. This is definitely a good thing, because each conference is unique from others. Some will be held locally and some will require you to hop on a plane to fly out of state, especially the bigger ones that attract many Greeks from across the country.
There are some key places to check for potential leadership conferences. First, check out your university's Greek Life office. Some even list conferences and seminars to build leadership skills on their website, though talking to them in person is better. There may be options through the university itself or through other Greek affiliated groups, such as the National Panhellenic Council, that they can tell you about. There may also be scholarships or ways to reduce the price.
Next, you should talk to your national advisors about what the sorority offers for leadership training. It's entirely possible they have an annual retreat, seminar or leadership conference that they would love for you to attend. The upshot of this is that you also get to build stronger relationships at the national level, network with sorority presidents and sisters from other chapters and generally expand your resources in the realm of leadership.
The Big Ones: National Leadership Conferences for Sorority Presidents

Of course you're always going to benefit from conferences tied directly to your sorority or university, and chances are they're going to be more affordable to attend. If you're paying out of pocket, that's good for you. If your chapter is covering you, that's good for your chapter's budget (and your sorority treasurer).
But if it can be helped, you really shouldn't avoid the bigger conferences. These are the ones where you catch the red-eye to Las Vegas, Seattle or some other major metropolitan area where most of us couldn't afford to live, and join a sea of other sorority women to learn invaluable lessons about problem solving, constructive chapter management solutions and how to find your voice as sorority president.
There are a few leadership conferences that are especially prominent, and sorority presidents can find out which might be right for them. The Association of Fraternal Leadership & Values, or AFLV, hosts various leadership conferences, including AFLV West, AFLV Central, the National Black Greek Leadership Conference, the Natural Cultural Greek Leadership Conference and more. You can find out more about these conferences by visiting the AFLV website.
There's also the Coalition for Collegiate Women's Annual Conference or Greek Women Leaders. According to their website, this conference is tailored specifically to help Greek women who are leaders in their college organizations "congregate, learn, network, share insights and experiences and build connections with other peer and professional leaders." This multi-day event is sure to get you in touch with other sorority presidents and college leaders, and you'll leave with plenty of new skills to help you guide your chapter through the semester's challenges ahead.
Whether the conferences you attend are big or small, the thing that matters is that as a sorority president you're constantly striving to become a better leader and a better sister. As clichéd as it is to say, what you take away from these experiences is equal to what you put into them. It can all seem overwhelming at first, to be around so many successful young women spitting so many ideas at you all at once. A conference of any kind sometimes feels like an endurance event. But you'll make it through, and you'll be better for it. Pick up what you can. Look for trends in what you're learning and build on big, overall ideas that the conference has given you. Never be afraid to look stupid by asking questions, and you'll head back home much smarter than when you left.
Dear sorority presidents: What do leadership conferences mean to you? We've got our notebooks open and our pens ready. Give us your bullet points in the comments below.