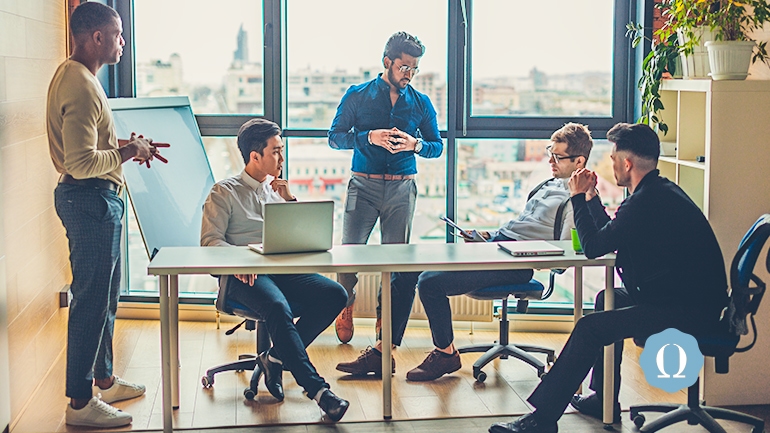 Communication is how we move forward in society, and it's a vital tool for your IFC chapter's success.
Every facet of how your chapter operates comes down to communicating with brothers, alumni, nationals, fellow students, the university—and, of course, your college IFC.
But let's take a moment to appreciate what it means to be an IFC fraternity chapter.
The Interfraternity Council, or IFC, is part of a larger national governing body called the North American Interfraternity Conference, or NIC for short.
There are several different fraternity umbrella groups nationally and internationally.
However, when you're talking specifically about general-membership social fraternities, the NIC and connected IFC groups typically have a dominating presence on college campuses.
Imagine, if you will, not having the support, guidance, and safety net of your IFC.
It's a scary thought, isn't it?
You've probably grown to rely on the connections IFC officials have made with your chapter, and the community that they've helped build.
Do fraternities exist without this type of support system? Sure.
Would you readily give up your IFC to trek the wilderness of Greek life alone?
If your answer to that question is "yes," you might want to brush up on your outdoor survival skills.
Community is everything in the fraternity world. People who have your back matter. And communication with those people is the key to it all.
OmegaFi wants to give you a signal boost and show you how IFC Chapters Communicate Better with These Tools.
These IFC Leadership Programs Are Awesome Communication Tools
Communication and leadership go together like Greek Week and togas. This is simply the natural order of things.
Thankfully, when it comes to IFC chapter membership, both communication and leadership are readily available, if you know where to look.
The NIC and your college IFC are each dedicated to making your brothers stronger leaders.
For instance, the NIC offers several leadership programs dedicated to connecting IFCs and chapter officers, and building Greek community.

The NIC IMPACT program offers campus leaders a two-and-a-half-day conference designed to foster relationships between campus leaders in the Greek community, led by NIC facilitators. Part of the program is on campus, and part of it happens at an off-campus facility.
Meanwhile, the NIC's LAUNCH program fosters communication and building productive relationships between chapter presidents and IFC officers. This is a one-day, on-campus program, led by an NIC facilitator, that helps Greek leaders solve problems and create strategies for success.
Your IFC may offer its own individual and/or group leadership programs as well.
Programs like these strengthen the indispensable bond between the IFC and your chapter.
Why is that important?
Because your IFC and chapter share the same goal: to make fraternity life better for all members on campus. To reach this goal, you and your IFC must work together.
This includes cooperation on:
Community engagement and philanthropy

Recruitment and membership

Academic success

Fostering shared Greek values
Communication Software: Why Your IFC Chapter Needs It
Fraternity brothers use software and technology solutions for almost everything in their social, academic, and Greek lives.
We've talked about communication tools for fraternities before. However, they can be distinctly useful to IFC chapters.
Your Chapter Website is a great way to amplify your chapter's personality, vision, and values—and to show that you share these values with your IFC community. Your website is the perfect landing spot for potential recruits and their parents, but it's also a way to illustrate what makes the Greek community on your campus meaningful and special.
Chapter Social Media Accounts are a quick and easy way to share information to a lot of people at once. Events, philanthropies, brother accomplishments, intramural sports, recognizing alumni. There are plenty of good reasons to post online, so long as you use other forms of communication as well. You can also connect with and promote posts by your IFC and affiliated chapters.
Communication Apps can go a long way in coordinating your chapter internally, as well as communicating with outside groups.
OmegaOne is built specifically to handle a myriad of chapter management and communication needs, and can also help with your website development.
Whatsapp is perfect for informal communication with anyone from IFC executives to alumni advisors, as well as other Greek members on campus.
For coordinating serious projects with IFC or other officials and chapters, use Slack or Basecamp.
No matter what platform you use, software and technology can be a tremendous tool—so long as your chapter balances it with in-person engagement.
Other Greek Orgs on Campus? Drop Them a Line
Your IFC does a lot for its member chapters, and it may feel like they're the center of the Greek universe.
For you, they may be.
But, more than likely, there are other Greek councils and organizations on campus, and it's worth it to build communication with these groups as well.
This includes staple organizations such as a Panhellenic Association or Multicultural Greek Council, but can extend to other groups that are based on shared culture or tradition, or professional Greek organizations that focus on members' area of study.
While most major collaboration will come when your IFC teams up with other prominent social-based groups, it's worthwhile to broaden your community to all Greek members and organizations and find common university values to promote and strive to improve.
Ask to attend joint meetings.
Your IFC and Panhellenic Association already work together on any number of issues such as risk and safety policies and recruitment, and may even serve on a joint judicial board with the Multicultural Greek Council and other groups.
There are always cooperative philanthropy projects or campus events. The point is to get involved, get to know the executive officers of these groups, and bond with brothers and sisters across campus.
The more Greeks communicate and work together, the stronger presence you can have, and the bigger difference you can make.
OmegaFi offers technology solutions and professional guidance to IFC fraternity chapters just like yours. See what we have to offer here.
What IFC tools does your chapter use to communicate better? Leave us a comment with your thoughts.