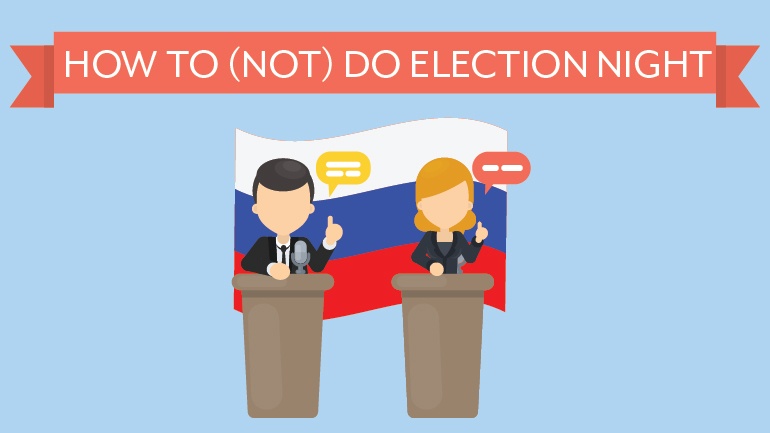 Election night is equal parts politics and runway show. Some semesters it's straightforward and the best sister or brother for the job wins. Other semesters it's just downright weird. None of the choices seem to quite fit, but nonetheless you've got to choose. Otherwise who's going to run this chapter? If one thing has been made abundantly clear . . . .
It's that the chapter isn't going to run itself.
Whether your election is fast and easy or, more likely, long and arduous, there needs to be decorum and the will to see it through. You've got this, right? No? Well, we can help. The thing about election night (as many of your veteran sisters and brothers can attest) is that there are certain pitfalls worth avoiding. These common mistakes can make an already difficult task essentially impossible. Sidestepping them is worth its weight in gold. Or in your case, hours of sleep. After all, you do actually have to wake up tomorrow for Organic Chemistry. Why are you destined to be oh so tired? Because your chapter's already fallen into one of the election night pits of doom, which we'll discuss more below.
So without further ado, let's dive right in as OmegaFi gives you the lowdown on How to (Not) Do Election Night.
Do (Not) Hold Elections on a Freaking Tuesday Night


Above we mentioned lack of sleep. Why? Because if you hold the election on a weeknight, chances are a fair number of your chapter members are going to have classes the next day. Not only will they hate you for having to stay up till 2am listening to why Suzy would make a killer tee-shirt chair or Brian would hold the hippest socials in all of Greek Village. They'll also be less apt to pay attention to each candidate and give her or him a fair shake. They're just trying to get through this and go to bed. While weekends might be a little rough, they're a better choice. One option might be Friday after dinner (you could even order pizzas), so no one's hungry, everyone knows ahead of time to stay in town, and they have the rest of the weekend to sleep in, relax, catch up on schoolwork and go out Saturday night. Not holding elections on a Tuesday night will give the process the consideration it deserves, without a bunch of irate sisters or brothers "resting their eyes" during a potential recruitment chair's "awesome" bounce house idea.
Do (Not) Allow Members to Dis Each Other


"Jane would make a terrible risk management chair, girls. You should've seen her at Felicia's birthday party last month."
Can you imagine the drama of living in a house where Jane is bunking with her election night opponent? Most awkward semester ever. These kinds of derogatory statements during candidate speeches are likely to devolve into hurt feelings, rivalries and possibly even confrontations down the road. Better to avoid that line of rhetoric like the plague it is. Each candidate should be required to avoid discussing the other candidates, and to only focus speeches on their own qualifications. They should also be required to say at least one negative thing about themselves, something they see as a shortcoming they're going to work on while in the position. That way you still get a rounded view of the candidate.
Do (Not) Let Clueless Members Run


First, it's better not to let brand new members run for office--especially not higher chairs like president and vice president--unless there is a member deficit and it's unavoidable. Some sororities and fraternities may already not allow this per their election guidelines, but either way it can quickly become a bad idea. Seek seasoned members of your chapter for important posts. And even then, refresh them on the position they're running for in the bylaws and national guidelines. They should be able to point to specific tasks and roles of the position they're running for and how they would maintain and improve upon them. Print out brief chairperson guidelines for all members so they can familiarize themselves and ask questions related to each chair. This not only allows for a more informed election process, but makes the transition process more straightforward as well.
Do (Not) Let Everyone Run for President


This one's pretty straightforward. Not everyone can be president, and at the same time you can't leave other chair positions unfilled. Set a certain amount of people who can run for each position, first-come, first-serve, ahead of time. Each sister or brother should only be allowed to run for one position during the election, if you have the numbers to do this. Trust us, it makes life easier. If not, consider setting up a system by which someone winning the more coveted chair position gives up the lower position to the closest competitor. Don't make it harder on yourself by letting those running bicker amongst themselves over chairs they've won.
Do (Not) Go Over Time


This pitfall is very hard to avoid, but it's important to at least try your hardest to have set times for each speech, Q & A, etc. Have the appropriate chair person, such as a scribe or whoever typically keeps minutes, track each candidate. That person will alert you when time is reached for each set portion of the election process, and once this happens you should move on as quickly as possible. Consider breaking the process up, such as having speeches one week and voting the next. Have the process figured out ahead of time just to make sure everything is streamlined and ready to go. Perhaps do a mock election with other chair people, keeping notes of where you hit snags or go over time. If necessary, have an alumni/ae advisor sit in and help guide the chapter in the right direction when they get off track. If you do go over a bit, that's to be expected. Just don't take that as a license to go on and on until the sun comes glaring through the chapter room windows. Because if you let that happen, you're going to see a bunch of red-eyed vampires fleeing to their beds.
These are just a few of our key ideas on How to (Not) Do Election Night, but you've probably learned your own tips and tricks over the semesters of seeing good--and bad--election nights. Tell us about them in the comments below!