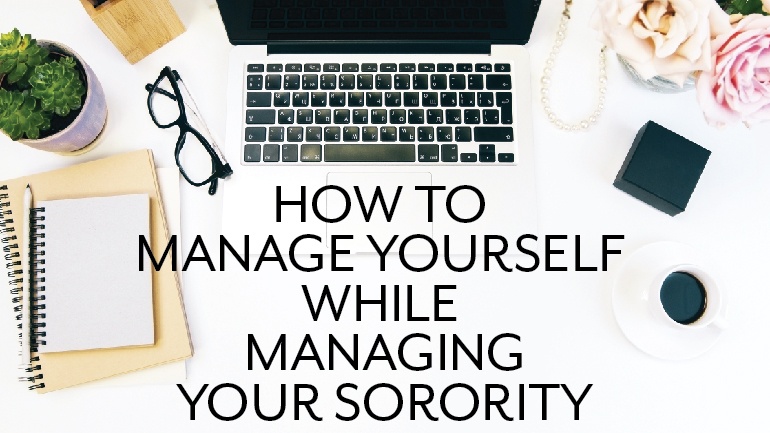 Let us regale you with two tales about two different kinds of sorority management, and the effects both can have on your chapter.
Side note: We really want to break into Dickens's A Tale of Two Cities right now: "It was the best of sorority management, it was the worst of sorority management . . . ." But we won't do that to poor Dickens, or to you.
Instead we'll just be straightforward here and give you our two examples of sorority management, bad and good.
Let's say that Betty has recently been elected sorority chapter president. Let's also say that Betty is taking 18 credit hours of core classes, working evenings at a sports bar and struggling across the board. She's so stressed that she constantly needs to blow off steam, meaning she's spending more and more nights out.
Sisters quickly start to see a deterioration in the chapter and how it's being managed. Some sisters are skipping study hours because they know Betty doesn't really care, and doesn't attend herself most times. Betty also lets important deadlines slip past and now the chapter is in hot water with nationals. Things are falling apart at the seams and no one--Betty least of all--seems to have seen it coming, though it was obvious to everyone from one end of Greek Row to the other.
What happened? Let's examine another scenario to find out:
This time, Betty takes on a smaller class load the semester she is elected president, because she knows it's going to be tough. She works as much as she needs to, but tries to cut back hours where she can. She gets through school assignments early and keeps her thumb on chapter management. She tries to get sleep and exercise when she can. She goes out once a week, on weekends. The chapter respects Betty's commitment and consistency, her attention to detail and availability to help sisters with their problems. The chapter is run like a military regiment, but, you know, with more fun stuff and less stomping around in boots.
What makes the difference between these two Bettys, who are night and day from each other? The second Betty has learned and mastered How to Manage Yourself while Managing Your Sorority. And that's precisely what we here at OmegaFi want to talk to you about today, so you never have to worry about Bad Betty again.
Manage Your Time

This might be one of the first important steps to take as a sorority president, or in another role of authority within your chapter. Managing a sorority chapter takes a ton of effort and, yes, time. Sisters will come to you for everything they can't figure out on their own. You'll end up solving disputes in the chapter house, laying down the law and helping other chairs figure out how to accomplish tasks when necessary. You'll also be doing a lot of paperwork, communicating with national advisors and university officials and alumnae, as well as leading the chapter in many other ways.
What this means is that you should not take on a massive load of difficult classes when you're managing your sorority. Since managing a sorority chapter is a 24-hour, 7-days-a-week job, everything else in your life has to be meticulously planned and tasks not put off until the last minute. Leave time before due dates for assignments, for instance, so if something comes up with the chapter you have some wiggle room and won't have to turn it in late.
Another way to help manage your time is to use sorority software whenever possible, for recruitment, finances, communication, event planning and more. Anything that makes your life or the lives of other officers easier is a win for you, which lets you focus on what's important.
Manage Your Mental Health

Self-care is one of the most crucial things for every college student to put on the front burner, regardless of whether they're in a sorority. But self-care is also important for Greeks for the added stresses Greek life can add to a sorority sister's college experience.
Add on trying to manage your sorority chapter, and without looking after your mental health, things can go bad very quickly. We don't say this to scare you. In fact, we think having a positive approach to mental health issues can be a great boon to your success as a sorority leader, a student and a human being. Target areas of your life or mental health you struggle with, and seek solutions through talking with a mental health professional at your college. Or, at the very least, make sure to set personal boundaries within your role as a leader. You'll be expected to do a lot when managing your sorority, but make sure you aren't trying to do everything. Delegate tasks to other officers when appropriate.
Lock yourself in the dang bathroom with a hot bubble bath and candles, and let anyone who disturbs you suffer the wrath of your soapy fists.
Manage Yourself and Your Role as a Sorority Leader

When your mental health and time are managed well, this last piece falls much more easily into place. A large part of managing yourself as a leader is finding your voice. Once you know what you want to say and how to say it, be consistent and confident. Because, be honest, you've got this. It's why you ran for sorority president--to manage your butt off. Having a clear, strong message will also benefit you when you present yourself as the face of your sorority chapter. When you meet prospective new members, or when you must represent the chapter in more official capacities, you'll know your role and others will also.
You'll want to act as the embodiment of your sorority chapter's values at all times, which can be harder than it sounds. But it's definitely not impossible. When your sorority's founders laid out the mission and moral expectations of their future sisters, they knew you could handle it. So go out there and show the world what a young woman is capable of. Show them that you're an ace at managing yourself and your sorority.
Even with these steps in place, there are times when sorority management can be a challenge, to say the least. Tell us about some of your experiences with managing your chapter in the comments below.