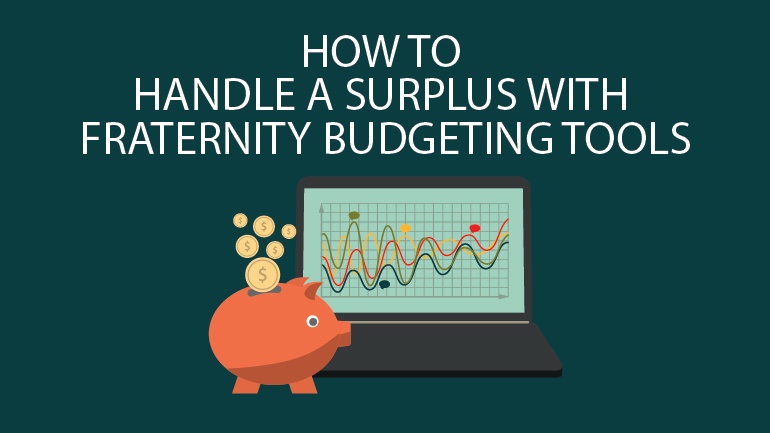 We know, we know. A large budget surplus isn't exactly a common problem for fraternities.
In fact, it's not really a "problem" at all.
But hear us out, dear chapter treasurer. We're about to make you a hero in the world of budget surpluses.
If you've been crunching the numbers to the best of your ability and crossing your t's and dotting your i's when it comes to your duties--and, of course, collecting dues from brothers like you're a sports bookie--you may be breaking even or perhaps even having to cut just a few small things out of the semester's budget. And that's all well and good, so long as you're avoiding a deficit.
What you're really wanting out of an ideal semester's chapter budget is a surplus, even if it isn't a huge amount. Why? Simply put, it's best to allocate some portion of the budget toward savings. It may sound impossible, but it's not as hard as it sounds, especially if you're closely following the guidelines laid out by your national organization in budgetary matters. And of course OmegaFi has talked about good and bad budgeting practices from time to time, too. But it can be tricky to handle a surplus in the budget. Luckily, fraternity tools for budgeting can help. That's why OmegaFi wants to tell you all about How to Handle a Surplus with Fraternity Budgeting Tools.
First and Foremost, Do It by the Book.

You heard us.
Do it all by the book.
It's likely that your chapter has provided you as treasurer with a resource guide for handling your official duties in budgeting and beyond. There should be quite a lot of details to go over in terms of how a budget should be prepared and managed. Make sure you know exactly what money is going out to the housing committee, taxes, insurance, and other expenses. Ensure that meticulous records are kept of changes in the budget and that a surplus is first used to pay the chapter's debts.
The guidelines may indicate what areas are crucial (like utilities, housing payments, taxes and insurance), but once those are paid, there may be areas a surplus would benefit, such as social and recruitment efforts. Once you understand the intricacies of the treasurer's guidelines, it becomes easier to see how and when certain underfunded chapter goals might benefit from having a little extra cash thrown their way, and when stashing away for future savings is the wiser investment.
When in Doubt, Talk to Those Who Know.

As a fraternity treasurer, you have a lot of resources at your fingertips: the finance committee, your university's Office of Greek Life, the housing committee, national advisors, the assistant treasurer and alumni. All these can make for great tools when approaching handling a surplus. In fact, once you know your budgeting guidelines inside and out, you'll want to make sure you're in contact with everyone involved in the financials of your chapter when necessary.
For example, the Office of Greek Life may have resources to help guide fraternity treasurers in a general sense. They might also have certain financial guidelines regarding Greek organizations on campus. You'll want to handle any financial matters by making sure you follow the university's guidelines as well as your fraternity's. Your national organization may also have specific guidelines or advice in terms of how a surplus and savings are handled within a chapter. There might also be certain restrictions that involve record keeping and insurance against embezzlement. There are a plethora of fraternity budgeting tools to help you manage your chapter's surplus funds like a pro.
Can Software Help?

In short, yes.
Check out OmegaFi's Vault if you're looking for a premiere piece of fraternity budgeting software to help with every step of the budget process, up to and including if you are managing a surplus.
Vault is a wonderful piece of software for chapters in need of financial management help, but it's also so much more than that. It's an all-around great fraternity budgeting tool in that the software is backed up by real-life professional financial advisors at OmegaFi. These advisors are trained to guide fraternities through the budgeting process, the management of dues collection, banking transactions and other financial concerns a fraternity chapter faces day to day.
Another thing Vault may be useful for is tracking savings over the span of more than a single semester. You can compare a budget to actual expenses throughout the budget period, and see how well your chapter handles its financials over time. Is a surplus and savings typical for your chapter, or is it an anomaly? How does a surplus correlate with chapter membership growth? Can some of the surplus be used for bigger chapter goals, or is putting more of it away for a rainy day wiser for now?
Vault offers a variety of financial reporting options that a fraternity can analyze with the oversight of national advisors, in order to determine how best to handle a surplus in the budget. You can also track philanthropy expenses and alumni donations.
Finally, Vault offers the kind of financial planning that facilitates savings from one treasurer to the next, by offering a single, unified budgeting and financial management platform, and manages chapter finances securely in a way that actively prevents fraud.
With these fraternity budgeting tools combined, you are Captain Surplus!
Okay, so you're not a super hero, per se. But then again, a treasurer's duties can certainly feel like flying higher than a plane or running faster than a speeding train. Wait, are we mixing up our super heroes again?
The point is, a surplus is a good thing for your fraternity's budget, and using the proper tools at your disposal will ensure that it's handled properly. Know your guidelines inside and out. Know who to talk to and when about chapter finances. Finally, remember to use fraternity software to bring all the pieces together.
How has your chapter handled surpluses in the past? What's worked (and what hasn't)? Let us know in the comments below.