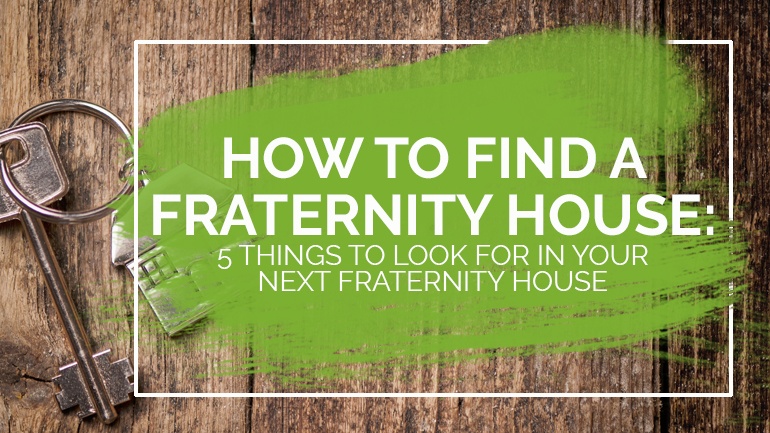 So…we heard through the grapevine…
That you and your fraternity brothers are getting a house together! This is huge. Such a big decision. Are you sure you're ready for it? We mean…your fraternity has only been together for a couple hundred years or so. Are you sure you aren't moving too fast? No? Okay. Okay. We trust you.
So, where's your head? Are you guys thinking about size, neighborhood, cost, or distance from campus?
Those are all pretty important considerations when looking for your next fraternity house. But in truth, let's be honest. That's the no-brainer boring stuff. On…
Size- Look for a house that can accommodate a portion of your fraternity's overall size.
Neighborhood- Look for a house in a good neighborhood (check crime rates in the area); preferably it would be a location on campus.
Cost- Leave this decision to your national leadership.
Distance from Campus- The closer the better.
Now that that's out of the way, let's focus on what's really important: finding the comforts you need in your next fraternity house. And thankfully for you, OmegaFionce studied for its real-estate license, and knows a thing or two about finding a fraternity house that yields the most fun per square inch. Here's How to Find a Fraternity House: 5 Things to Look for in Your Next Fraternity House.
5. Pool, Pool, and Oh Yeah, Pool

We're not going to pull any punches here. We know deep down in our hearts that you deserve better than that. In most cases, a pool actually decreases the property value of a home after you factor in the higher property taxes, liability insurance and maintenance. But let's be serious for a moment, because pools are awesome. It doesn't matter if you live in the year-round heat and humidity of Florida, or the winter despair that is Michigan; even if it's for a single day in 68-degree weather, the man with the pool is king.
Maybe it's an ancestral bit of DNA from our single-celled, ocean-dwelling forefathers, but in general, humans like to be near the water. It's why the most populated cities are largely along the coasts. So whether it's cold or hot outside, getting in the pool isn't a requirement for using it efficiently. Simply having a pool and a group of people around it to sit by it, stand by it, tan near it or BBQ next to it is enough. If your fraternity enjoys fun in any form, get a pool. Even the Simpsons knew this lesson, and taught it well.
4. A Big Backyard with Patio Deck and Grill

Second only to the immediate appeal of a pool is the time-honored big backyard, patio deck and grill combo. When searching for your next fraternity house, the big part is key. Nobody likes a small yard, not even your grandmother. Especially not your grandmother. And when we say yard, we mean grass. No dirt, no concrete, just Irish-green grass. The amenities that your house provides are for more than just your own enjoyment. More than anything, they're for the enjoyment of your guests. You want your guests to feel free to take off their shoes while they drink their beverage of choice, walk out into the grass, sit, lay down, and generally relax while waiting for their hot dog to get done. You want your guests (as well as your brothers) to have the freedom of space to throw the football or set up a game of kickball in their own backyard.
A patio just spruces up the backyard and separates the house from the grass, so play ball.
3. Stories on Stories on Stories (Elevation)

In the world of fraternity houses, bigger doesn't always mean better. However, it can be a boost. In searching for your next fraternity house, you want a house that can obviously accommodate a good portion of your brothers. Unfortunately, square footage when it comes to building can be a significant factor in costs, so rather than spreading out too much, look for a house that instead builds up. A home that's two stories with a basement level or three stories outright can make a sizeable difference in the perception of space as well as community. A single-story home can be nice, but a multi-story home can be impressive, imposing even.
As a fraternity that looks to project power and leadership on campus, aim for a house that you feel serves as the physical embodiment of your chapter's brotherhood: strong, unified, and built like a compound.
2. Home Theatre

Whether you're a movie buff or not, when it comes to America, entertainment in television and film go a long way. In fact, we here at OmegaFi would go as far as to say that film and television are so important within our culture that they serve to define it. In the 90s, women cut their hair to look like Rachel from "Friends." Because of Clint Eastwood, magnum pistols gained enormous popularity. Look no further than the Fast and the Furious to see an uptick in the demand for super-charged cars. Our point is that, a home theatre within a fraternity house produces a function that appeals to nearly all Americans. It purveys its most popular form of entertainment.
As we stated earlier, your fraternity house should do its best to not only accommodate your brothers, but to also accommodate your guests. So break out the popcorn and milk duds and fire-up Pineapple Express and watch your campus stock soar.
1. Game Room with Pool Table

In the same vein as a movie theatre, the game room is the pinnacle of a fraternity house's potential. In the homes of multi-millionaires and celebrities, you'll be hard-pressed not to find a room containing a pool table, a foosball table, a ping-pong table, air hockey, or at the very least a stack of board games. Having fun and cutting loose is important, and a room dedicated to doing that is essential to the mental health of your brothers, and the comfort of your guests.
So, take care of your brothers, your guests, and invest in a game of Twister. The Gods of Fun will thank you.
If you're in the process of looking for your next fraternity house, let us know about your real estate journey in the comments below!