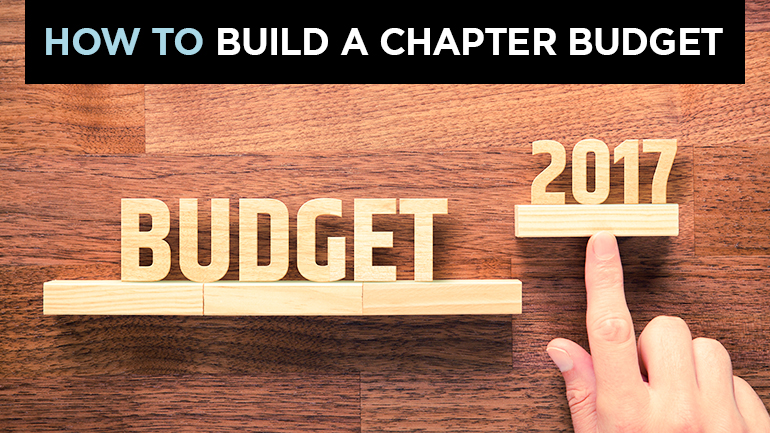 Building a chapter budget seems like a daunting task, but it's actually not as scary as you'd think.
Before you start building a budget from the ground up, check with your national organization for treasurers' manuals or financial planning workbooks. Many groups offer pre-calculated spreadsheets and budget templates, so all you have to do is pop in your chapter's information. Most third-party billing systems offer budgeting tools and templates as well. If you have your chapter's budget from the previous year, that can also be helpful.
A chapter's budget should be a reflection of the chapter's goals and plans for the year. The first step to start your budget is to calculate the revenue your chapter will need to cover expenses throughout the year. It tends to be easier to break things down by semester. For example, in the fall you'll want to account for things like Homecoming and Recruitment; in the spring, you'll want to account for Greek Week, leadership academies and conferences. A good rule of thumb is to underestimate income (revenue) and overestimate expenses.

Calculating Expenses
To calculate your expenses, make a list of each officer in your chapter to include the list of activities or events they are responsible for planning. Something helpful that my chapter always did was hold a pre-budget meeting with chapter officers to discuss events for the upcoming year. How many events will each officer be responsible for planning? How much will this officer need for each event? Will they need certain supplies to execute tasks vs. event planning? For example, your secretary might not have any events to plan, but they'll need money allotted for things like stationary, postage, etc. You can also have each officer fill out a wish list for items to help them execute their officer duties. More than likely, each officer's budget will be different. You and your executive committee may decide to put more money towards certain officer budgets depending on chapter priorities.
Helpful Hints
Try to predict any large purchases you'll need throughout the year. For example, if you know your chapter's current projector isn't going to last through the rest of the year, go ahead and add that to your expenses. Make sure not to forget other fixed costs that aren't necessarily associated with one particular officer (i.e. do you pay a fee for a university mailbox rental?
Don't forget to include miscellaneous fees for small expenses throughout the year. Allow between 3 to 5% of your overall budget to be allocated for miscellaneous fees.
Also, consider adding an accounting fee as an expense. Chapters who bill and collect manually have about a 65-75% collection rate. Translation: chapters who bill and collect without a third-party billing company only collect about three-quarters of what they charge their members. Building in an accounting service and corresponding fees can help you collect 98-100% of your budget.

"Where do we get the income?"
Income/revenue comes from your members paying dues. Each member will be responsible for base charges that include things like national dues, insurance, parlor fees, etc. New members and initiated members will more than likely pay different amounts for base charges. Local chapter dues are what members pay to cover chapter operations for things like brotherhood/sisterhood retreats, philanthropy events and recruitment.
Determining Member Dues
To determine dues per member, divide your chapter's expenses by the number of members in your chapter. For example, if your chapter expenses come out to be $60,000 per year and you have 50 members, chapter dues would be approximately $1200 per member per year or $600 per member per semester.
Once you've determined your chapter's expenses and revenue, subtract your expenses from your revenue. Revenue should equal or exceed your expenses. To give your chapter some wiggle room for unexpected expenses or outstanding debt, adjust your revenue so that it exceeds expenses by approximately 10%. You will probably have to scale back on your expenses. I know you want to host the biggest philanthropy event on campus, but it's important to be realistic of what is affordable for your chapter.
Remember that budgets should be revised at least twice a year. Keep detailed records of revenue collected and payments for expenses. If you do have any unexpected or large expenses arise, simply adjust your budget to accommodate for the change.
Are these chapter budget tips helpful? Got some trick of your own on how to build a chapter budget? Let us know if the comments below!