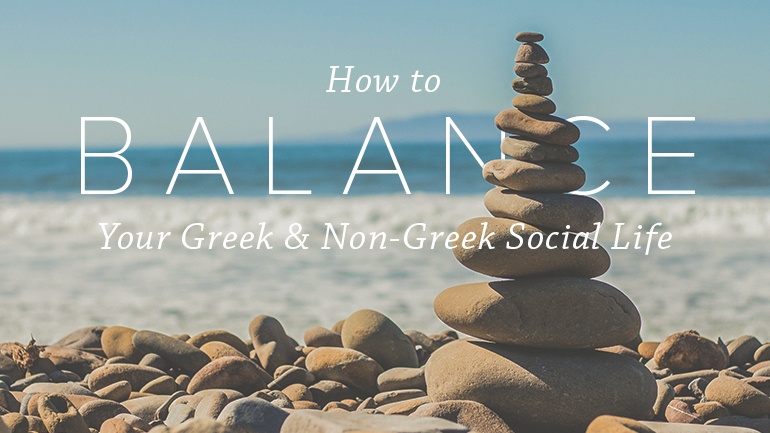 Joining a fraternity or sorority is a whirlwind experience. Not only are you thrown into the college experience, which can take a good bit of time to adjust to, you have now made the decision to join a Greek organization. It can be a hard balance between course work, new friends, new surroundings and your new sisters or brothers. We know it can be hard to keep up with your old and non-Greek friends. OmegaFi wants to offer help on how to Balance Your Greek and Non-Greek Social Life.

Make Time for Non-Greek Friends
When you join a Greek organization and settle into your chapter, you immediately inherit a large group of friends who by the end of your college years will feel more like family, and that feeling won't go away. How great is that?! You will get swept up into building those relationships, learning more about your new brothers or sisters, creating bonds, and attending social events together as your newfound squad develops. These are just a few of the many reasons why joining is so awesome. However, it can be easy to forget to make time for your friends who are not part of the Greek community on your campus.
If you are finding it hard to hang with your friends on the regular, schedule time together. That way you are guaranteed to see them. Make sure to come up with fun, creative, and active ideas that prevent you and the other person from double booking your schedules or possibly bailing on the plans. While meeting for coffee is a great way to catch up, it can easily be rescheduled when life gets too hectic. Consider scheduling a planned study night every week. This way you can accomplish two very necessary tasks at once, studying and seeing your BFF.
Another great way to make time for your friends is to join a recreational sport league together. Being part of a team and having scheduled games and practices will make it easier to follow through with seeing each other. Plus, you get to enjoy each other's company in the great outdoors while getting your exercise in. Your best bud + endorphins + fresh air can do your mind and body good!
Also, when time is just not on your side, don't underestimate the power of technology. Pick up the phone and send your crew a text, jump on a FaceTime call between classes, or engage in the lost art of leaving notes on each other's cars when you see their vehicle in the campus lot. The main point is to make sure you keep old friendships intact as you embark on new ones. #squadgoals

No Mo' FOMO
Do you ever feel like, "Something's gotta give"? Well, you're not the only one, but how do you cope with that feeling? First, you need to remember you can't be in more than one place at a time. It is very easy to get overwhelmed and over commit, leaving you feeling like you are missing out on everything. The fear of missing out (FOMO) is a real thing and a hard beast to battle. It may take a few nervous breakdowns to understand that you indeed are one person. Despite your dreams of being able to teleport or clone yourself, it's not going to happen (yet).
Take the time to prioritize your activities and to-do list. If your sisters are hitting up the mall for the weekly window shopping trip, and you know it will turn into a two hour event where you could also possibly spend your semester's book money, take a rain check and catch up on that group project you have had on your to-do list for the past week. Find solace in the fact that there will be other mall hangs and you know you will feel better getting work done to finish the project. Plus, you can always watch the snaps from the mall trip later on. It will feel like you were there!
It is also important to stand your ground and not succumb to peer pressure. I know this may sound like a phrase from an elementary after school special, but you will find it is still a very important reminder in your adult life. The squad's love runs deep. Of course they want you to show up to every event, and you want to go, but sometimes it's just not in the cards and that's ok. If your friends are anything like mine, then they have no problem playfully throwing shade or giving you a hard time when you say you can't attend the ultimate Frisbee tourney this weekend because you have another commitment. Most likely it won't be as fun as Frisbee, but very important nonetheless. This is when FOMO can rear its ugly head. Stand strong against your group's "Ah man, what? You're not coming?!" texts and focus on what you need to do.

Join Groups
Seems pretty simple, right? Yes! It is that easy. There is a common denominator when it comes to your brothers and sisters and your non-Greek friends…they are all your friends! Do your Greek and non-Greek friends also attend the same university? If so, just like that you all have another thing in common. Blending the groups should be as simple as inviting a few Greek and non-Greek pals to hit up the campus dining hall together. Add the all-you-can-eat soft serve ice cream machine into the mix and you without a doubt will have new friendships forming right before your eyes. You can feel a warm and fuzzy sense of accomplishment when you see your old and new friends posting pics on Insta together when you are nowhere to be found.
With the blending of the friends groups, don't be afraid to talk Greek life with the non-Greek life members and even invite them to Greek life events. There is no harm or shame in taking your friend to formals or involving them in your chapter's intramural team. Need someone to critique your Greek week performance or help choreograph your dance? Call in the non-Greek squad for unbiased feedback. Then when your chapter takes home the gold, you can all celebrate together. And just like that, bada bing, bada boom, you are the godfather (or mother) of this beautiful blended brood.

Get Out of the House
Living in the chapter house is so much fun, but can also mean you are sometimes secluded to just your Greek life friends. Make an effort to get out of the house once in a while. Living in the chapter house guarantees you face time with your brothers and sisters. Instead of eating all your meals, studying, and watching TV in the house, venture out to enjoy those activities. Set up a pot luck dinner every other week at a friend's house. Study at a local coffee shop and engage in a conversation with a stranger. Volunteer to help with events on campus and meet other students. Make conscious decisions to branch out and meet new people outside your chapter roster.
With being Greek, more often than not your social calendar is built in when you join. You have the mandatory socials, formals, meetings, and sister or brother outings. It is important you balance your social life with your Greek life and non-Greek life friends, but also with yourself. You have interests, passion projects, and obligations outside both friends groups, so don't be afraid to stay committed to what's important to you.
Do you have an idea, comment, suggestion or real life experience on this topic? Tell us in the comments section. Check the OmegaFi Greek Resource Library for content, tools and other resources to help you and your chapter.