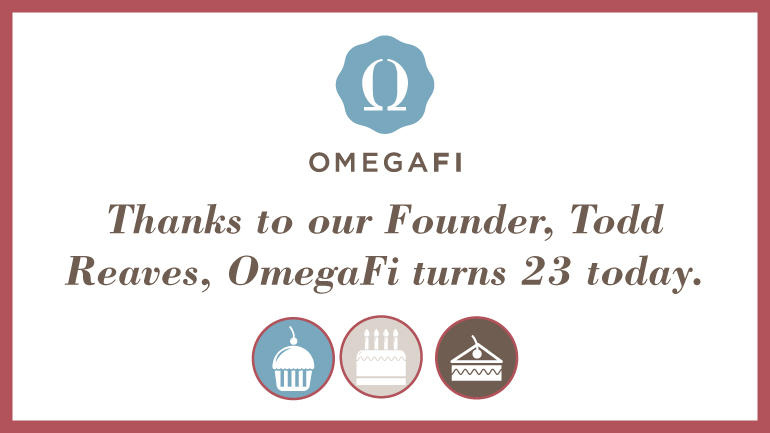 I rank my 23rd year as one of the best. Like OmegaFi celebrating its 23rd birthday today, I can't help but reflect on the similarities.
When I turned 23, I was promoted to Account Manager at OmegaFi, reveling in the excitement of providing highly sought after and well received solutions to fraternity and sorority officers. I learned how rewarding and enjoyable it was to develop real relationships with customers, students and volunteers trying to make a difference.
That same year, I graduated college with a Business degree with an emphasis on Marketing. Receiving that degree was an unbelievably liberating experience. With a diploma in hand, I felt like it was all downhill from there. There was nothing I could not accomplish. Shortly thereafter, I moved into my own place. Well, the first one I could be proud of. My new two-bedroom apartment was bright, clean and mine, all mine.
I had no idea how much of an impact the decisions I made that year would affect my life today. I'm so grateful I earned my degree. That degree and the experience I gained as an Account Manager have propelled my career path that follows the growth of OmegaFi.
On one hand, 23-years-old seems so young. On the other hand, it's such a grown-up, life-changing year for so many. It's often perceived that one is "grown" at 18 years of age. In my opinion, 23-years-old is much closer to maturity.
As OmegaFi celebrates the milestone of 23-years today, I feel just as excited about our collective future as I did for my own back then.
I'm proud we've remained focused on the Greek Market since day one and still provide much needed solutions to fraternal organizations. It's fun to work for an innovative company that has revolutionized the business of Greek Life. We've grown from billing and collecting dues and fees, to providing everything a chapter needs to manage finances and membership. We brought gift fulfillment to a new level in the world of fundraising and have been blessed to be a part of some amazing construction and renovation projects in the Greek Community though feasibility studies and capital campaigns. Today, we support 13 inter/national organizations, with our Compass database and operational assistance at the Headquarters level. We have wonderful partnerships with officers, advisors and headquarters staff that are built on trust, mutual respect and a commitment to improving the fraternity and sorority experience for college students and alumni/ae across the globe.
OmegaFi is farther along in 23 years than I ever dreamed we would be, but I truly believe it's only the beginning.
The 106 employees of OmegaFi today are poised and ready to work hard in 2015, and the years to come. We are excited about introducing you to major enhancements to our Chapter Desktop later this year. We are looking forward to continuing to improve our mobile apps, and we are thrilled about some new services specifically for House Corporations that are coming in the months ahead. Finally, we can't wait for you to begin using our new Visa Prepaid Card that will provide complete transparency and control to your chapter and house corporation spending.
These are just some of the exciting things we have planned in our 23rd year! I can attest that it's wonderful to celebrate another year with this fantastic company. Every day is a celebration because we love what we do. Now, it's time to start planning, because the Birthday party we celebrate two years from now should be epic!