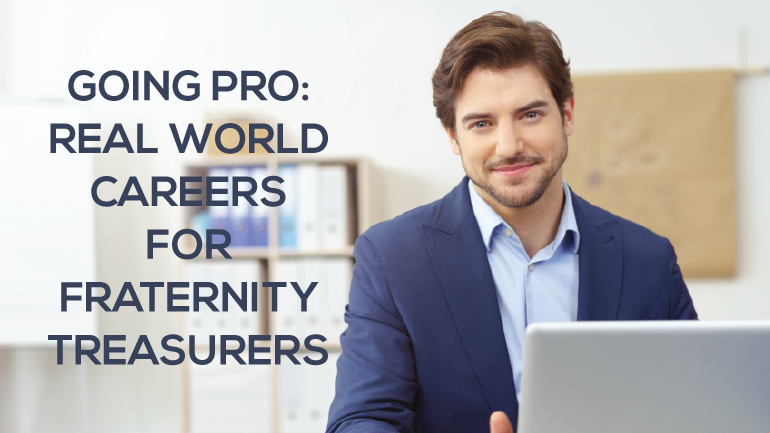 Joining a fraternity may get you into a lot of cool parties on campus and bring you new friendships and good times aplenty, but that's just the icing on the cake that is your Greek experience. The greater benefit of becoming a fraternity brother is growing into a rounded young man, equipped to succeed both in the classroom and the world at large once you graduate.
Consider a fictional example of your typical brother. Let's call him John. John joined a fraternity chapter his freshman year of college. His chapter pushed him to attend study hours and boost his GPA. His fellow brothers instilled him with values that helped him carry out his goals and become a better man, knowing that his journey toward greatness is eternal.
Not only that, though. After spending a few semesters as a brother with his fraternity chapter, John decided that he wanted to do more. He decided to run for fraternity treasurer. And he won! He really put his all into the position and succeeded in his goals, despite setbacks. His time as a fraternity treasurer inspired him so much that it led him to not only a degree but a career that fulfills him every day.
How did this happen? What did John's time as fraternity treasurer have to do with his choices in school and the work world?
What John figured out, and what we here at OmegaFi would like to talk with you about today, is that if you look hard enough you'll find that there are Real World Careers for Fraternity Treasurers. And it's not just limited to the obvious--careers in banking or finance companies, accounting or other business leadership positions. Although these are all great, there are careers out there where fraternity treasurers can continue to be a part of something special and inspiring. Let's take a look.
How Being Fraternity Treasurer Could Lead to a National Fraternity Career

It's the most direct path, if you think about it. Fraternity life suits you. You want to be a part of this feeling of brotherhood for the rest of your days. But what does it mean to translate being a fraternity treasurer into a real world career in the fraternity business?
Think about the tools you've gained as the treasurer: financial management skills, professional communication skills, leadership skills. In essence, you've been running a small business already for at least a semester, possibly longer. The chapter has thrived in large part because of your diligence.
So why not seek out a career that puts those skills to use, all while surrounding yourself with people who really get and have a passion for fraternity life the way that you do. You already communicate regularly with your national organization's advisors, and you've gotten a basic feel for what they do. What job within the organization might suit you? Leadership consultant? Director? Executive Director?
The great thing about this kind of job is that it gives you continued hands-on experience with undergraduate chapter members, guiding and directing them the way you were once helped by nationals. It also allows the opportunity to manage finances and budgetary matters on a national level, planning leadership conferences and conventions and much more. Plus many who work with national fraternities are alumni themselves and have spent years around fraternities, so they know where you're coming from and vice versa. A fraternity treasurer would fit right into this career.
Passing the Digital Baton: Becoming a Financial Software Expert

Okay, so we're tooting our own horn a little here, but we think we have good reason to do so. We love working at a financial software company like OmegaFi, and we like to believe you would, too.
But also, consider the fact that as a fraternity treasurer, you may very well already have experience working with fraternity financial software such as OmegaFi's Vault. Software is becoming increasingly prevalent in fraternity life, and many chapters use it to centralize and make easier things like budgeting and membership dues collection.
If you are familiar with Vault, you'll know that using our financial fraternity software means working with professional financial consultants who can help not only with the software itself, but building and managing a successful chapter budget. Can't you see yourself in this role, passing the digital baton as you advise other young treasurers growing into their roles? And if not, financial software companies can offer many other careers suited to fraternity treasurers, such as account manager, tax specialist, financial integrations coordinator and many more. What we're saying is, Join us!
From Brother to Alumni: What You'll Learn about a Capital Campaigns Career

Working with alumni as a fraternity treasurer means you're familiar with all that goes into a fundraising capital campaign, especially for large-scale projects such as building or renovating a chapter house. Likely what you discovered during the process is that, while the management of alumni donations themselves wasn't totally outside your area of expertise, other aspects of fundraising got really complicated really quickly.
You may have even turned to a professional fundraising consultant such as Pennington & Company. Companies like Pennington have been handling fraternity capital campaigns for decades, and if you've ever worked with a company like this, you likely learned a ton along the way about alumni relationships, as well as assessing and managing a professional campaign at every step of the way.
Once you're an alumnus, you'll have a really strong idea about how these campaigns work. So why not look for a career helping other chapters pursue their fundraising goals? A fraternity treasurer like you might fit right in as a fundraising consultant, or another similar job working with capital campaigns.
These are a few of what we at OmegaFi feel could make great Real World Careers for Fraternity Treasurers. In reality, serving as a fraternity treasurer or any officer position with your chapter will give you invaluable skills toward whatever career path you choose.
So let's hear it, treasurers. What have you learned that you feel will help you toward your career? Life lessons? Successes? Blunders? Give us a copy of your resume in the comments below.