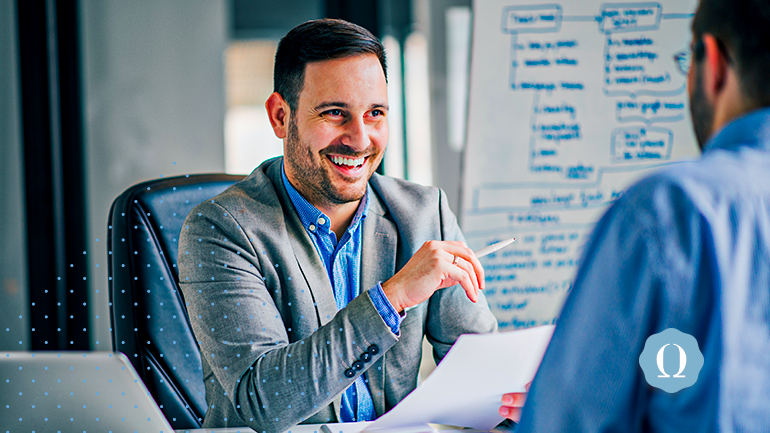 If you're a new brother, you might be wondering, What's it going to be like to live in a fraternity house?
There are many ways to answer this question, but it has less to do with the four walls around you and more to do with the experience of living with your brothers.
Of course, there is an appeal to living in a big fraternity house—as well as a cost associated with housing and meal plan agreements.
Yet what chapter house living offers is more about building bonds you otherwise might not; it's about seizing leadership opportunities; and it's about working together as a brotherhood.
Answering Your Fraternity House Questions:
Now, let's lay out the blueprints for successfully living in the fraternity house.
What Even Is a Fraternity House, Anyway?

When you're choosing between on-campus dorms or footing the bill for a nearby apartment with some friends, your chapter's fraternity house offers a third option. It combines campus culture with fraternity life. But before you decide, you rightly want to know more about the ins and outs of fraternity house living.
Do I Have to Live in My Fraternity House?
Usually, no, you don't have to live in the chapter house. And, sometimes, not everyone can. It depends on how many bedrooms are in the house and how many brothers want to live there. Talk to your house manager about your options.
Do I Have to Pay to Live in the House?
Yes, unless you have a special circumstance like a scholarship to cover the cost. You usually will sign a housing contract to live in the house, agreeing to the house's rule and to pay the agreed upon amount per semester. However, the cost of living in Greek housing is often less than living in an on-campus dorm or an apartment.
How Much Does It Cost to Live in a Fraternity House?
This depends on many factors, like the state or city where your university is located, relative costs of other student living, facility amenities, property value, recent renovations or upgrades, and more.
Average costs of living in a fraternity house can range from about $1k to several thousand dollars per semester, but this is a very rough estimate based on only a few examples.

Fraternity House Rule #1: Don't Disturb Your Housemates' Chill!
(And Don't Worry Where the Salad Fork Goes.)
When considering cost, you should: 1.) factor your membership dues, meal plan (your house may have its own), and other costs into your decision, and 2.) compare this to the cost of dormitory or apartment living in your area.
Do Freshmen Live in Fraternity Houses?
Your university Greek Life system and chapter may have specific rules about this. It may be that freshman members live in the house, or else that you must wait until your sophomore year (if, for instance, your university requires you to live in the dorms as a freshman). Your fraternity may determine who lives in the house by any number of factors, including prioritizing younger members, going by a points system, or even going by seniority.
Who lives in the house is a case-by-case situation. But if you can move in your first year, definitely consider doing so.
Is It Cheaper to Live in a Dorm or a Fraternity House?
As mentioned above, fraternity house living is often more affordable than, if not comparable to, on-campus dorm costs.
Chances are that a nice apartment close to campus will be more expensive and can induce the separate cost of utilities/water, driving to and from school, and a non-resident parking permit.
Who Owns Your Fraternity House?
Usually one of the following groups owns your house:
your fraternity organization
an alumni LLC
the chapter
a private landlord renting an off-campus property
There should be an established system between university officials, the alumni housing corporation, and brothers for handling property management, safety inspections, furniture/house upkeep, locking up during breaks, etc.
What Is Living in a Fraternity House Like?

Every house has its own culture and norms. But, there are some universalities:
You share a room with at least one other brother, much like a dorm room. In some cases, a chapter president or other top executive officer gets their own room.
You respect the schedule. Brothers are already tapped into the chapter calendar, especially if you use communication and event-planning software like OmegaOne. But in a fraternity house, there are set hours for studying, having guests, quiet, chapter meetings, when meals are served, etc.
You host events at the house, which means you can't always dictate how populated or noisy the house is. Likely you're required to attend these events anyway, so it's no big deal. But if it's optional and you have to study for finals, you'll need to longboard over to the campus library.
Bonding happens 24/7. It can seem overwhelming at first, and you're bound to have disagreements living in such close proximity, but ultimately it's a positive and bond-building experience living with your brothers.
What Are Fraternity House Rules?

Rules vary depending on your chapter, its culture, and its values, as well as those rules imposed on you from above (the University, your fraternity, or whoever is the title holder of your house).
Is your chapter dry? This means there's no drinking in the fraternity house, and breaking this rule can land you in big trouble.
Are you allowed to have overnight guests?
What are the rules regarding laundry, parking, and housekeeping?
How do the regulations define dangerous or destructive behavior, caring for the property, payment deadlines, or any other stipulations of your lease?

Fraternity House Rule #2: Clean Up After Yourself and Maintain Basic Hygiene!
Your chapter leadership should educate you on the ins and outs of the rules you'll be bound to if you decide to live in the house, and if you have questions, you should ask rather than take a guess and be wrong and get penalized for a mistake.
There are also unspoken rules of living in the fraternity house, and these center around fraternity house etiquette. Shower, clean your room, don't blast music or have a bunch of guests over during quiet hours, share the television . . . in other words, use common consideration with your brothers, and they'll do the same for you.
Living in the Fraternity House: What Do I Need to Know?

What makes living in the fraternity house fun? What would upperclassmen tell you they loved about their experience as housemates? Here are a few common points of house living bliss:
You'll never be alone.
There's always something going on—never a boring day.
You get to live with your closest friends.
You'll never be late to chapter.
Campus life is all around you.

Fraternity House Rule #3: Read, Learn, and Follow All Your Chapter's House Rules.
And, of course, there are a few cons to fraternity house life:
Everything smells like gym socks.
Seriously . . . how did that stain get up there???
Okay, guys, I love a good prank, but it's time to tell me where you hid my Xbox.
Should I Live in My Fraternity House?

If you have the opportunity, and it makes sense for you, the answer is an emphatic yes.
At the very least, give it a try. Some of the best times you have as an undergraduate may well happen between those very walls.
OmegaFi offers software solutions for fraternity chapters for recruitment, budgeting, communication, and more. Learn more about our services or call direct at 800.276.6342.
Do you want to learn more about fraternity life? Sign up for OmegaFi blog updates to keep up on the latest fraternity content!