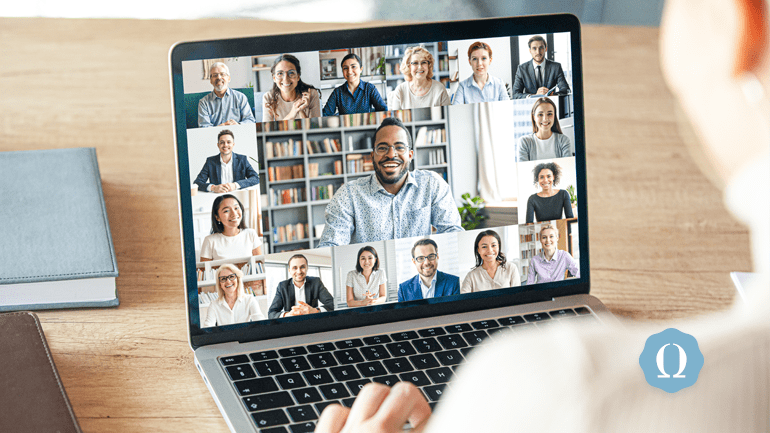 With the recent ongoing coronavirus pandemic, fraternities and sororities will need to find new ways to engage in fraternity communication while everyone is off-campus. Communication can be difficult enough while people are on-campus, so fraternity communication is sure to be even more tedious when members, chapter advisors, and the like are not only off-campus but are socially distancing themselves from one another. Virtual retreats can be a great way to engage in effective, solid fraternity communication at this moment in time.

Off-Campus Fraternity Communication
While it may seem daunting to be able to maintain the level of fraternity communication that your individual chapter sustained while on-campus, thankfully, there are numerous ways in which you can keep that level. Make sure to use the resources available to your particular fraternity or sorority, and check with the Greek Life office for assistance. With nearly everyone self-quarantining, there's a learning curve in terms of working and learning remotely.
While some people may have no trouble at all with online classes -- and may perhaps even prefer them to in-person classes -- others may struggle to make the transition. These people may not be as self-motivated or as dedicated as needed to succeed in virtual learning. Because of that, it's important to provide fraternity and sorority members with useful educational and virtual learning resources that will hopefully steer them away from the temptation of binge-streaming the latest Netflix original.
It is also essential to check in with brothers and sisters to see how they're doing emotionally and physically. Are they taking care of themselves? Are they remembering to wash their hands and now, according to recent CDC recommendations, wear face masks when in public? Members may be lonely, especially if quarantined alone, and frequent check-ins can go a long way toward improving others' mental state.
Making sure that everyone -- members, executive board, chapter advisors, alumni -- is on the same page should be just as important while operating off-campus as it'd be while on-campus. Hopefully, you've come up with fraternity communication goals that make sense for your particular chapter, as well as a concrete plan for accomplishing those goals. These plans do not come to a screeching halt now that you're all apart from one another; they merely continue, albeit in different forms.

Virtual Retreats and Fraternity Communication
Retreats can be fun, educational, bonding experiences that improve fraternity communication within the chapter. Retreats can also be a great way to get in touch with alumni, chapter advisors, and others who you'd like involved in the fraternity or sorority. You can also show the newest members what your individual chapter is really about, and help them feel good about accepting the bid.
Zoom -- a remote conferencing company and app easily downloaded on most devices -- has become the most popular method of communicating with loved ones. Zoom can also be a useful tool for fraternities and sororities in which to hold virtual retreats. You can of course use other methods of fraternity communication such as Skype and FaceTime, but an app like Zoom will enable you to include as many members of the fraternity or sorority as possible.
When planning a virtual retreat, try to think about some activities that everyone would be interested in, things you'd likely do together if you were still on-campus and not practicing social distancing. Ask yourself this question: how can you continue to build the brotherhood or sisterhood while remaining off-campus?
Maybe you want to maintain that solid fraternity communication by holding health and wellness-themed virtual retreats. You can provide the membership with guided or group workouts that'll make your in-home exercise routine more interesting. And, because you may typically enjoy working out with your brothers and sisters, this is one easy way to continue doing that.
You can also use streaming services like Netflix to have watch parties; opt for movies and other programs that'd not only interest all members but could be considered educational or otherwise enlightening. Or, if you'd like to switch off the TV, you can start a book club. The virtual retreats can consist of discussion regarding the most recent book, and this could also be tied into any classes that members are taking.
How Fraternity Software Can Help with Fraternity Communication
Chances are fairly high that there are still numerous items on your fraternity communication checklist that have yet to be completed, even if your chapter is participating in virtual retreats. It may seem like a hassle to complete these tasks, and you may even brush them aside or delay until you return to campus. But, that's not always wise.
Software like OmegaOne can help you with fraternity communication while off-campus.
All of the members of your fraternity or sorority can engage in a number of activities on OmegaOne, including voting on important items of business such as chapter bylaws and budgets. Any documents that need to be shared among the membership can be posted to the files section of OmegaOne, thereby providing easy, 24/7 access to brothers and sisters.
Members of the fraternity can also add their courses to the Classmates tool in OmegaOne, ensuring that they stay on track with their classes and assignments. They can use this tool to engage in fraternity communication by asking questions and studying together, despite not being in the same room. Just as you don't need to give up on your preferred group workouts, you don't need to give up on group study sessions.
In addition, you can set up Emergency Check-Ins, which can consist of notes as well as locations. This is so that, if there's a brother or sister in need, hopefully you can help him/her.

Those chapters interested in streamlining fraternity and sorority recruitment could benefit from OmegaRecruit, which can certainly come in handy when preparing for the next recruitment while being off-campus. Regardless of what you choose as your fraternity software, now is the best time to utilize the resources available to help your chapter in a myriad of ways.
You can learn more about OmegaFi and our products by visiting www.omegafi.com. Or call 800-276-6342 or email us at info@omegafi.com.