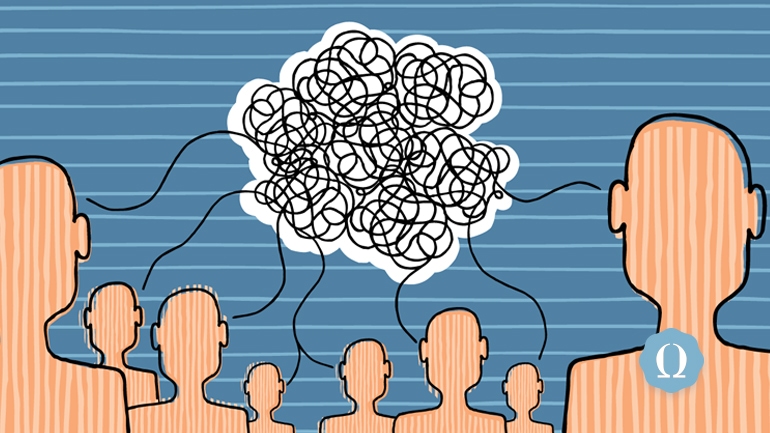 You might be thinking: "What do you mean, fraternity communication goals? I see my brothers every day. They never shut up!"
Ah, yes, the fraternity experience.
No one told you it included being so close to the annoying habits of your brothers—watching Game of Thrones on full blast when you're trying to study, constant bad jokes, asking you to go to the gym so many times it borders on harassment.
But that's not exactly what we mean by communication.
We're talking about goals—both for the chapter and for yourself—and how to plan and execute those goals together.
Since brothers have different schedules and aren't always in the same place at the same time, bad communication leads to disjointed efforts, confusion, missed deadlines, bad budgeting, and a bunch of other problems.
You must give the right brothers the right information at the right time.
Otherwise, you may not reach your goals, and that has an impact within the chapter and beyond.
In other words: Chapter goals can't be accomplished without first achieving the right communication goals.
But What Do Fraternity Communication Goals Even Look Like?
OmegaFi wants to help your chapter communicate like a pro.
Let's take a closer look at how to achieve this.
Goal: Communicate Sooner
This advice sounds straightforward, but it's harder than you think to keep time from slipping away and finding yourself behind on your to-do list when you're a busy college student.
Keep in mind that every brother is perpetually facing a due date with his assignments, trying to get as much sleep as possible, and keeping his own schedule for downtime and exercise.
One goal you can easily reach is starting your planning much earlier.

Peterson's offers pro tips on the ins and outs of college life, from admissions to graduation day.
For example, say your chapter wants to win Greek Week. Participating is fun and simple.
But winning?
That takes communication. You may be playing in various sporting events, doing a chariot race, Tug-o-War, trivia night, community service events, and even a skit or talent show.
Work out ideas, who's participating, and what their roles are months in advance. Clear up schedule conflicts ahead of time.
Give yourself time to find the right sorority partners. Wait until the last minute, and you'll end up getting a "no" or teaming up with the wrong group of sisters.
Greek Week is a non-serious example, of course. But imagine this playing out in other chapter goals.
The consequences of communicating in a hurry can lead to costly mistakes.
Goal: Let Every Brother Be Heard
It's impossible for executive officers to be available for every brother's whim 24/7. These guys are students, too, and they'll end up tearing their hair out if there aren't some boundaries.
Still, every brother wants to be heard.
Executives: Your professors set office hours to field questions from students, right? You should too.
Every officer including president, vice president, treasurer, down to the tee-shirt chair, can benefit from this.
Setting boundaries from the get-go sets up a give-and-take. Brothers can approach you with problems during certain hours, and other time is set aside for you to get your work done.
It's okay to be a little flexible, but don't stray too far from your communication boundaries.
If officers don't have the time to constantly sit down with brothers outside of chapter and other official meetings—say, you're a larger chapter with a lot of members—consider starting a suggestion box.
A chapter suggestion box can either be a physical box that's easy to access, or it can be digital through your chapter website or other messaging software.
This way you can assess what's most pressing and set up a time to sit down one-on-one.
Goal: Fraternity Leaders Communicate Better
Some brothers think fraternity leadership seminars and conferences are only for the executive board guys, the big dogs, the ones with power.
They've got it totally backward.
Leadership training benefits all brothers, from the new member learning the ropes to the chapter president himself.
One of the biggest aspects of being a good leader is consistency and confidence.
Whether it's praise or discipline for brothers (there should be a little of both), leadership training teaches you to communicate your intent clearly.
Talk with your Greek Life office and advisors about the best educational programs for brothers of different levels of leadership to attend.
When not just officers but all brothers continually work toward their skills as leaders, communication becomes strong across the board.
Officers demonstrate good leadership by effectively communicating their needs and expectations, so that brothers can rise to meet those expectations.
Goal: All Avenues Open for Fraternity Communication
The more you can close gaps in chapter communication, the better for all.
After all, things can change in an instant in chapter life.
You've seen budgets need quick adjustments, event catering fall through, brothers miss volunteer shifts, intramural schedules change, something unexpected happens during recruitment.
There are a few ways to keep up with the hectic nature of fraternities:
This can mainly be done through your chapter advisors, but keep all alumni in the communication loop through a chapter newsletter, event invites, and other communication like social media, email, and phone calls. Alumni can be a huge support network when it comes to keeping you on track.
You need to keep up with the fast-paced life on a college campus. One of your biggest communication goals should be to give brothers critical information as soon as possible. Use communication software like OmegaOne to keep a strong, quick connection between officers and all brothers. For less chapter-focused conversations, try WhatsApp or other messaging apps.
Reaching Communication Goals Starts from the Top
Make sure each officer is responsible for communicating efficiently and updating brothers about chapter initiatives, events, and goals. If brothers still have confusion or concerns, it's up to them to touch base, but officers should check in from time to time and be able to correct and clarify when they haven't communicated well enough.
If you're constantly working on reaching your communication goals, you'll reach your chapter goals more easily and effectively.
OmegaFi offers software solutions for recruitment, budgeting, communications, and more for fraternity chapters like yours. See what we have to offer or call us direct at 800.276.6342.
We'd love to hear some of your biggest fraternity communication goals in the comments below.