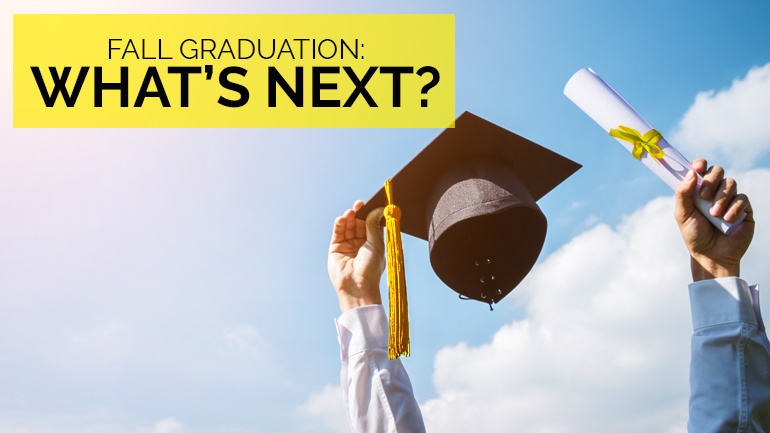 The fall term is here and you're ready. It's the last semester in your undergraduate career. While all of your friends have two more semesters before washing their hands of 8 a.m. classes and 150 page readings, you get to chill… Or do you? Fall graduations can be equally exciting and stressful. On one hand, no more discussion forums for classes. On the other, you have to figure out what you're going to do while all of your friends have an extra five months to get it together. Here's a few ideas on what to do and how to prepare for fall graduation: what's next?
6. How to Find the Job
While Google searches are great for every day questions, you'll want to be more specific when searching for a job after graduation. Look on LinkedIn for careers in your field of study or companies located in the area. If you have the mobile app downloaded, there's a page dedicated to jobs that you can privately save and apply for. To go a step further, check out the Indeed app too. Indeed will be better to filter out any jobs that you wouldn't be interested in, as well as looking at different locations.
Use your Greek life experience and connections! Pop into the university's Greek Life Advisor office and see if they know about any companies that are hiring. If you've worked closely with them, they will more than likely have recommendations on companies that you would be a great fit for. Reach out to alumni and advisors from your chapter as well. One of the perks of Greek membership is the connections you have readily available to you.
Lastly, don't forget to check on the family connections you already have. Family friends serve as great references, especially the ones who have known you for longer than a year or two! Don't be afraid to use every resource you can when searching for a job after graduation.

5. Your Living Situation
This is a long-term factor that can easily be overlooked when looking for your first job out of college. While it's easy to say that you're going to move back in with your parents for a few months to save money, or stay in your apartment lease for the remainder of the year, you'll want to start looking deeper at the options you have available.
Depending on where you find your next opportunity, you may need to relocate. With relocating comes readjusting your current cost of living. While some cities will be more expensive to locate to, the salary you earn at your new job may counteract that cost. Doing a quick search on the cost of apartments in the area will also prepare you and help you decide if you will need a roommate to cut expenses.

4. What about Traveling?
Traveling is one of the first things that we hear "I wish I would have done more" of. Save up your money and take a trip after graduation. Whether it's with a friend or family member, or even a trip by yourself, don't question whether you should go or not. Take the trip and make the experience. If it's a cross-country trip or backpacking through Europe, just go. Check out website deals and cheap ways to travel, like Airbnb and Expedia. There's no shame in couch surfing in order to experiencing new things!

3. More School
It's hard to imagine enduring another two to four years of school when the light at the end of the tunnel seems so close! Some fields require more schooling, or maybe you decided to get your Masters in a more specific area. Don't forget to consider online classes, especially if you'll also be working full-time. There are still scholarships and grants available to graduate students. If you'll be paying your way through this degree, be sure to look at Creative Ways to Pay for College. Additionally, remember to ask your university if being a Teacher's Assistant (TA) will provide a tuition stipend for you.

2. Insurance and Financial Well-Being
Insurance and handling your own finances is probably the most stressful part of graduating. You'll want to have the conversation with your parents at least six months before graduation. See what they are handing off to you, or see if they'll give you a six month grace period, similar to student loan companies.
For example, you may be responsible for handling all rent, utilities, gas and groceries. Your parents may split your car payment with you and then keep your insurance and phone bill for another six months. Also, most medical insurance companies will allow children to stay on their parent's plan until they are 26 years old.
A good rule of thumb is to try to keep at least three months of living expenses in savings. You never know what is going to happen and you don't want to have nothing in savings, in case something unexpected comes up. If you're not the best at saving money, take a look at Saving and Budgeting: 5 Tips to Keep Your Wallet Intact Through the Semester.

1. Don't Forget about Greek Life!
After fall graduation, don't drop off of the map. Be sure to stick around, if geographically possible, and show up to philanthropy events in support of your chapter. If your chapter holds spring rush, see what you can do to help (even if it's just bringing food by or helping set up decorations). Offer to help in any way that you can. Being the alumni that the active members can rely on is a fantastic feeling! Your school may let fall graduation students walk with the rest of their class in the spring, so you never want to be at your own graduation and feel like you missed out on everything.

Graduating is an exciting time for undergrads. You've officially finished what may be the last bit of school! While finishing a semester early is a huge accomplishment, make sure you've prepared yourself as much as possible. Don't forget to have fun and enjoy it! Post a comment below with other ideas on what to do after fall graduation!