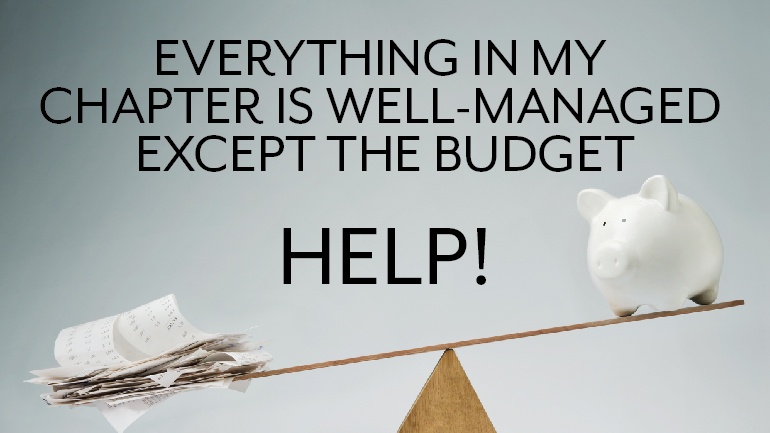 We don't mean to single you out, Mr. Treasurer, but if your chapter runs like a military regiment, all marching in unison, but your budget stinks, it probably means you're the one who's out of sync.
Yours is not a flattering position to be in, to be sure. However, it's only a bad thing if you don't recognize it. It's only a bad thing if you don't learn from your mistakes, if you aren't proactive in fixing the situation.
But it isn't just your own mistakes you're learning from. In an otherwise well-managed fraternity chapter, it's important to learn from your fellow members' successes.
If you're a prideful person, that can sting a little.
It might make you feel like you aren't up to the task of being treasurer in the first place, when every other officer is doing their job so effectively. But think about it. How do you suppose the chapter runs so well? That it was always perfect, will always be perfect, except for you, who is besmirching the chapter name?
If you thought that, you'd be dead wrong.
You're not the only one faced with a tough job. Others have fought the good fight before you.
Mistakes were made. Tears were shed. Then everyone got up off the ground, dusted themselves off and tried again.
You're not alone, dear treasurer. Fixing your chapter budget by following the shining example of your peers shouldn't isolate you or bring you down; rather, it should bring you all closer together. That's why OmegaFi wants you to know that when you feel like Everything in Your Chapter Is Well-Managed Except the Budget and You Need Help, there's no need to despair. Help is all around you, if you know where to look.
Managing Risks in the Fraternity Budget

Risk Management Chairman is more than a fancy title you pin on one of your brothers each semester. Certain tasks are associated with the Risk Management Chairman's job description: collecting car keys and making sure everyone's of legal age in situations where alcohol may be involved, assessing dangerous situations to brothers, ensuring the chapter adheres to anti-hazing practices, educating brothers on all important safety regulations, inspecting the house's fire suppression system and other safety features, coordinating fire drills and much more. The risk management chair is an important counterbalance to the youthful, carefree fraternal energy of any brotherhood.
However, managing risk is not contained to just the duties of this particular chairman. It is also a way to approach many situations in fraternity life, and the budget is no exception. The process is much the same. You identify potential risks and try to mitigate them. Likely your risk management chairman puts a lot of forethought and planning into how he approaches these situations, and prepares ahead. With a budget, treasurers must budget with room for mistakes in estimated chapter expenditures and some money put aside for savings.
And like the risk management chair, if something goes wrong (it will), you have to be cool, calm and collected, rely on your training and instinct and use the chapter bylaws to guide you. If brothers aren't paying their share despite your many attempts to incentivize them and make paying chapter dues easier, you can dole out the measured but appropriate disciplinary measures, ranging in extremity from being banned from certain chapter events up to inactive status or loss of membership. As is true of risk management, a fraternity budget is built on tough love.
Like Athletics, the Fraternity Budget Is a Team Sport

The athletic chair may have a heck of a hard time hunting down intramural equipment for his fraternity or managing everyone's schedule for practices and games. However, one thing that usually comes naturally to an athletics officer is his ability to foster a team spirit among his brothers. It's likely what drew him to the position in the first place. While he may not necessarily be the one coaching an intramural team, his demeanor and approach are much the same as any coach worth their mettle: democratic and group-oriented when possible, tough and authoritative when necessary to garner the big W.
"Ask yourself, treasurer," he might tell you during halftime, one foot up on a locker room bench, whistle dangling from his neck, "do you want to be an amateur, or do you want to go out there and get that win?"
He's got a valid point if you ask us. Treat budgeting and the role of treasurer in general as one big motivational comeback speech. You're trying to motivate and encourage brothers to pay their dues on time, and when that doesn't work, you get tough. You need all the x's and o's to be in place for the budget strategy, and you need audibles your team can call to change things up when a play looks like it's going to sink. Everyone needs to be alert and thinking on their feet and have the stamina to go the distance.
Fraternity budgeting is a team sport, sure. But you're the man who blows the whistle.
Budgeting for a Fraternity Means Doing More with Less. Ask the Social Chair.

Sometimes recruitment, philanthropy and other important aspects of fraternity management take up a lot of resources. Even though you're part of a social fraternity chapter, your social chair may be left wondering why there seems to be so little money for him to plan social events. But not to worry, the social chair is the Martha Stewart of fraternity brothers. He can do more with some pipe cleaners, googly eyes and Elmer's glue than most men can do with a live DJ and a whole sorority full of dance partners, although those things help, too.
The point is that the social chair knows how to work within his budget and still pull off a killer shindig. As a treasurer, understanding the limitations of the chapter budget and maximizing what you're working with are a huge boon and will make your life that much easier. Fraternity financial software like OmegaFi's Vault can further help you shoestring your budget and keep things running smoothly and efficiently.
What budget management lessons have you learned from other officers in your chapter, or in general? What would you impart to incoming chapter treasurers? Let us know in the comments below!