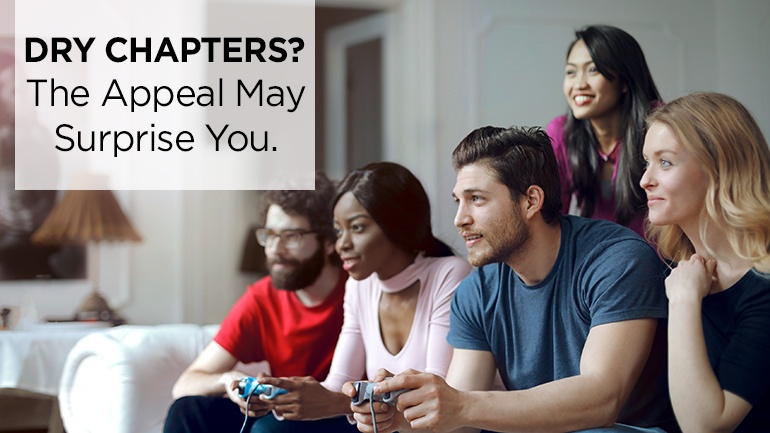 Those in the Greek community all know the stereotypes. The Blutos, the Betty Childses and Stan Gables of the Greek world are the life of the party, the boozers and the wild children. They crush beer cans on their heads, do keg stands, wrestle in Jello, and perhaps even light things on fire. Something or someone is getting toilet papered. Or, as in the case of Will Farrell as "Frank the Tank" in Old School, when Snoop Dogg throws a wild concert in front of the chapter house, you run nude through the quad . . . to the gymnasium. There's no end in sight to the mayhem that goes on in the party zone, right?
Well, yes. And that can be a huge problem for chapters across the nation. From hazing, to drunk driving, to sexual assault, to just simply drinking too much and tarnishing the image of the organization by acting foolish, drinking at chapter events can definitely be a dual edged sword. There'll be plenty of fun, and it may attract people to your events, but the consequences can quickly outweigh the apparent benefits, with one of the ultimate negative impacts being the potential for Greek members to develop alcohol dependency, which college students are already at risk for, and Greeks more so where drinking is on the heavy side.
There is a concept which has been catching on more and more nationally in Greek organizations and chapter houses: a dry chapter. Although there are different levels of what constitutes a "dry" chapter, all in all it can definitely offer some important positives to Greek life. Thus, at this point you may just be asking yourself, "Dry Chapters, huh?" OmegaFi would like to offer you some insight on why The Appeal May Surprise You.
A Drinking Problem

One of the taboo subjects in Greek life that's important to discuss and continue to work on is that of hazing. In the case of hazing rituals--many of which have been banned on campuses nationally--plenty have traditionally involved drinking as a component. This can be one of the most downright dangerous components of coupling Greek life and drinking. Hazing has been banned on campuses for good reason, due to the inherent potential for harm toward new members both physically and psychologically.
According to Addiction Center, "A disproportionate amount of alcohol-related deaths within fraternities happen to freshman. In fact, of the 24 fraternity-related freshmen deaths since 2005, 15 occurred during or after recruiting events, hazing and initiation rituals." This is largely because those participating in rush events involving alcohol may misjudge the amount they drink, trying to show off and be cool, which in turn leads to accidents. Needless to say, the hangover can go beyond a simple headache or upset stomach when someone gets hurt, or the chapter ends up making national headlines, adding your letters to some deeply disheartening statistics.
Going Dry

Sororities already have caught on when it comes to dry rushes. For fraternities, committing to a dry rush, while also adhering to anti-hazing campus policies will go a long way in keeping freshmen interested in joining your chapter from undue hardship. It'll also help keep the chapter above board and off the front page of the newspaper. Sororities also face harsh consequences from hazing, including self-esteem and other issues, and statistically, Addiction Center goes on to report that "up to 62 percent of sorority members admit to drinking heavily compared to only about 41 percent of college women not in the Greek system." This can lead down a dark tunnel of substance abuse, so it's best to put out the fire of hazing as quickly as possible, and keep it dry.
Of fraternities going dry, Theta Chi, Delta Sigma Phi, Sigma Nu and Phi Delta Theta are among those who made the news cycle by committing to making chapter houses dry nation-wide. Going dry may make grappling with social events, venues, and so forth a bit more difficult, but it takes the liability off of chapters, lessens the associated risks of alcohol use, and also helps combat poor academic performance among chapter members.
The Elephant in the Room

There is also something to be said about sexual assault, which often involves alcohol. According to various national statistics, 1 in 3 perpetrators of sexual assaults was intoxicated, and 69% of sexual assaults involve alcohol consumption by the perpetrators. Obviously alcohol on its own is not the cause of sexual assault, and the only way to stop sexual assault is through education about consent. We must especially be careful never to blame the victims of sexual assault.
Statistically, however, alcohol can play a role in rape culture and lack of consent, from a moral and legal perspective. As perpetrators of sexual assault are almost entirely male, if fraternities move toward environments and behaviors that focus more on school, citizenship and responsibility, it can not only shape your current membership, but attract future brothers of an intellectual and moral fortitude that will help your chapter thrive. Conversely, there has been some talk about loosening restrictions of drinking in some sorority houses in order to help curb sexual assault by offering an environment where sorority chapters can control the drinks, who comes in the door, and the rules. It may not happen any time soon for most organizations, because of the nature of many of the members being underage, but it's definitely necessary for chapters to talk about strategies to reduce sexual assault on college campuses.
While having dry chapters may not erase the effects of alcohol on grown women and men, who rightly can go have a drink any time they desire, it can set a tone that says: We will do everything we can to keep our chapter members from the dangers of alcohol abuse, and to keep our organization on a positive trend in the college lifestyle. So instead of members suffering alcoholism under the eye of the chapter, drinking and driving, ending up in jail, or some other hardship coming to members due to new member rituals or any other drinking social situation, it may surprise you that the concept of a dry chapter appeals to your members, administrators, parents, and perhaps the campus at large--especially if you're prone to running nude through the quad.
What are your thoughts on the benefits of dry chapters? Do you think they'd work for you? Why or Why Not? Let us know in the comments below.