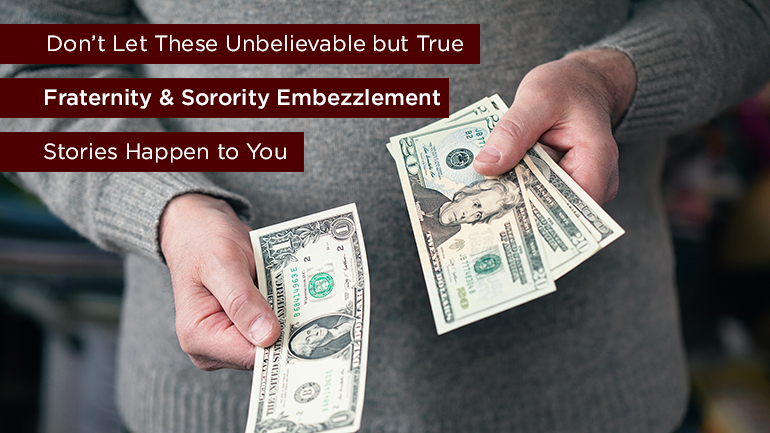 Fraud and outright theft within fraternities and sororities appears to be on the rise, and it is being perpetuated by alumni and alumnae advisors. There are some high profile cases and less prominent ones that illustrate the potential problem. Luckily, there are simple things a fraternity or sorority can do to reduce their risk and protect their assets.
Before we go much further, if you think this is an undergraduate or male problem, think again. Fraud and theft committed by sorority alumnae cause some of the most common claims filings against sorority insurance carriers.
Unbelievable but True Embezzlement Stories
Consider the hard-to-believe situation of a 38-year old sorority house corporation president at the University of Alabama who was sentenced to six months in prison for her crimes. She defrauded the sorority for more than $500,000 by submitting fake invoices for furniture and equipment for a house renovation that the sorority never received.
She's not the only one:
Fraternities see their fair share of theft, too:
What is perhaps most troubling is that the theft is not just limited to volunteers. From 1967 until 2014, fraternities and sororities at Lehigh worked with the Fraternity Management Association to help them manage their finances and facilities. The company, most thought, provided the checks and balances groups needed to prevent financial mismanagement. Unfortunately, the company was led by a husband and wife team. The wife committed suicide, and the husband has been charged with stealing nearly $1.5 million from his clients.
Is this an epidemic? No. There are thousands of well-meaning, dedicated fraternity and sorority advisors doing the right thing.
However, with budgets routinely approaching $500,000 or more between a chapter and its associated house corporation, there is real temptation and real risk. The average budget of fraternities working with OmegaFi in 2016 was $98,416. It was $185,565 for the sororities.
Steps to Take to Reduce Your Risk

Create some checks and balances

Make sure the officer or advisor that is spending money is not the same one reconciling bank accounts. (By the way, someone should actually reconcile bank accounts every month.)
If you work with a third party CPA, property management company or financial management company like OmegaFi, make sure the firm is established and sufficiently sophisticated. Fraternity Management Association at Lehigh had been operating for years, but they were run by just two people. Make sure the firm you work with has its own set of internal controls and more than one set of eyes on your money.

Reduce direct access to spending

Evaluate if your organization really needs a local bank account. You might be able to manage funds and more effectively spend using a third-party system like the OmegaFi.
If you do maintain a local bank account, do not activate or tie a debit card to it. The OmegaFi Officer Purchasing Visa Prepaid Card is the perfect solution to provide officers and advisors with the ability to spend everywhere Visa is accepted but transparency and limited access to organization funds.
Require dual signatures on physical checks or dual approvals for any electronic checks you send.

Eliminate Cash Payments

Require all of your members to pay their dues or rent using a check or credit card. Create a money trail. Don't accept cash. Don't accept a payment by Venmo, Cash or a similar P2P app. P2P apps are useful to send money between friends. They make it too easy for that unscrupulous treasurer or advisor to switch the bank accounts associated and siphon funds into a personal account with virtually no audit trail.

Monitor your financial operation

Pay attention to the vendors you are paying. Make sure they are real. The University of Alabama house corporation president created fake companies to take payments for goods and services she had no intention of ever supplying.
Pay for peace of mind and conduct a real audit with a real CPA firm. Also, change CPA firms every few years.
No one wants to think about their brother, sister or favorite advisor stealing, but it happens – regularly. Reduce your risk. Protect your members' money. Work with credible, sophisticated partners and institute the checks and balances you need to operate successfully.