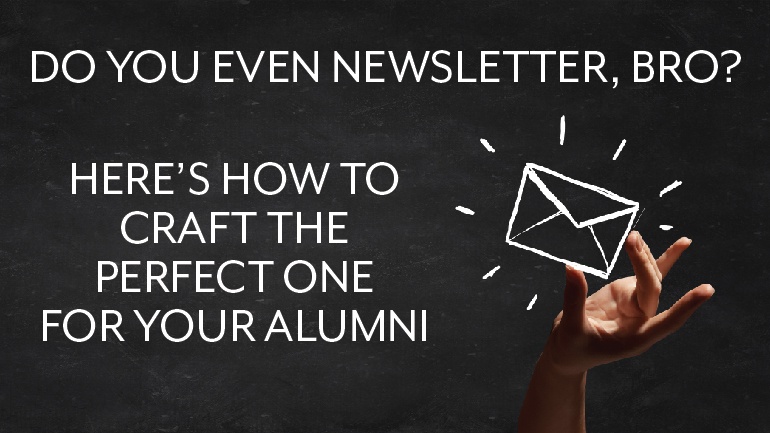 You and your fraternity brothers might be thinking of an alumni newsletter as a way to let alumni know what's going on with the chapter, who got elected as the new president or treasurer, how the recent philanthropy effort went and how well recruiting is shaping up this semester.
You'd be wrong.
The thing is, an alumni newsletter does convey those elements of chapter news, but that's only one part of the newsletter's content, and that certainly shouldn't be equated with the newsletter's function, which is, simply put, to engage alumni.
Let us put it this way: Imagine you're having a conversation during a first date, and the person you're with just keeps talking about them, them, them, without letting you get a word in edge-wise. They never ask you questions about yourself. They offer no compliments, and no hint of interest in your life. You begin to wonder why this person agreed to a date with you in the first place. It seems like they're already married to themselves.
No one wants to read an alumni newsletter that's married to its self.
Not to worry, though. Consider us the professional matchmakers between chapters and their alumni. We're here to help you face the truth and answer the question: Do You Even Newsletter, Bro? Here's How to Craft the Perfect One for Your Alumni.
Craft Tip #1: Make It Simple

Don't dumb it down or make it insulting. That's a surefire way to see alumni donations dwindle and have fewer and fewer show up to the annual chapter bonfire. Simple in the context of an alumni newsletter just means that you should be straightforward. Be direct. Be economical with your words and space. Not like we're doing right now in this paragraph. Anyway, this isn't about us! It's about your alumni.
Straightforward alumni newsletters get to the main points quickly, and they highlight those points in a format that's easy to follow. You don't want alumni to skim the newsletter, ideally, but if they are skimming, you want them to still pick up the important information.
That means headings should be succinct and still convey the crucial information, and at most your alumni should understand the point by the end of the first paragraph or so of a newsletter article. Don't fluff it up. Remember, your alumni have been there and done that. They've made these kinds of letters themselves. They know all the tricks. In other words, you aren't going to fool them by jazzing things up, and it's foolish to try.
Craft Tip #2: Make It about Them First, the Chapter Second

Your alumni probably like to hear the chapter news, but they've already graduated and don't need to read about it ad nauseam. (Translation for you non-Latin speakers: That means quiet down about last week's chapter meeting already. They get it.) If you're going to give chapter details, try to keep the information brief and bulleted. If more detail is called for with certain events or chapter accomplishments, try to keep them in the background while keeping alumni themselves in the foreground.
Make the alumni the central characters of the newsletter. Everyone likes to read a story about himself, right? Every human does. Your alumni are no exception. They're all human, too, as far as we know. Try to incorporate your alumni into your newsletter as much as possible.
For instance, you might highlight some achievements of alumni members, especially since this can create a tangible connection between their hard work as students and their hard work as graduates. Also, it's crucial to recognize their past donations to and involvement with the chapter, as well as the university. Remember, the story you're creating here for your alumni is about them, and it's about the chapter, but it's ultimately about their and your place in the larger ecosystem of the university campus.
Craft Tip #3: Bring the Big Picture into Focus

While alumni engagement is a marketing tool--which, as we mentioned before, is a trick alumni already know--a good alumni newsletter offers a story that's much broader. It will have value to the alumni reading it beyond the monetary donations they know you'd like them to contribute.
Think of this in terms of your broader engagement with alumni. You don't want to be the inconsiderate jerks who ask for money without having cultivated a meaningful relationship with your esteemed predecessors. The thing is that most alumni love their fraternity. If they have money to give to make it better, they probably already want to. So pushing that angle too hard can be tactless and off-putting, not to mention unnecessary.
Alumni want to know the chapter's doing well and that they're appreciated and part of the story. They also want to know about news of note with your university. Did your school just rank number one for research universities in the U.S.? They definitely want to know about that! Are there some noteworthy things happening within certain majors or fields, or faculty who've accomplished some exciting new projects? Since those fields are now their fields, you'll want to mention a few of those highlights. Don't go into extreme detail, since university alumni likely are getting bombarded with some of this stuff through university alumni magazines and outlets of that nature, also.
We have only one other tip: Don't make the alumni newsletter your only point of contact. The newsletter should accentuate alumni relations, but it doesn't have to define them. Make it fun, make it personal and make it direct. But make it human by actually engaging with alumni on a personal level. Invite them to functions, especially if they're local. If they're not, use social media or fraternity software, such as the mass communication platform OmegaOne, to keep in touch. Use OmegaFi's Vault to manage chapter finances and make alumni giving easy, so you can focus more on nurturing personal relationships between brothers and alumni. Talk to alumni about their experiences, professions and fields of study. Basically, just talk to them. You're all part of the same great fraternity tradition, past, present and future. It's a wonderful thing to share.
Let us know your experiences with trying to craft the perfect alumni newsletter in the comments below!