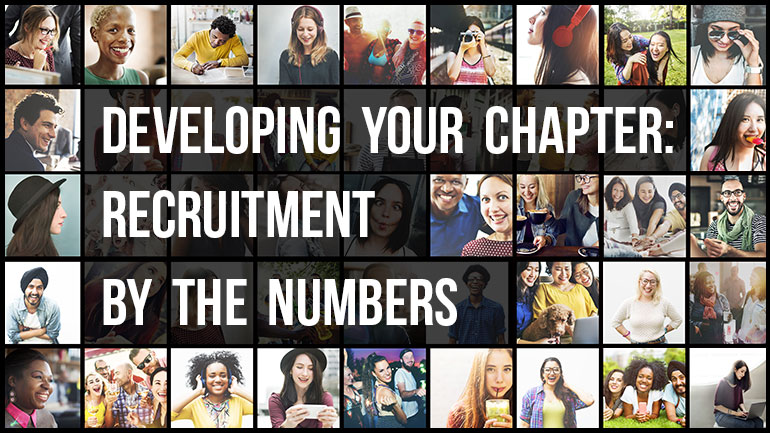 What is a chapter without its numbers? The answer is that it's probably not a chapter at all. That, or else it's dwindling into obscurity and financial ruin, to the horror of its alumnus and national organization. Now, that's not to say there aren't examples of small and sustainable chapters who know how to maintain their unique ecosystem. In fact, they may even have been a mainstay of their campus for years, contributing philanthropically and with a concentrated group of graduates who go on to do great things in their fields of study. Or, they may be a brand new chapter and are struggling to get their numbers up little by little each semester.
Either way, each chapter has its own recruitment goals. Reaching said goals is a noteworthy accomplishment, period. Unfortunately, though, it doesn't always play out that way. It takes ingenuity, planning, and execution to get those new sisters or brothers to join your ranks, and hopefully not just any old sisters and brothers, but quality recruits who are going to improve your organization and form lasting bonds during and after college. If you don't do your homework and seek like-minded members and quality persons, you're going to end up with a bunch of irresponsible sub-par representatives of your chapter who may very well drive all your hard work into the ground. Thus, we here at OmegaFi would like to guide your chapter to greatness, which can only be attained by Developing Your Chapter: Recruitment by the Numbers.
First off, it's useful to remember that the best recruiting tool is you. That's good news for smaller chapters or those strapped for cash. There is of course no one-size-fits-all solution to all chapter recruitment woes. Yet, if you're able to put your best foot forward, represent your chapter's most impressive qualities, dress the part, you conduct yourself professionally, and you represent your letters well everywhere you go, you don't need to be rolling in the cash to have a good recruitment. Like we said, all you really need is . . .
Ingenuity

There's plenty of ingenuity out there in the Greek world already, so your recruitment chair has some work ahead in this department. And you can get some great ideas by Googling recruitment concepts, seeing what other chapters on campus are doing, crowdsourcing from fellow members, and generally thinking on your feet. One chapter may be getting tables left and right to recruit at events. Another may be giving out new member scholarships. Yet another might be hooking up with organizations around campus to draw members, or chatting up freshmen while helping them move into the dorms, or relying on new members from the past semester to branch out and find people they know. Okay, those are all great ideas.
But what aren't the other chapters doing?
It's all well and good to mimic successful tactics around your campus's Greek community, but that will only get you so far if there's a lot of competition. If you're the smaller, lesser-known organization, guess who's going to luck out? The answer is you. Instead, find creative ideas that fill the gaps. If all else fails, get a t-shirt gun. However, that's still not going to be enough. A successful recruitment also requires . . .
Planning

You're really going to want to strategize recruitment, not just leap in with the same lame ideas that haven't worked in the past--chances are they aren't going to work now, either. Do surveys with your members about what kinds of new members they'd like to see, and what direction the organization should go as a whole. Ask them what brought them in to the fold in the first place, what got them to pick your letters over all the others out there. This is also an important moment of reflection. If the answers you get back point to bad behavior, like outrageously unsafe socials, slack regulations in general, or bullying behavior such as hazing, you might take this as an opportunity to change the direction of the chapter. Perhaps together you'll look for sisters or brothers who embody more of the core elements of your chapter's ethical values, to right the ship, so to speak. Regardless, you're going to want to go into recruitment with a clear idea of the direction you and your fellow members would like to see the chapter to go, and what kinds of members will further that goal. If you're just going for numbers, but not the kinds of people those numbers represent, the whole thing will eventually crash and burn. If you plan a reasonable percentage growth based on your current membership trends, and seek quality over quantity, the benefits will return to you tenfold. And yet, you can do all the planning in the world and still recruitment will fall short without . . .
Execution

It takes constant dedication to your organization to get recruits. Otherwise your efforts will appear hollow and inconsistent. You really have to believe in what you're selling here, which is a way of life and an organization you love. When you meet a quality person during class, on the basketball court, or in the dining hall eating their beef stroganoff, get to know them. If you feel that person would make a genuine addition to the chapter, talk to them about it. Recruitment is a year-round effort that is the responsibility of all members, not just one chair person. Don't be pushy, or act like you're selling a vacuum cleaner--just be genuine and tell them how much the chapter has meant to you over the past semesters. It's either for them, or it isn't. Those who are a natural fit and will actually want to contribute to your great organization will find a way to do so. If you need additional help, ask past recruitment chairs what they've done, what did work and what didn't, and build on that together.
Greek life is named thusly because it is a way of life. You love it. You live it. If you do that authentically, and you use ingenuity, planning, and execution, then you'll succeed in your recruitment efforts--whether you're ten men strong or an army of hundreds of sisters.
So obviously you're passionate about growing your chapter numbers, and have some recruitment ideas of your own. What are they? What tactics have worked for you in the past? Let us know in the comments below.