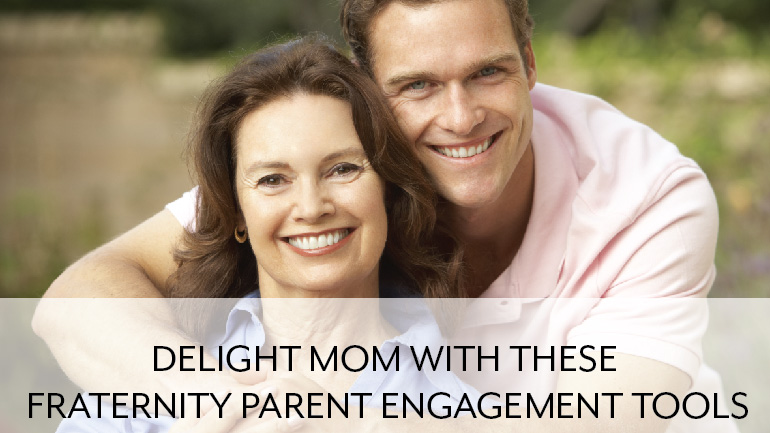 You may think you're the big man on campus these days.
You're the talk of the quad. Your brothers think you're a laugh riot. You're the best intramural point guard the fraternity chapter has ever had. Also, your girlfriend is from one of the most popular sororities on Greek Row.
But try telling that to your family when you go home for winter break. Your younger sister still thinks you're a dweeb. Dad overrules you on television channel selection.
And mom? She doesn't care how many guys you brought in as recruitment chair this semester. Unlike wide-eyed freshmen looking to place a bid, she's impervious to your charm, and she's on to your slacking.
You better pass your finals or there'll be hell to pay, mister.
Plus, do your own laundry. What is she, your house manager?
"But moooom," you lament. Unfortunately, she isn't listening. Scruffy the Shih Tzu needs to go potty, and before you can get a word in edgewise, mom's handing you the leash and poop bags.
However cool you may be in the chapter house, you'll always be mom's baby boy. Still, there are tools your fraternity can use to better engage parents.
At first it may seem you'd rather not have your parents so involved in your fraternity chapter—the college equivalent of them bringing a forgotten bagged lunch to your chemistry classroom.
However, parent involvement can become a vital resource for chapters.
To begin with, some are paying their sons' tuition and membership dues. The more they know about where that money is going, and that academics are central to fraternity life, the better for everyone.
They can also be great brand ambassadors and maybe even a source of fundraising revenue.
The most important part is that parents will better understand their sons and the goals of your chapter.
So without further ado, OmegaFi wants to help you Delight Mom with These Fraternity Parent Engagement Tools.
First Fraternal Impressions Can Leave Parents Assured . . . or Not.

The sooner your brothers and chapter executives can meet parents, the better.
You can have your fraternity's magazine sent to their address, but without proper engagement this will only lead to them throwing it in the trash.
Making a great first impression, in person, will have a huge impact on engagement.
Let Us Get That for You, Ma'am
As a recruiting tactic, some chapters will help freshmen on move-in day at the dorms. If you aren't doing that, start.
While you may be focusing on talking up the students, with an eye to fraternity recruitment week, don't overlook parents.
Hold the door for dad while he's dollying in boxes of clothes and Ramen noodles. Give mom the lowdown on campus safety, freshman orientation events, and directions to student center parking.
If they have questions about fraternity life, answer them.
Always keep academics at the forefront of how you portray your chapter. Tell parents that Greek students often have higher GPAs than non-Greeks. And while hazing is a national concern, lay out how your campus and chapter plan to deal with it through anti-hazing initiatives.
However, you're probably not going to get into lengthy discussions about fraternities while lugging boxes from a new student's car.
Don't be pushy here. Just give some basics if nothing else, and be helpful and courteous while wearing your letters.
Open Door Policy for Parents in the Fraternity House
Once brothers join your chapter, that's when you can make the biggest impression on parents.
Sometimes your office of Greek Life offers a fraternity parents weekend event, and if they don't, throw your own.
With proper planning (and deep cleaning), your fraternity house is the perfect tool for hosting parents and engaging them in chapter life. You can immerse parents in the environment their sons live and study. You can give them the skinny on everything from academics and study hours to chapter philanthropy initiatives and core fraternal values.
You can also take parents to tailgate for the university football team.
Because let's be honest. They mainly came for the comp tickets.
Outside of a specific parents weekend, let them know they're always welcome to visit (hopefully with a little advanced notice for cleaning purposes). Invite them to major chapter events, even if many live too far to make the trip.
An open-door policy at the chapter house lets parents know you're on the same team, and that you both value their sons' success as students and young men.
"You Never Write!": How to Engage Parents between Visits

Parents living at a distance or who lead busy professional lives probably can't visit the house very often. In the meantime, if the chapter neglects them, they'll quickly fall out of touch with how their sons are faring in fraternity life and why they should engage.
There are a few ways to remedy this.
When it comes to alumni, you're constantly communicating with them through your chapter newsletter and other engagement tools. We suggest taking a similar strategy with parents.
Consider sending them a copy of your fraternity newsletter, though its alumni-chapter focus might leave them feeling like the wrong audience for it. Another option is to publish a parent-centered version with less about alumni and more about academic success and other chapter initiatives.
If you don't have the time and resources to publish two separate newsletters, however, you can:
encourage parents to join voluntary e-mail lists or sign up for other fraternity publications
update them about their sons' accomplishments and awards
show them how to follow the chapter, alumni association and national fraternity on social media.
If you use a budgeting tool like OmegaFi's Vault financial software, you can give parents access to an online payment system and easily communicate about membership dues concerns.
Provide a page dedicated to information for parents on your chapter website, or link to a page on the national website that provides this resource. If parents have questions, make sure they can easily locate your updated contact information and get in touch.
If nothing else, show them your university's Greek Life webpage or student support and family engagement tools, which provide invaluable info for parents.
When mom asks where her checks go every semester, and what you're up to in that fraternity chapter of yours, what's your parent engagement strategy? What tools do you use to draw them in? What would you add to our list? Let us know in the comments below.