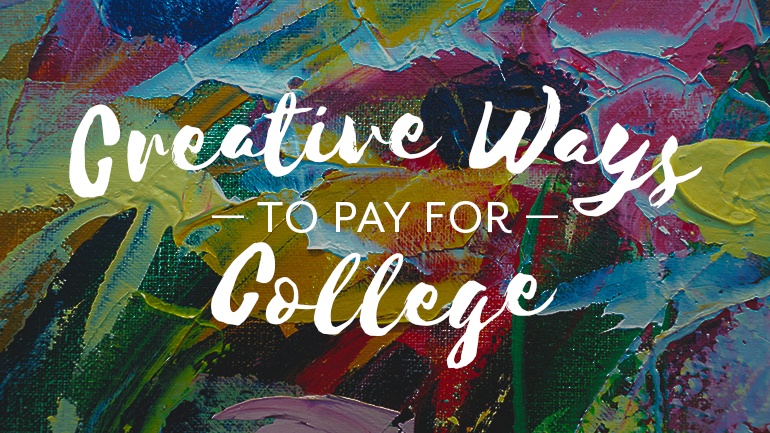 We've all heard that isn't fun, but for the most part, we don't really learn this for ourselves until we're in college and officially out of mom and dad's house. Student finances can be tough, especially if you're trying to pay for college on your own. Your time is consumed by classes, earning money, and attempting to have some sort of social life all at the same time. Bills pile up, responsibilities take priority, and somehow you're expected to do it all on your own. Getting a job with a steady paycheck isn't always the best option for full-time, or even part-time students. Here's a few Creative Ways to Pay for College without completely missing out on the college experience you're looking for.
1. Scholarship From Your Organization
There are a few different ways that organizations grant scholarships to their undergraduate members. Some organizations will offer different scholarships based on age or involvement within the community. First, check your national organization's website for scholarship options. While these may be more competitive than chapter level scholarships, they usually last a bit longer to aid student finances. If the website doesn't list many options, reach out to your national consultant or regional director. They could have more insight on other options available to you or offer advice on what other undergraduates have done in the past.
Chapter scholarships are another way to pay for college expenses. Ask your chapter's scholarship chairman if the chapter budgets or takes donations to provide undergraduate scholarships for active members. Even if those rewards are required to go to chapter dues and fees, it will leave you more money to go towards paying the university for tuition or room and board.
Don't forget to check with your scholarship chairman on executive discounts. Some chapters will discount dues to members on their executive board, or offer free housing to the undergraduate house manager since they are typically required to live in the chapter house.
Lastly, reach out to your local alumni association. Even if they do not offer a scholarship or grant, they may individually be willing to pay an undergraduate member for random work, such as house work or running errands for them. This will also help you foster important relationships with your alumni and the association as a whole, which has the possibility to open more doors for earning money.

2. Scholarship Websites
Student finances are difficult and there's no question about it. That's why there are hundreds of independent scholarship websites, tailored to who you are as an individual, along with your personal wants and needs.
Fastweb asks that you answer questions to better complete your profile so that they can find the best scholarship matches for you. Whether you're an undergraduate, graduate, or non-traditional student, fastweb has scholarships for everyone. Some are writing or video competitions, while others ask you to submit an original art piece or simply enter your name into a drawing. If you're a high school student looking at specific schools, fastweb will even filter more scholarships to you based on the university or region you're interested in.
Although it's most thought of for buying and selling books, Chegg also provides online scholarship applications. Their "Explore Colleges" page is helpful for anyone looking at their school options, breaking down the college experience with student rankings for things like academics, athletics, Greek life, and more. Everything is listed in one place here, including the tuition and financial aid breakdowns for each school, even including the percentage of students who apply and receive financial aid for the school. Chegg lists the links to each university's admissions and financial aid websites for better visibility, too.

3. Financial Aid Office
There are almost always extra scholarships and grants just waiting to be used at your university. Scheduling a meeting with someone in the financial aid office to have open dialogue about paying for college can be one of the easiest ways to grab some extra money towards your tuition dollars. Alumni donations partially go towards scholarships to help undergraduates further their education and join the alumni group in just a few short years. By taking a deeper look at your current involvement at the university and your grades, financial aid can typically find some leftover scholarship money for students that show great promise and potential.

4. Part-Time Job
Part-time jobs aren't always fun, but with new creative ways to earn money, it's not as difficult as it once was for students. Utilize social media and the internet to make some extra cash. Online surveys and stores make it easier than ever to increase your cash flow and make your student finances a little bit less stressful. Shops on Etsy sell almost anything, new or used. Etsy is the best option for those extra crafty people.
Babysitting, pet-sitting and housesitting is always needed. Families that live around college campuses may even reach out to your Greek organization or student life office to find a reliable student for some extra help. Because jobs like these don't always have stead hours, it isn't always fixed income, but every little bit helps!
On-campus jobs may be the easiest, especially for students who don't have a car on campus to drive back and forth to an off-campus job. Look into working in the library or athletic department, or at the coffee shop. These jobs can often pay students with a paycheck, or go directly towards paying tuition, depending on your agreement with the university or what you are able to choose individually. If your school offers summer camps to the community, you may be able to snag a spot helping the camp or with administrative work like camp registrations.
Don't forget to try tutoring! You are a college student, which makes your qualified to tutor someone. If you don't want to tutor in your school's academic center, try tutoring online (Chegg offers this option as well). Just like babysitting or housesitting, many families around the neighborhood are looking for tutors for their children. Even if your strong suit was never high school math, you can help a second grader with their vocabulary tests.

5. Self-Purge
This is the time to stop hoarding. Selling things you haven't used or worn in the past year is a great way to make some extra money while also decluttering your life. Use local consignment shops or Letgo to get rid of the things you don't need. Purging your closet and apartment will likely lead you to find things you didn't know you owned.
Don't forget to sell those old textbooks you won't need for future classes, too! It's easiest to sell books on campus to other students within your major or minor, but you can always resell books online and print the free shipping label. Check to see if your school has a Facebook group dedicated to selling textbooks. If there isn't one, you can be the ringleader in creating it!

6. Post-Graduation: Thinking Outside of the Box
If paying tuition upfront isn't feasible for you, there are other creative options out there. Some cities will help pay student loans, or assist in buying a home in the city, in return for becoming a resident. Typically, this is done in smaller towns or cities that need more millennials to increase population, attract new specialists in different fields of work, or just bring a different atmosphere to the city. While it may not be a long-term move for you, who can argue watching those student loan bills decrease? Working with the Peace Corps or AmeriCorps will also help forgive some of those pesky loans and make "student finances" a thing of the past.
Traveling the world isn't really your style? Working for a nonprofit organization, any brand of the military, social work for low-income areas, law enforcement and firefighters, nurses, and more also qualify for loan forgiveness. Teaching in a public elementary or secondary school that has at least 30 percent of students qualifying for Title I services can also help with student loans. Any other job that is considered as a federal, state, or local government agency can have loans forgiven. Each of these options has certain rules associated with the jobs, especially if the government is going to write off any debt.

Paying for college is never fun, but that doesn't mean it isn't doable. If these options aren't enough to cover next semester's tuition and fees, look into taking out student loans. They aren't ideal, but a college degree is a necessity today that is difficult to avoid. With so many options available to pay off or have loans forgiven, it may be the best fit for you in the long run. Remember that college is also an experience that is supposed to be enjoyable. Leave your comment below with other creative ways to pay for college!