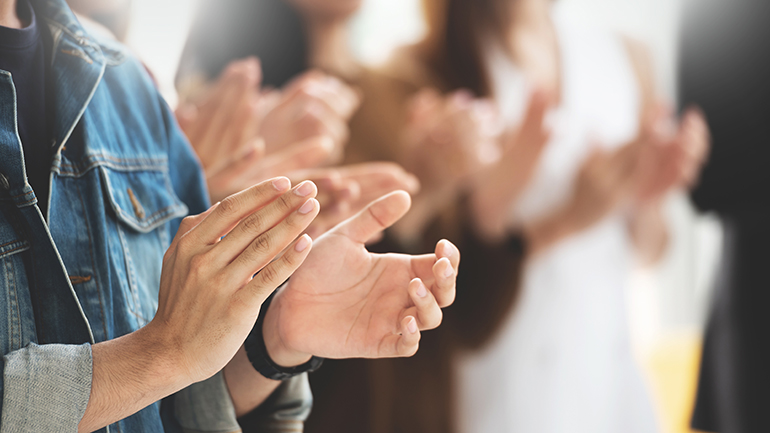 Early in May, several OmegaFi employees were delighted to receive a "save the date" from Pi Kappa Alpha's Director of Expansion Josh Murphy about the upcoming chartering banquet of the new Mu Iota Chapter at Columbus State University. I was thrilled to be among those invited. In my long career working within the awesome Greek community, I'd never attended a chartering banquet. What an historic, cool event. I was super stoked! Not only is Pi Kappa Alpha near and dear to my heart after 17 years of working closely with staff, volunteers and undergraduates, I am an alumnae of Columbus State University. I think a lot of those Cougars, too.
Many ask, "Why is OmegaFi headquartered in Columbus?" Well, like me, CEO and Founder Todd Reaves is from Columbus, GA. He was born and raised here and earned his degree from Auburn University, just about 50 miles from home. You may have heard the story of how OmegaFi is the result of Todd's Junior year class project. Well, he came home after graduation to grow that class project into a business. His kind, supportive father lent him a back office and an employee to help for awhile and...the rest is history! Today we are still headquartered in Columbus, GA with remote employees all over the East Coast. More than 100 employees work in our adjacent North and South station buildings in Uptown Columbus, and we love it! We are blocks from the Chattahoochee River that has recently become the largest urban whitewater experience in the nation. We are four hours north of the beach, four hours south of the mountains and only 90 miles southwest of Atlanta.
It was interesting to leave my house and attend a work-related fraternity event less than a mile away. Upon arriving, it was fun to learn that the four representatives from OmegaFi were considered "special guests" at the banquet, and we were seated at a table in front.
The President of the Atlanta Alumni Association of Pi Kappa Alpha was one of the many honored guests at the banquet, as were Representatives of Columbus State, alumni from the surrounding area and distinguished volunteers. Supreme Council member Michael Riley was the keynote speaker. Advisor Ken Elliston brought many to tears when he introduced his chapter brother from Emory University, best friend and the best man at his wedding, who came to help him initiate his son.
The men of Mu Iota worked so hard to earn their charter, and this event was a wonderful celebration of that achievement. It was everything I'd hoped it might be. Distinguished brothers arrived with beautiful dates. The food was delicious, and the celebratory mood was infectious.
Each of us was recognized one at a time during the banquet with a certificate. I was tickled pink and floored by this! As Representatives of OmegaFi, we were thanked for the big role that our service played in helping Mu Iota earn their charter.
President Brandon Dean recognized that without the organization, transparency and consistency of Vault Billing and Collections, their chapter would not have been able to meet the requirements to become the Mu Iota Chapter of Pi Kappa Alpha. This was one of the most powerful moments in my career.
The work we do everyday is much more than helping chapters collect their dues so they can have a great social. It's about helping chapters do more. Mu Iota recognized us for helping them earn their charter; how many fraternity and sorority chapters across the nation can also say that they achieved their lofty goals thanks to the help of our service? I believe in the philanthropies that our chapters support, the social privileges that fraternities and sororities afford their members and the awesome visions of just being better people with like-minded morals, values and goals. I support Greek life.
Anyone who knows me knows that I love my job. OmegaFi is a big part of who I am. Thanks to the new Mu Iota Chapter at CSU, I'm even a little warmer and fuzzier about it today. I like being in the business of helping good organizations become great. I wish Mu Iota much success and trust that OmegaFi's relationship with this chapter will be a long, prosperous, successful one!