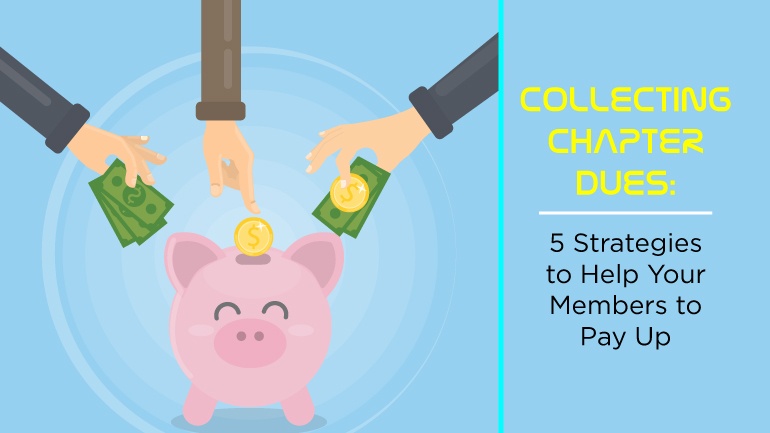 Chapter Treasurer, please take a seat. As you can see, your friends and family here at OmegaFi would like to have a word with you. If you haven't noticed at this point, we'll go and let you know now: This is an intervention.
Now, Chapter Treasurer, we know you're upset, and to be frank you've got every right to be. You've been dealing with brothers paying late without penalty, not paying at all, and at times, even being a little disrespectful about it. And trust us, we know, how difficult it can be to balance and budget and make sure there's room in it for all the philanthropy and fun that brothers want to have.
They just never seem to get it that things cost money.
Believe us, we're right there with you. So please, put down your lock picking set, brass knuckles, and map of member addresses and just sit down and listen for a moment, because we want to give you some advice on Collecting Chapter Dues: Here's 5 Strategies to Help Your Members to Pay Up.
First off...
5. Make it Easy—Diversify Your Collection Methods

We've said it before and we'll say it again: Give your members as many payment options as there are available. Heck, you might even consider accepting bitcoin, doubloons, and gold nuggets, whatever gets them to pay their dues. In all seriousness though, at the very least you should be using a system that allows a member to use cash, debit or credit. This will cover about 99% of most payments aside from your weird brother who prefers to use a cashier's check *shudders*.
At the end of the day, your goal is to get your members to pay their dues, so eliminating any kind of excuse of inconvenience should be your highest priority. By setting up a system of payment that allows such a breadth of options, you'll effectively eliminate future arguments and wrangling during the collection process. There's a variety of options out there that help facilitate these payment methods—including yours truly—but be sure to find a solution that works for you and will reduce hassle, not create a bigger mess to clean up.
4. Be Accommodating—Create Systems for Late Payments

Now Chapter Treasurer, this may be hard to hear, but you're going to need to make a system for late payments. Yes, we understand that the best system would be for members to pay their dues in full at the date of collection, but the reality of the situation is that won't always happen. Your members are primarily unemployed college students, which means that budgets are tight and income is non-existent. You'll have to err with a sense of caution and accommodation to get what you want: dues in full.
To aid in this collection process, a late payment system should include a grace period of at least 1-3 days as a courtesy. During this period, create a system where the brother must come to you as the treasurer to create a payment schedule of what they can afford (for instance 10% of the total dues amount every week). Following the third day, if no payment plan has been set up, a weekly late fee can be assessed—something small like $10-$20—until contact is made.
Keep in mind this system isn't meant to absolve members of paying their dues on time but instead give them a little wiggle room, similar to a real-life bill. The other side of this coin is that you want to be sympathetic to the changing finances of your members. Coming up with such a large bill can be difficult in some circumstances, so try not to hit your members over the head for an inability to pay.
3. Be Proactive—Create a Reminder Schedule for Members

This may seem frustrating to you, Chapter Treasurer. And we get it; you're dealing with other adults and hate the idea of poking and prodding in order to see responsibilities upheld. However, people forget. It's important to keep in mind that, as students, your members have school schedules, relationships, family, personal lives, and their own needs to take care of. Sometimes, a dues payment can get lost in the shuffle of that.
So give your members the benefit of the doubt. If your chapter dues are meant to be collected on May 1st, and it's March 20th, you're already too late. Instead, create a system that once you set that dues collection date, the first notice is going out three months ahead of the due date. The next is going out two months before the collection. Then a month out and every week up until that deadline. You want to make these announcements both at chapter meetings (physically) as well as through email reminders. Shoot, even poll your chapter attendees by a show of hands if they know when the dues collection date is just to add an extra layer of accountability.
With everyone on the same page, it'll make things much smoother when it's time to collect.
No surprises. No excuses.
2. Try to Be Empathetic—Understand Shifting Priorities and the Unexpected

Although we've touched on this a bit previously, it needs to be reiterated that as the chapter treasurer, you're going to need to develop some emotional intelligence. This means understanding what it's like to have a little bit of money, but also priorities that rank higher than paying your dues for—at its heart—an extracurricular organization. We're talking priorities like rent, sending money back home to your family, paying your tuition (yes, some students still do that), and even incidentals like medical illness and hospital bills.
Our point is that you really have to be considerate and thoughtful when requesting dues from your members. Just because the collection seemed effortless from some brothers doesn't mean the conditions will be the same for the next. Have a conversation with brothers if you're getting a little resistance in dues collection. The answer may be a bit more reasonable than you think.
1. Position Your Team for Success—Address Issues and Offer Solutions

Are you listening, Chapter Treasurer? Cause this part's important. Let's assume for the sake of argument that dues aren't paid by a handful of members due to the cost of the dues. Although you could adjust the dues amount for brothers with differing financial means, you'd at least like to offer a few solutions to keep the dues structure even and fair.
So do that.
As the chapter treasurer, your responsibilities extend further than just budgeting and dues collection. Your job is to raise funds as well. So if a few of your members are showing difficulty in raising dues, research and find some solutions for them to raise some money. It may sound a bit strange, but find local areas where brothers can give blood or plasma. Talk to brothers about which businesses in the area are hiring. Heck, even offer opportunities to take up doing services like Uber or Lyft. This may sound strange taxiing around fellow students, but you're young and it's a great opportunity to meet other students.
Be your brother or sister's keeper in this sense. Understand their problems and aid them with real solutions.
And with that, dear Chapter Treasurer, our session is concluded.
If you've experienced the woes of paying dues or collecting them, let us know in the comments below.