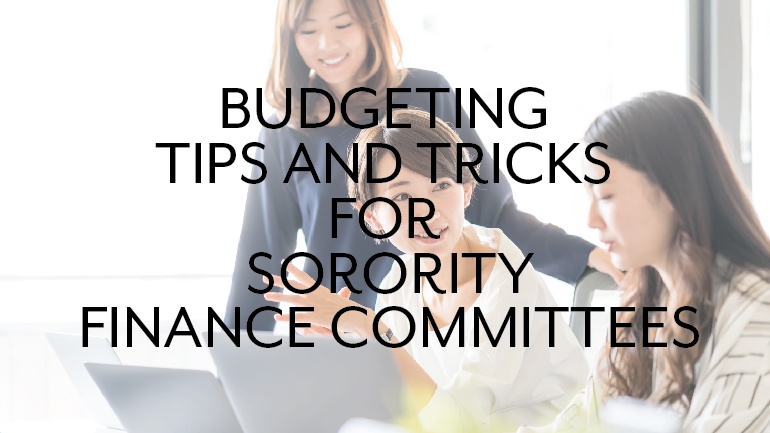 Being a sorority treasurer is hard.
It's also a lot of pressure.
If the t-shirt chair (though as important as any other sorority officer) messes up, you have too many mediums for your upcoming 5k. If the treasurer makes a mistake, it can spell disaster for you and your sisters.
As a sorority treasurer, you have to use the financial management tools at your disposal to budget enough for each chapter event or activity, but not so much that chapter dues become astronomical. You have to keep the budget before and during the semester transparent and available to sisters. You have to make sure all bills and dues for the chapter are paid. Finally, you have to collect dues, set up payment plans for said dues and maintain a paper trail for all financial transactions.
Luckily sorority financial management software can help you figure things out and streamline the process of building and balancing a chapter budget. However, even with software, a sorority treasurer has to manage the finances with care and an attention to detail.
How can she handle all the weight on her shoulders alone?
The answer is: She shouldn't have to. That's where the finance committee comes in. This committee isn't designed to be a bunch of the treasurer's cheerleaders. It's her team, and with the proper ideas in place, it's a winning team. That's why OmegaFi is going to give you a halftime locker room speech for the ages, with these Budgeting Tips and Tricks for Sorority Finance Committees.
Represent the Chapter as a Whole (Because Yay Democracy!)

Think about this for a second. A sorority treasurer is one sister, and--unless she's Wonder Woman (in case you didn't know, among all her other kick-butt powers, Wonder Woman is telepathic)--she thinks a single set of thoughts. If she's a good treasurer, she likely tries her best to set up the budget as equitably as possible, considering the needs and ideas of officers and other sisters.
The sorority finance committee is not one but several sisters. By design, they represent different viewpoints that, with compromise and hard work, create a better chapter as a whole.
Isn't that exactly what an ideal democracy is supposed to be? We think so.
Hopefully, each member of the committee has been a sister long enough to understand how the chapter is run day to day, and will have the unique perspective of understanding what sisters might want and what's actually needed from their sorority's finances.
The finance committee is, of course, going to want to listen to and understand what officers are looking for in order to finance their activities throughout the semester and year. Each member of the committee offers her own perspective, and this serves as a system of checks and balances, so that budget items are approached critically.
Now that's what we call representing the chapter.
Give and Take with the Sorority Treasurer

Each member of the sorority finance committee represents and tempers the chapter as a whole, and they must do the same for the sorority treasurer.
Let us explain. Consider for a moment that the sorority treasurer asks for a tighter budget, but leaves no wiggle room in case costs are higher than expected. Consider that one of the officers, let's say the social chair, miscalculates how much a certain vendor is going to charge. Suddenly, the chapter is in the red, and it all could have been avoided.
What happened?
Essentially, the sorority treasurer was left out on a limb with her own bad idea to topple her, and no one tried to rescue her. This is exactly why you have the sorority finance committee to take care of the treasurer and make sure she doesn't fall.
The proper relationship between the treasurer and the finance committee requires a sense of give and take. When you're sitting down to draw up the budget, or going over finances throughout the semester, the committee always plays two roles at once: supporter and voice of reason.
When the treasurer needs support with an unpopular financial decision--say, raising membership dues--the committee needs to make sure it's absolutely necessary and feasible, and then back her up one hundred percent. But if the treasurer makes an error, and either doesn't know or won't admit it, it's up to the committee to keep her honest and help her see the cold, hard numbers.
Make the Treasurer more Efficient

Sorority finance committee members must also learn to check and temper their own decision-making. This is the only way to make your sorority treasurer more efficient at her job. It's easier than you might think to break down into infighting and squabble over small budget items or how to make adjustments to your sorority's financial management down the line.
We all want to be ourselves. Not only that, but we want to be our fiercest selves. And that may work in a lot of situations--on the dance floor, in an interview for an internship or during Greek Week--but not for chapter budgeting.
When it comes to the budget, cooler heads always prevail. And the treasurer needs her finance committee to be cool as ice. Except the melting part. Don't melt . . . anyway, this example is obviously getting out of hand, but hopefully you get the point.
The sorority finance committee ultimately is there to enhance the role of the treasurer, not to overpower her or enforce agendas of their own. They must guide her toward her best possible decisions as the financial leader of her chapter. That's it, and that's all.
These are a few of our Budgeting Tips and Tricks for Sorority Finance Committees that we hope can guide your chapter to financial prosperity this semester and into the future.
Have you served on a sorority finance committee? What are some of the budgeting tips and tricks you've learned? Lay your ledgers on the line in the comments below.